Disney is great at any time of the year. You can't go wrong taking a vacation at the "Happiest Place on Earth". If you're planning on taking a Disney World vacation over the next few months, this guide will highlight the fun things going on while you're there. There are new ride debuts, marathon weekends, festivals, and more!  Luckily, if you're a Sundance Vacations client, Sundance Vacations has luxury accommodations for your home away from home while visiting Orlando!
I have been to Disney a few times when I was younger, and while doing research for this blog, I learned something new about the park! Did you know Disney is full of Hidden Mickey's? If you keep your eyes peeled, you will see Mickey shapes all over the park. They can be a part of the upholstery, painted on buildings, or an image on an attractions sign. Just about anywhere you look you will see a Hidden Mickey.
Never heard of Hidden Mickeys? Well, there are thousands of them hidden around the park at Disney World. They are a combination of three circles that form the shape of Mickey's head. How many can you find? You can buy 'Hidden Mickeys: A Field Guide to Walt Disney World's Best Kept Secrets' on Amazon! If you found some Hidden Mickeys on your Disney trip, show them in the comments!
Can you spot the Hidden Mickey in the sign below?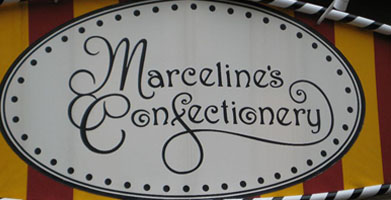 ---
MARCH
For some, March is the perfect time to visit Disney. The weather isn't too hot or too cold, it's just right. The average high is 78 in March. The mornings and nights are chilly, whereas the days are warm. It might be a good idea to dress in layers. The first week in March is typically less crowded than the second and third weeks. You will notice the second and third weeks are popular for Spring Break.
Spring Break
Spring Break started back in the 1930s and has been popular ever since! It's a very popular time of year. During the second and third weeks of March, you will most likely find more of a younger crown on break from school and college. This time of year, universities and schools take a break from homework and studying, which allows more people to pack their bags, leave their schoolwork at home and go wild on vacation. Florida is a popular destination for those on Spring Break, probably because it's known as the 'Sunshine State'. Those who are on Spring Break are in search of just that… Sunshine!
Mickey and Minnie's Runaway Railway at Hollywood Studios
This new attraction opened March 4th, and lets you ride along with Minnie and Mickey. The runaway railway takes you through exciting twists and turns through a world full of surprises around every corner! Be prepared for sudden twists, turns and transformations as Minnie and Mickey save the day. This is an all-ages ride and is based on Mickey Mouse cartoon shorts. Keep an eye out because here you can find more Hidden Mickeys than anywhere else in the park.
Cirque du Soleil
Did you know 'Cirque de Soleil' means "Circus of the Sun"? Me either! For the first time since 2017, the big white tent at Disney Springs will have live action! The tent has been sitting empty, but this Spring, that's all about to change. This exciting show will have you jumping out of your seat. There are acrobatics, one of a kind choreography and playful characters in costumes. It's kind of hard to describe just how amazing this show is! It's something you just have to see for yourself! Ticket information can be found here. Don't wait to grab your tickets. Some days are already sold out!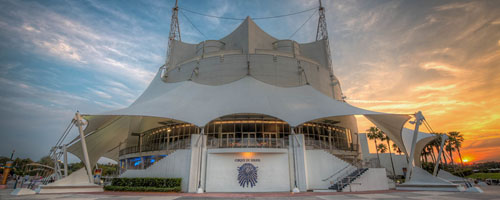 ---
APRIL
April is a great time to visit Florida too. The weather is getting a little warmer, the flowers are in full bloom and the average high is 83 degrees. The crowds are a little smaller than March, except for Easter weekend, which is usually pretty busy with people being off from work and school. In fact, Easter week is one of the most crowded weeks at Disney World. So be prepared for longer wait lines!
Epcot Egg-stravaganza Easter Egg Hunt-
From March 27th through April 12th, you can participate in the Egg-stravaganza Scavenger Hunt. When you locate all the Disney Character themed eggs, and complete the scavenger hunt, you return it to Disney Traders for a spectacular surprise. You'll also have to check out the famous chocolate egg display at Disney's Grand Floridian Resort & Spa and Disney's Contemporary Resort. You will see stunning chocolate eggs pained, sculpted and decorated by their pastry teams at the resorts. Participating locations are Pin Central, Disney Traders and World Traveler. Maps are available for $6.99 plus tax at the participating locations while supplies last. There's also an Easter Bunny meet and greet on Main street in the Magical Kingdom. Make sure to bring your camera to take pictures!
Backstage Magic
Reserve your rare opportunity to catch a glimpse at how Disney brings the magic to life. This tour will give you an up close and personal tour into the artistry, mechanical marvels and backstage secrets. You will get to explore Epcot, the Magic Kingdom, Creative Costuming, Central Shops, Behind the Scenes at Rivers of Light and the Tiffins Restaurant. Please call to book this special experience. The guides take you through an amazing 7-hour tour and each guest receives a special complimentary gift at the end of the tour. Sorry, no little kids allowed. This is special for teens and adults only.
Star Wars Rival Run Half Marathon Weekend — April 16-19, 2020
This weekend is a Star Wars fan's dream! While here, you can meet some of your favorite Star Wars characters, pose for photos and earn collectible themed medals! Experience Star Wars in a whole new way at this event!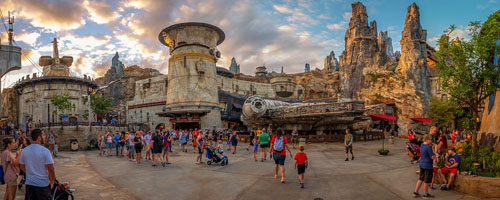 ---
MAY
I have personally been to Disney a few times and my Grandparents always chose the month of May to go. I remember the weather being absolutely perfect for a Florida vacation. The average temp in May is 87, which can be a little too hot, but if you plan right and take advantage of the water rides and air-conditioned attractions, you will be just fine. The crowds also weren't too bad, probably because kids are still in school.
Dine with an Imagineer at The Hollywood Brown Derby
Guests 14 years and older get to enjoy this experience. You will get to sit down and eat with one of Disney's Imagineers who bring the Disney magic from an idea on paper, to life! You can ask questions and enjoy conversation and laughter. This is a four-course lunch date in the Hollywood Brown Derby restaurant. This is a separate package you need to buy. Disney dining plans are not able to be used for this special opportunity.
Disney H20 Glow Nights
Starting on May 27th you could have a unique nighttime experience. Disney H20 Glow Nights give you special early and after hours access to Disney's Typhoon Lagoon. You need to purchase a special ticket, then you can "glow wild" and have access to all the attractions that are available. There's a dance party with a DJ, Toy Story characters will be hanging out and so much more fun to have! Psst… There's also an adult only spot called "The Wharf" with live entertainment and a cocktail bar.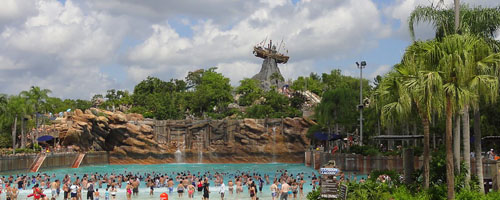 ---
March, April and May
Disney Villains After Hours
Magic Kingdom Park presents Disney Villains After Hours! You'll need to purchase a separate ticket for this nighttime event as well. A limited number of guests get the chance to experience a special side to the park for 3 hours after the park opens. The Disney Villains will entertain you and you'll have VIP access to 20 popular rides and attractions! They best part about this experience, are the short lines and low wait times. They also have food carts with ice cream, bottled drinks, snacks and more and it's included in the ticket price! You can also purchase delicious villain-inspired food and beverages and memorabilia. There are special nights for this event from February through July. Make sure to check the calendar for the dates!
Disney After Hours at Disney's Animal Kingdom
Are you ready for a fun time? This unforgettable experience can be yours! Just wait until you travel through the bioluminescent rainforest. It feels and looks like an enchanted forest, straight out of a fairy tale. You'll have first dibs at special attractions and rides with small lines and wait times. There is also a snack and beverage card included with the price just like the Villain themed night. So, go ahead and chillax with some soft served ice cream! The nights are on special days from January through May, so be sure to check out the calendar for the dates. (This event only allows a limited number of guests to join in on the fun.)
Epcot International Flower and Garden Festival
Every spring, Epcot hosts the International Flower & Garden Festival for about three months. This year is the 27th annual International Flower & Garden Festival will run from March 4th to June 1st. This popular event shows off over 100 beautiful Disney character topiaries from one end of the park to the other and shows off more than 30 million blooms. You will get to see larger than life sized Disney characters made from stunning shrubs and flower arrangements in full bloom. There will be about 700 gardens to walk around and enjoy. If you are into gardening, there will also be more than 130 different gardening and home improvement related shows, demonstrations and presentations to learn expert tips and tricks to make your garden look stunning at home. Make sure you pack your camera for the event because you can get up close and personal to nearly 1,000 butterflies in the screened in butterfly house. There, you will get to view hundreds of different butterfly species and the butterflies may even land on you!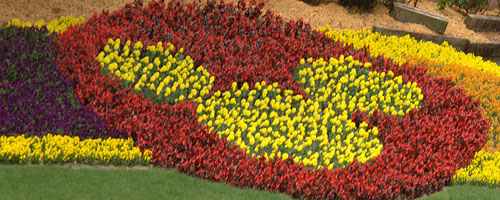 Check out last year's Epcot's International Flower and Garden Festival blog!
---
I hope this event helps you plan your upcoming Disney vacation. Make sure to let us know where you found your Hidden Mickeys! We have a few Disney blogs you can take a peek at including: 'Planning a Walt Disney World Trip in January, February or March', 'Visit Disney World in October, November and December'!
---
For more information, updates, travel tips and news from Sundance Vacations, be sure to follow us on the following social media outlets:
Summary
Article Name
Visit Disney World in March, April and May with Sundance Vacations
Description
If you're planning on taking a Disney World vacation over the next few months, this guide will highlight the fun things going on while you're there. There are new ride debuts, marathon weekends, festivals, and more! 
Author
Publisher Name
Publisher Logo