Disney Events in October, November and December
Visiting Walt Disney World in the fall or wintertime is sure to be packed with exciting events for the whole family and is a favorite time of the year for our Sundance Vacations travelers looking for Things to Do in Disney World.
October  at Disney World is a time for children to throw on their favorite Disney princess or character costume and grab their Mickey Mouse candy pail for a night of trick-or-treating around the park.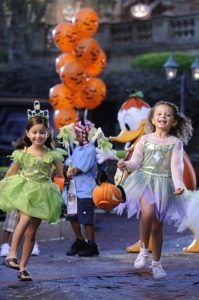 The month is packed with parades, Halloween music and special villain meet-and-greets as guests go "Boo-yah!" in anticipation for all things spooky at Disney.
In addition to Halloween festivities, there are upbeat musical performances and concerts as well as unique food options during one of the best times of the year for enjoying some tunes bundled in your scarf with some Oktoberfest beer.
In fact, coming into November, the International Food & Wine Festival is still in full-swing. The second-to-last month of the year is also when runners lace up their shoes for a brisk morning marathon with runDisney.
Then, before we know it, December is creeping around and Disney's Christmas celebrations begin. During this time of the year the park has fantastic fireworks shows, storytelling guests and more to deck the halls with magic and joy.
Read all about the exciting events happening at Disney World this October, November and December and start planning your Disney World getaway!
Things to Do in Disney World in October
October in Disney World is pretty much exactly what you would expect: Halloween celebrations and tons of fall favorites to eat and drink.
The pre-winter month is filled with spooky performances such as the Hocus Pocus Villain Spelltacular as well as parades and fireworks shows for the special holiday.
In addition to Halloween attractions, Disney World will be grooving to musical performances all month long thanks to the park's Eat to the Beat concert series. There is a huge selection of unique food options at the Epcot International Food and Wine festival to enjoy with the music too!
Check out all the amazing things to do in Disney World this October: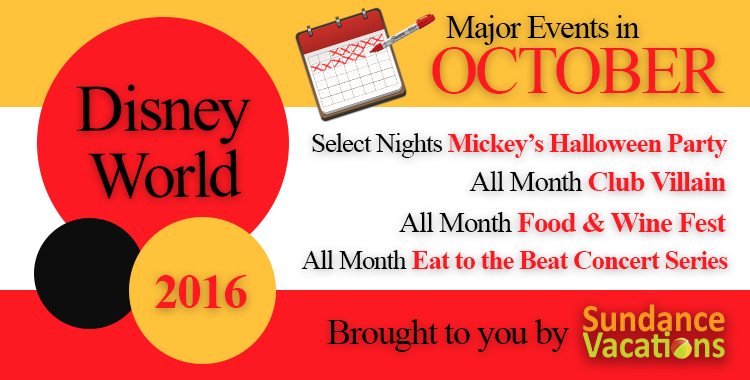 Mickey's Not-So-Scary Halloween Party
Mickey's Not-So-Scary Halloween Party is still going on throughout the month of October until the end of the month.
This spooktacular event takes place in Magic Kingdom and is what Disney calls, "the happiest haunting on Earth!"You may remember that we mentioned this holiday event in our Things to Do in Disney World in September article.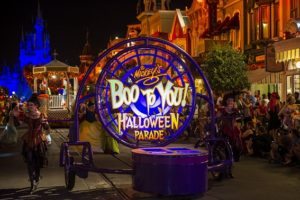 See a masquerade of costumed Disney characters during Mickey's Boo to You Halloween Parade. It's led by the Headless Horseman and includes stars from the Haunted Mansion. It's on select nights from 7 p.m. until midnight for guests to see a slew of spooky figures like zombies, ghosts and more.
There's also the Happy HalloWishes Fireworks show that features spider-web-like fireworks timed to wicked soundtracks pertaining to your favorite Disney villain's and their movies. You can see performances by Ursula from The Little Mermaid, Jafar from Alladin and Oogie Boogie from The Nightmare Before Christmas while you're there. Check out Disney's lineup by clicking on the link to the fireworks show.
Children can also go trick-or-treating around the park to get candy from Disney characters and cast members.
Many rides and buildings will still be open during the Halloween Party such as attractions in Adventureland, Frontierland, Liberty Square, Fantasyland, Storybook Circus, Tomorrowland and Main Street. For the complete list of experiences in Magic Kingdom during the celebration, visit Disney.
Just so you don't miss out, we created a calendar to show when Mickey's Not-So-Scary Halloween Party will be going on below:
Sunset Showcase: Club Villain
Club Villain at Sunset Showcase inside of Disney Hollywood Studios is a special event from the beginning of September until Halloween night where guests can meet the villains of Disney's most popular movies.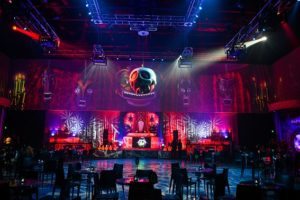 Dr. Facilier (AKA The Shadow Man) is the host, leaving his villainous place as the antagonist in The Princess and the Frog to gather his favorite bad guys for a night of entertainment.
There will be comedic stand-up acts and encounters with Maleficent from Sleeping Beauty, the Queen of Hearts from Alice in Wonderland and Cruella De Vil from 101 Dalmatians.
Although this is a separately ticketed event, it might be worth it for die-hard Halloween fans. It's held every Friday and Saturday night at two different times, 5:15 and 8:30 p.m.Children and parents can dine on some Halloween themed food like "Voodoo pig wings" or many other desserts modeled after your favorite villains such as green apple mousse inspired by the Evil Queen from Snow White. Kids can also dance to Top 40 hits spun by the club's spooky DJ while parents drink specially crafted alcoholic beverages for the occasion like the "Devious Dalmatian" made with Godiva white chocolate liquor.
For more information on what the ballroom looks like or what kind of desserts and treats Disney conjured up, check out their Disney Parks Blog.
Epcot International Food and Wine Festival
We also discussed the Epcot International Food and Wine Festival at Disney World in our Disney Events in September article.
This two-month-long event began in the middle of September on the 14th and goes all the way until the second week of November.
Guests can experience food from 25 different areas from over 250 chefs and enjoy the cuisine while listening to Eat to the Beat, the concert series that runs congruently with the International Food and Wine Festival. Discover more about this event by scrolling down to our November/December section of this article.
Eat to the Beat Concert Series
How would you like to listen to the music from big name artists while chowing down on unique food from all over the world? Well, you can at Disney World's Eat to the Beat Concert Series.
This year's line-up features artists such as Christopher Cross and 10,000 Maniacs! Check out who will be there below:The concert series actually also began mid-September in conjunction with Epcot's International Food and Wine Festival and will continue up until November.
Things to Do in Disney World in November and December
November at Disney World is usually a little less crowded than October as the trick-or-treaters pack up their bags of candy and go back home.
That being said, there are two weeks where the park will be a little busier: "Jersey Week" and Thanksgiving weekend.
Jersey Week is a time where Disney World experiences an influx of travelers from New Jersey while the state closes its public schools for an educational program. This year, the educational convention is being held from November 9-10 and usually promises a busier park.
No special festivities are celebrated at Disney World for Thanksgiving Day, however, you can get your favorite home cooked turkey or cranberry sauce at select Disney restaurants.
There are, however, a ton of other great events taking place this November at the Disney parks.
Check out the Disney Half Marathon where participants can indulge in delicious international food and libations after a good run or Mickey's Very Merry Christmas Party for a special performance from Disney's Frozen cast.
Let's see all the great things to do in Disney this November:
Disney's Wine & Dine Half Marathon
Get your heart racing with Disney World's Wine & Dine Half Marathon Weekend! It's a 13.1-mile course through ESPN Wide World of Sports Complex and will also run through Disney's Animal Kingdom and Epcot.  The event takes place November 2 through the 5, 2016.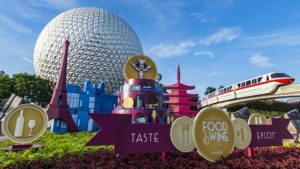 There is also a 10K race for those who would rather be cheered along on a 6.2-mile course by Disney characters instead of double the distance!
For those who think the half marathon is a cake-walk, try Lumiere's Two Course Challenge that combines both courses for 19.3 miles through Walt Disney World Resort!
All participants in the runDisney races will receive a finisher's medal and long-sleeve shirt for the run.
After all that hard work, head over to the Post Race Party on Sunday, November 5 from 10 p.m. until 1 a.m. at Epcot. There will be musical performances and a live DJ, character meet-and-greets and food and beverages from over 30 Global Marketplaces to try while partying at the International Food & Wine Festival.Be sure to check out the full weekend events on their website for details on Mickey's Holiday 5K, the runDisney Kids' Races, the runDisney Heatlh & Fitness Expo and more.
Epcot International Food & Wine Festival
We discussed the Epcot International Food & Wine Festival in our Things to Do Disney World September 2016 post and a little bit in the above October section of this article.
The food and drink festival began on September 14 and is scheduled to continue until November 14 for two months of unique sampling at Disney.  In addition to fresh cooked meals from over 25 different international areas, there will be culinary demonstrations that park guests can sit it on.
Yes we know it's still November, but Mickey's holiday party kicks off early in the month for an extended Christmas celebration beginning on November 9- December 22.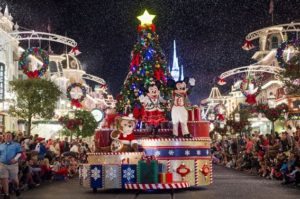 Mickey's Very Merry Christmas Party in Magic Kingdom will feature character visits from Minnie, Donald, Daisy, Goofy, Pluto, Peter Pan, Alice, Woody, Jessie, Snow White and many more!
The Disney gang will sing along to your favorite Christmas carols and be a part of special performances to welcome in some winter fun.
These parades take place at 8:15 and 10:30 p.m. the nights of Mickey's Very Merry Christmas Party.There will also be Mickey's Once Upon a Christmastime Parade with marching gingerbread men and Disney characters decked out in their red and green attire as their floats parade down the street in front of the lit-up castle.
Don't forget to see the Holiday Wishes Fireworks show at 9:30 p.m. on select nights as lights fill the sky to the beat of jubilant Christmas tunes.
Cinderella's Castle will be alight with holiday colors and guests can see the Castle Dream Lights show. This year, it will feature Queen Elsa, Anna, Kristoff and Olaf from Frozen in a seven-minute show called "A Frozen Holiday Wish." In the performance, Elsa transforms the castle into an icy winter dream with a small fireworks spectacle.
The show will go on twice each night at 6:15 (right before the Christmas party starts at 7) and again at 8 p.m.
Check out a sneak peak of the performance here:
Lastly, in Magic Kingdom, the park's usual Jungle Cruise will be transformed in a "Jingle Cruise" with new jokes, holiday decorated boats and more.
This is a separate ticketed event and not included in your entrance to Disney Park. Guests who visit the park on December 22, 23, 24 and 25 will have special holiday entertainment included in the park ticket.
Each park will also have special holiday attractions as well.
Special Holiday Offerings at Epcot, Animal Kingdom and Disney's Hollywood Studios
Magic Kingdom and Epcot will have meet-and-greets with Santa Claus at the Tour Guide Gardens next to the City Hall.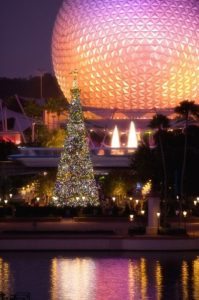 Epcot will have holiday storytellers walking around the park, and each country will have its own cultural stories. Learn how the holidays are celebrated in Canada, China, France, Italy, Japan and all the other places at Epcot World Showcase.
The park will also have special holiday endings to their usual IllumiNations shows at 9:30 and 10:30 p.m. and performances at the Fountain Stage. Guests can listen to daily gospel shows at 1:25, 2:25, 3:25,and 4:25 p.m. or a cappella group's mix of holiday classics every hour on the dot from 12 to 4 p.m.
Also, see a nightly Candlelight Processional and enjoy some holiday desserts and food at the World Showcase.
Inside of Animal Kingdom you can see the special holiday-themed tree, get your picture with Mickey and Minnie at the Adventurers Outpost in their holiday best and see live entertainers performing throughout the park.
In prior years, Disney's Hollywood Studios had The Osbourne Family Spectacle of Dancing Lights display on the Streets of America. Sadly, however, 2015 was the last year for the event as Disney is making space for new attractions and parks in that area.  The show used to sync lights and music for a timed lighting show and despite it being removed from the lineup this year, there are rumors of its return in a new location and with a new name.
Conclusion: There's Always Things to Do in Disney!
Looks like there's always something to keep our travelers busy at Disney World. Whether you're getting ready to creep in the night this upcoming October, indulge in some delicious treats this November or get a picture with Mickey and Minnie is their Christmas attire, it's never too early to set your trip dates.
Which month are you planning your visit? We'd love to hear about the exciting things you're planning do to on your trip in the comments below this article.
For more information, updates, travel tips and news from Sundance Vacations, be sure to follow us on the following social media outlets:
Summary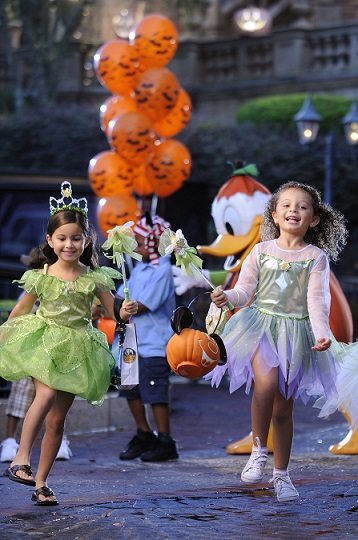 Article Name
Things to Do in Disney World during October, November and December 2016 from Sundance Vacations
Description
There are plenty of things to do in Disney from October, November and December. Check out these fun things to do in Disney World 2016.
Author
Publisher Name
Publisher Logo