If you're looking for something fun to do in the winter, look no further. NEPA is a perfect place to visit this time of year, and the winter activities are fun and exciting. I have taken advantage of many outdoor activities including snowboarding, ice fishing, snow tubing, ice-skating and even the polar plunge! The Polar Plunge is where you jump into a freezing lake in February! To answer your question, yes, I am crazy!
The Cardboard Box Derby is by far the most unusual winter activity I have participated in. It is hosted by our local radio station Rock 107. This year the 4th Annual Cardboard Box Derby was held on March 3rd at Montage Mountain Ski Resort. This event is a unique one for sure. The participants are encouraged to be as creative as they can and build a sled that will hold together long enough to make it down the slopes and past the finish line. The rules are simple: The sled can only be made out of cardboard, tape, glue and string. Whoever makes it with the most people across the finish line wins the top prize! They also have runner up prizes too. All in all they give nearly $2,000 in prizes away to the winners.
The derby starts early and is a great way to spend a Sunday. They had a beer tent to enjoy some adult beverages and they also had some snacks to warm your belly. The mountain was filled with people excited to see if their sled would hold up long enough to make it down the slope. Everyone was cheering each other on, and excitement was in the air for sure. You get to walk around and check out all of the different sleds. There were more sleds this year compared to last year for sure. There was a boxing ring, A Predator, Bob sleds, a tank, a jeep and much more!
This year I was lucky enough to take part in this event and catch a ride down the slopes with team "What the Truck". The team leaders, Justine Milligan, Jarrod Jemiola & Matt Hull have participated in the Cardboard Box Derby since they started the event four years ago, but they have known each other for more than 10 years. This year, they created an impressive tractor-trailer from Smokey and the Bandit. The tractor-trailer was massive! It stood 6 feet high, 4 feet wide and 26 feet long! They spent about 30 hours constructing the sled with mainly the three of them building it. There were also a few stragglers visiting and chipping in here and there. The truck took about 21 rolls of duct tape to put together! This year the team took home the "Epic Fail" prize because we did not make it completely down the slope. Some of us ended up falling out of the back of the tractor-trailer or out the sides. It was a great time! The excitement of getting loaded into the sled was amazing! Just imagine 52 people stuffed like sardines in a 26 foot cardboard tractor-trailer!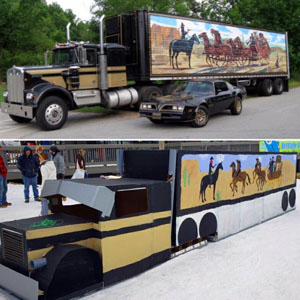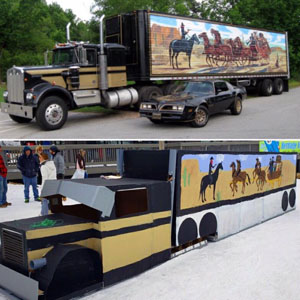 The past four years they have spent countless hours in Matt's garage constructing the creations. They have used more than 85 rolls of duct tape alone to bring their ideas to life. One year while they were working on the sled, a tornado touched down in the area! (In case you didn't know, tornadoes are not a common occurrence here in Pennsylvania!) They were so committed to their sled that the tornado didn't even stop them from working on it! The sleds this team has created have been awesome in the past, and continue to get bigger and better each year. The past creations were: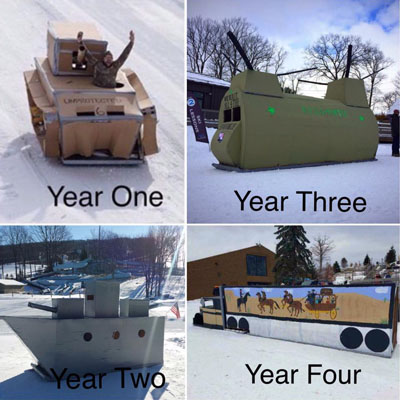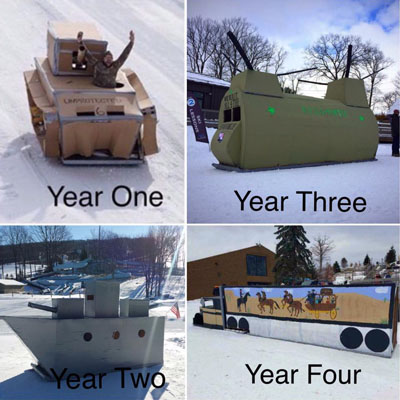 2016 / Year 1- Unprotected 6 (tank) – Winner "Most Creative" – inaugural event
2017 / Year 2- Blood, Sweat, Tears, & Tape (battleship) – no prize
2018 / Year 3- Hella•copter (Chinook helicopter) – Winner "Most People in Sled" 38 ppl
2019 / Year 4 – What the Truck?! (Tractor-trailer)- Winner Epic Fail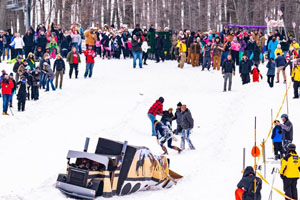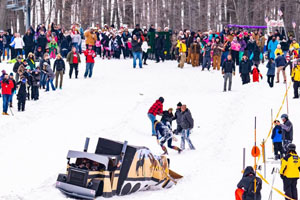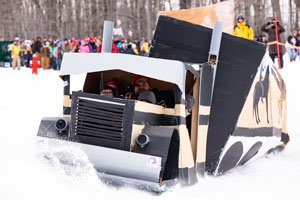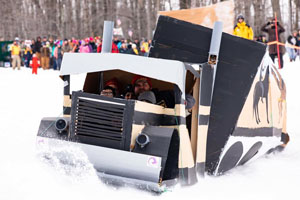 This year I decided to sit down and ask the team a couple of questions.
Where does someone get the inspiration for the sleds?
They said, "We toss out ideas until we all agree on something. Starting with the tank at 12 feet with 6 people, we have been designing our sleds to be bigger & bigger to fit more people as the event gets more popular. The battleship was 15 feet with 12 people, the helicopter was 18 feet with 38 people, and the truck was 26 feet long with 52 people." they said excitedly.
The team name changes every year and correlates with what the sled is. Also, for three years the derby has had an original date but gets postponed a week (rain, tornado causing damage, high temperatures…) and each time it has gotten pushed back, it has fallen on Jarrod's birthday weekend. It's a fun way to celebrate! Happy Birthday Jarrod!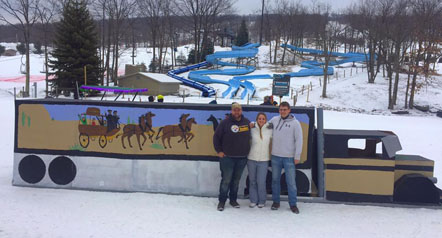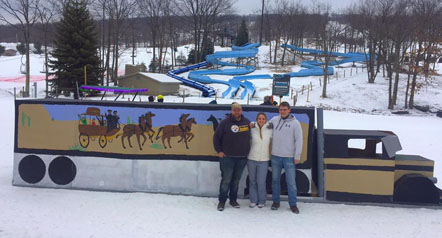 What is your favorite part about building the sleds?
Matt: 
"Arguing with Jarrod while Justine laughs at us."
Jarrod: 
"For me, it's the day of the event. And really the anticipation of whether or not our design is going to make it down the hill without falling apart. It ends up going really fast, so the structure gets tested. Seeing everyone else's design, and talking about all of our creations with this huge sense of pride we all have."
Justine: 
"It's simple- the day is about laughing, having fun, and friendship. The sense of camaraderie is second to none. We have family and friends show up and support the event all morning and afternoon and no one ever leaves without committing to another year. Each year we participate, our turnout gets bigger and better. We turn no one away and encourage people to bring others. It really is a day to just forget about any issues you have going on in the real world, a day to let loose, and a day to act like a kid again."
Prizes: More than $2,000 in prizes were awarded
First Prize:
Most people in the Sled to Cross the Finish Line**
$300 Montage Mountain Gift Card
(2) Winter 2019-20 Season Memberships
(4) Extended 2019-20 Lift Ticket Vouchers
(4) 2019 Waterpark Entry Vouchers
2nd Prize:
Most Creative / Best Concept Sled
$100 Montage Mountain Gift Card
(2) Winter 2019-20 Season Memberships
(4) Extended 2019-20 Lift Ticket Vouchers
(4) 2019 Waterpark Entry Vouchers
3rd Prize:
Best Montage Mountain Theme Sled
$50 Montage Mountain Gift Card
(4) Extended 2019-20 Lift Tickets
(4) Snow Tubing Vouchers
(4) Waterpark Entry Vouchers
Runner-Up Prize:
EPIC FAIL SLED
$50 Montage Mountain Gift Card
(4) 2019 Snow Tubing Vouchers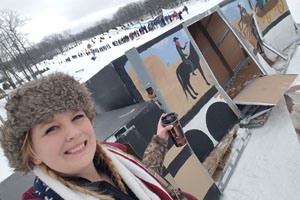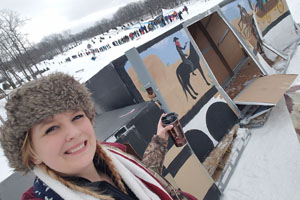 I want to thank Justine, Jarrod & Matt for inviting me to take part in all of the excitement. The event is getting more popular each year, and it attracts more people. It allows people to come together and relax on a Sunday morning. The excitement on the mountain is contagious. People are making friends because of the awesome sleds they built. We're all there for some fun and to support our friends (and family). I look forward to checking out what crazy project they come up with every year and I always look forward to the next year's Derby. You can't help but to smile and have a good time at the Cardboard Box Derby! I invite you all to come check out the event next year! Check out Rock 107 and the Montage Mountain Ski Resort website for the date next year.
When visiting Sundance Vacations Woodfield Manor and Snow Ridge Village properties, make sure to check out Montage Mountain and all of the fun you can enjoy there year-round. Woodfield Manor and Snow Ridge Village are conveniently located less than 40 miles from Montage Mountain Ski Resort.
---
For more information, updates, travel tips and news from Sundance Vacations, be sure to follow us on the following social media outlets:
Summary
Article Name
Winter fun in the Poconos of Pennsylvania
Description
Here you can check out exciting details from the 4th Annual Rock 107 Cardboard Box Derby held on March 3rd, 2019 at Montage Mountain Ski Resort.
Author
Publisher Name
Publisher Logo