Winter Travel- Checking Off Your Winter Vacation Packing List
We've all read the "how to pack for vacation" posts and pinned our favorite packing tips to our Pinterest boards, but all those helpful tips haven't prepared you for making a winter vacation packing list. In fact, you're kind of lost when imaging trying to fit all your bulky winter travel clothes in your suitcase.
Luckily for you Sundance Vacations is here with a winter vacation packing list to prepare you for your ski trip or winter getaway.
Although we all want to look stylish on our vacations, when it comes to packing for a winter trip, remember, function beats fashion. You can still look sleek and collective in your weatherproof winter travel outfits without shivering in your suede boots high in the Colorado mountains.
Check out our tips on preparing a winter vacation packing list!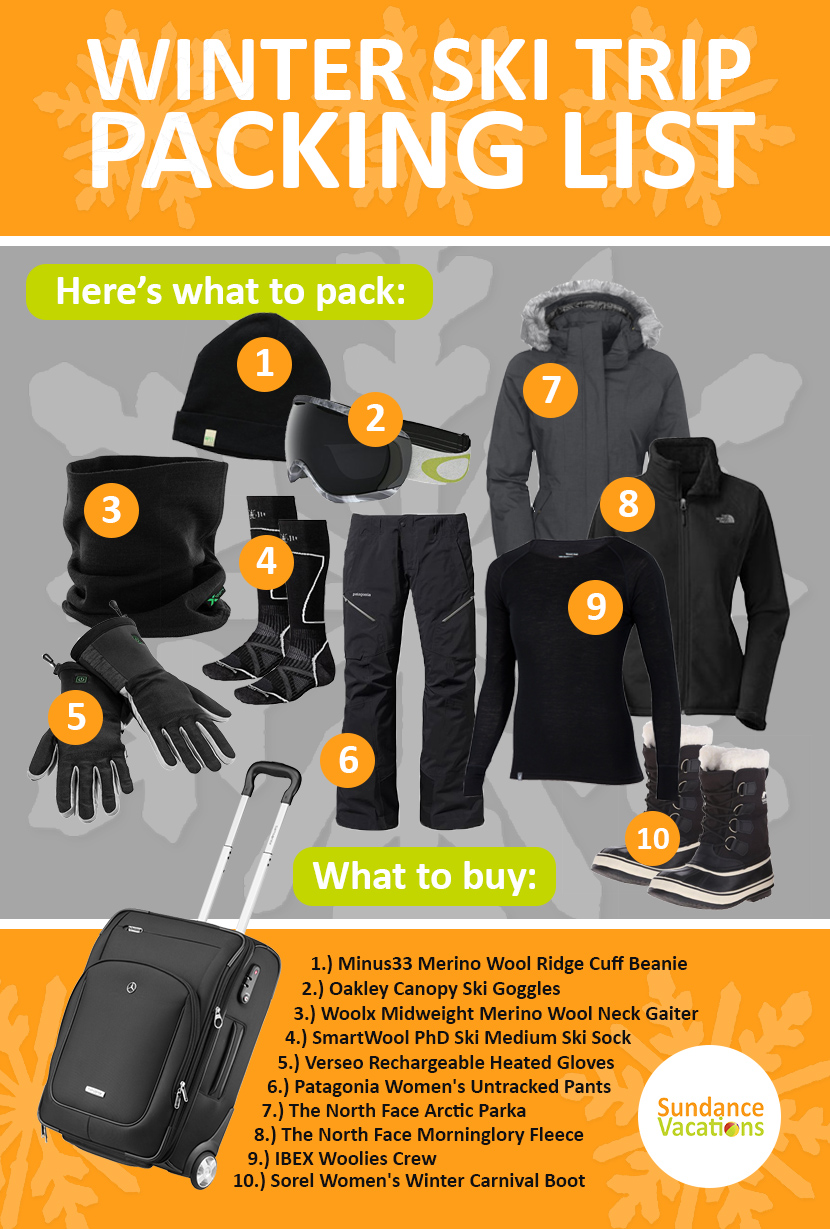 Bring ONE, All-Purpose Jacket
One big mistake a lot of people will make on a winter trip is packing too many bulky winter travel clothes, especially coats or sweaters.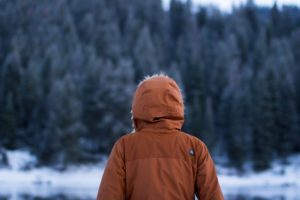 Bring one all-purpose coat that you can wear to the airport and all throughout your trip.
That means if you're going to ski or snowboard, bring that heavy duty jacket and wear it even off the slopes! Consider taking a neutral colored jacket like black, brown, white, etc. will match with everything on the trip.
Look for a thick, reliable coat that is properly insulated. Whether it's stuffed with down or a synthetic material, make sure it's fully windproof and waterproof. Don't forget to add one to your winter vacation packing list that's a little bigger, to make under-layering easier!
For those out in the snow, considering packing a thick jacket with a hood. Also, elastic cuffs will keep the snow out. If you're staying off the slopes but still need protection from the frozen rain and brisk wind, bring a long parka to cover most of your legs and let your boots do the rest.
Even if you're opting out of getting soaked in the snow, resist that urge to pack a thick, over-sized wool or other poofy fabric jacket! It might look hip, but it's bulky and mostly for show. You'll thank us later when the snow slides right off your ski coat and doesn't cling to your favorite cashmere button-up.
Layering- Are You Doing it Right?
Some people seem to think the more layers of clothes you put on, the warmer you'll be. Well committed skiers and snowboarders know that this isn't always the case. In fact, layering improperly can actually add to excess sweating, causing your body to become wet and cold.
Invest in a good base layer made from merino wool to add to your winter vacation packing list.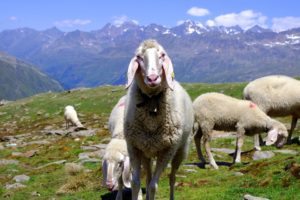 Merino wool could be considered the most coveted wool for outdoor winter enthusiasts. It comes from the merino, one of the world's most ancient breeds of sheep, and is woven to create one super durable fabrics. These merino sheep aren't grazing on grass in a warm climate like the white fluffy Lamb Chop from your childhood memories, merino sheep live in the bitter cold New Zealand Southern Alps.
The high quality wool is made up of ultra-fine fibers that absorb your sweat and allows it to evaporate inside the fabric, keeping your body temperature stable. The material actually traps warm air, making it perfect for winter sports.
Another beneficial factor is that wool is actually a natural antibacterial, so you don't need to wash it after each use. This makes it a fresh-feeling under layer to reuse during your trip.
The problem with merino wool is that it tends to be pricier; prominent names like Icebreaker and Patagonia use this sheep's wool for its high quality and warmth. For a little better price, try Ibex's merino under layer. Trust us, although it may still be more than you expected to spend, you get what you pay for!
Synthetic materials, such as nylon, polypropylene, spandex, or rayon usually will dry more quickly but are better for high humidity or working out in rainy weather. Skip packing these for your ski time on the mountain!
Make sure in addition to your base layer, you have a mid-layer like a fleece that can wear and then layer with if necessary. A mid-layer could be something made out of fleece or another warm, fuzzy material. It can also serve as a great jacket to throw on while grabbing dinner out if you don't need your big, bulky ski jacket.
Also, don't forget to pack your best ski pants to keep your legs protected. We recommend Patagonia's untracked pants. Although they are a little pricey, they have a high rating and have 3-layers of waterproof and breathable fabric to eliminate the need for multiple bottom layers.
Now, are we saying to not pack sweaters? No! You can still pack one or two, but use them as a replacement for other tops. Don't over pack shirts!
You may want to pack a pair of jeans for a night out, but keep it to one pair and maybe two nicer tops.
Hats
Which hat you pack will really depends on what you're going to be doing on your trip. Do you need a hat to keep your head warm and has the best coverage (around your face, neck, etc.), or is a stylish option for shopping and quick runs in and out of warm stores what you need?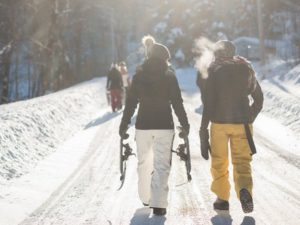 If you'll be doing a lot of winter sports on your trip, make sure you pack one breathable winter hat. Brands like The North Face and REI make great hats that trap heat but still allow moisture to leave.
Another good face add-on for extreme sports lovers would be a neck gaiter. This replaces the need for a scarf by shielding your nose, mouth and neck. Check out Woolx's merino wool accessories for men and women.
If you're looking for an easy and trendy winter look, try a cable knit slouchy beanie!
Gloves
Nobody wants to pack bulky winter gloves, and you shouldn't have to. Although a pair of sturdy gloves is a must for skiers and snowboarders, one good pair is all you need for your trip.
Make sure they're waterproof! Whether it's wet hands on the icy trail or extra dry time in your suite, if you're only bringing one pair, they need to do the job for you.
Purchase a pair that can tighten around the wrists to keep snow from getting down into your jacket. Some fancy gloves actually have removable heated liners or pads, or you could purchase inserts that fit in most gloves. These are battery operated and produce heat all the way down to your fingertips. Check out these Verseo Thermo Gloves!
Other people prefer gloves with grip on them or have touch screen friendly fingertips. Whatever needs you have, make sure your gloves and jacket have clips to dangle them from so you won't even need to worry about getting them in your suitcase. Save room for more necessities on your winter vacation packing list.
Socks
Socks are a similar story!
For a week-long trip, you should be fine with two pairs of good ski friendly socks. Keep an eye out again for merino wool blends at are above 60% for super insulation. Check out SmartWool PHD Ski socks or a lighter pair with a lifetime guarantee, Darn Tough Ski socks.
Now this doesn't mean you can't pack a pair or two of socks for lounging around, but don't pack more than four pair of socks total. Space-saving tip, stuff them inside a pair of shoes or in tight spaces to give yourself more room.
What Shoes to BOOT!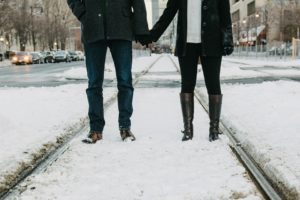 When asking what shoes to boot out of your normal packing routine, our answer is all them- with the exception of two pairs of boots.
Your winter packing list only requires a heavy-duty boot for skiing and a more casual yet protective boot for going out. Pack an extreme weather boot for warmth or activity. But don't let you're casual boot numb your toes; make sure it's also weatherproof!
Wear your bulkiest boots on the plane. This might be your insulated Hunter boots for walking in the slush or your tall thigh-highs. Whatever boot takes up the most room, wear it while you travel.
Please, please, please do not pack a suede boot. Although they are very stylish, one drop of water and they're goners.
Miscellaneous Accessories
Do you absolutely need a scarf if you packed a neck gaiter? How many pairs of underwear could I possibly go through in 7 days? Am I forgetting anything important on my winter vacation packing list?
These are all great questions to ask yourself when shoving in those last few items.
If you must pack a scarf, make sure it's something that will go with your outfits and of course, isn't too bulky. We all love blanket scarves but they take up too much space.
Don't pack more underwear than you'd normally wear. Most of Sundance Vacations properties have washer and dryer units, so if you need to do a load on your trip no one will be the wiser.
Some easy things to overlook packing on your trip include polarized sunglasses, sunscreen, lotion and lip balm. It's still sunny on the mountains and with the reflection against the white snow, it can be blaring. Plus at the high altitude the sun's rays will be stronger! Protect your eyes and skin, as well as your lips, from the sun. Check out this DIY sunscreen recipe from Sundance Vacations to make your own organic sunblock.
DON'T! Seriously, Don't Waste Space on These
Sleeveless vests. They are adorable, but not functional for cold weather. You will be cold with your arms revealed! If it's brisk enough to need a jacket you wear it, if not, your sweater will suffice.
Silk. Although very elegant, it's certainly not weatherproof. It's also not very warm!
Excess multiples. Do not feel as though you need to pack seven pairs of socks and seven completely different sets of outfits. Also, don't fall into the trap of packing multiple sets of gloves, hats, scarves, etc. Stick to the guide!
Electronics. I know some people can't go without their curling iron or hair straightener, but they take up a lot of space. Remember that in the winter you'll be most likely wearing a hat, which is the perfect way to hide any hair problems. Plus, you know with the wet snow your hair is going to stay styled for about ten minutes before it falls back into its usual place.
Skis or snowboard. With airline fees to check in your own gear, you're probably better off renting the items, along with a helmet, once you get there.
We All Feel the Stress Making our Winter Travel Clothes Fit
Even if you follow our suggestions to bring only one heavy jacket, wear your bulkiest clothes on the flight, and nix unnecessary add-ons, chances are you will still have to squeeze everything in. It's just the over-planner in all of us!
Fear not, for you will have enough winter vacation outfits if you follow our guide. If you somehow are short, you can always buy yourself a nice souvenir or two on the trip! (We said one or two, let's not get crazy…)
For great packing tips on how to get everything to fit in your suitcase, check out our YouTube channel.
Remember, you're only going away for a week, and our Sundance Vacations properties most likely have a washer and dryer to clean up those ski outfits. Less is more, and make sure to pack a ton of neutral colors and accessories you can rewear or mix and match with other pieces.
Thanks for checking out our winter vacation packing list tips!
---
Check out our Colorado and Utah properties.
For more articles on winter and skiing, check out some of these:
Ski Utah or Colorado with Sundance Vacations!
How to Ski- 5 Tips for Beginners
Ski Season? Already!?
Ski Vacations: Whistler vs. Colorado
Things to Do in Colorado
Things to Do in Heber City, Utah
---
As always, for more information, updates, travel tips and news from Sundance Vacations, be sure to follow us on the following social media outlets:
Summary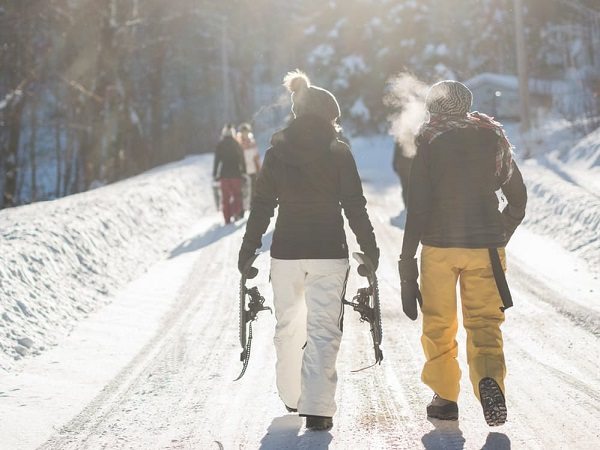 Article Name
Winter Vacation Packing List- How to Pack for a Ski Trip
Description
This winter packing list from Sundance Vacations will help you prepare what to pack for a ski trip. Not only will it help you learn how to pack for a winter vacation, but you'll feel like your winter packing list is complete!
Author
Publisher Name
Publisher Logo