Travel with Sundance Vacations to Heber City, Utah
If you're looking for some breathtaking views all year round, want to enjoy some hiking or fishing during the summer and some winter sports when it gets colder, Heber City will have all you need!
Sundance Vacations Property: The Lodge At Stillwater
In the winter months, enjoy skiing, snowboarding and ice fishing in this beautiful mountainous area.  In the summer take a hot air balloon ride or go on a hike. There's plenty to see and do in and around Heber City all-year round!  To learn more about this great destination, including other things to do, places to eat and more, head over to it's page:"Sundance Vacations Properties in Heber City, Utah"
Check out some awesome things to do!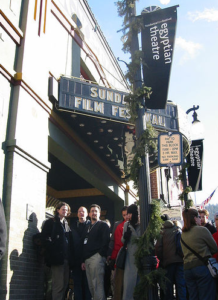 Sundance Film Festival
Heber City is home to The Sundance Film Festival, a program of the Sundance Institute, is a film festival that takes place annually in Park City, Utah. With over 46,660 attendees in 2016, it is the largest independent film festival in the United States.
Off Roading
ATVing –
Uinta Recreation offers ATV, RZR and wave runner rentals to start exploring outside. In the colder months, they have snowmobiling options too. Whether playing on land, snow or water, Uinta is there to supply you with the equipment. The Cascade Springs are also in Uinta, and you can check out the awesome falls.
Horseback Riding at KB Horses
With the perfect scenery and trails, horseback riding no matter if you are an experienced rider or just starting out, KB Horses will be a fun ride for the whole family to enjoy! Visit here
State Parks
Heber Valley's three state parks offer hiking, picnicking, fishing, golf, boating, snowmobiling, cross country skiing, and snow tubing.
Jordanelle and Deer Creek State Parks are lake parks, known for excellent fishing and water sports. You could also take a kite boarding lesson at Deer Creek during a summer stay.
Wasatch Mountain State Park is a huge 23,000 acre park which is set aside for a variety of fun outdoor activities. Wasatch Mountain Golf and Soldier Hollow Golf each boast 36 holes!
Heber Valley Railroad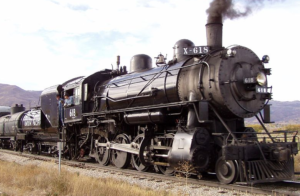 The Heber Valley Railroad is also known to many as the Heber Creeper, and is one of Heber City's best-known attractions. It's an excellent opportunity to relax and reconnect with family and friends. Explore the historic cars, enjoy the scenery or look for deer, elk, moose and more along Deer Creek Reservoir or Provo Canyon. Taking a ride on this historic railroad is like taking a trip back in time!
Soldier Hollow
Originally created for the 2002 Winter Olympics Game, Soldier Hollow is now a year round activity. In the summer, hiking, biking and horseback riding are popular. Special events such as the Dirty Dash, Heber Valley Pow-Wow and the Soldier Hollow Classic Sheepdog Championship are also held there.
Soldier Hollow hosted the cross-country skiing and biathlon Olympic events and it continues to host international sporting events. These world class cross-country and biathlon courses are open for public use year-round. Equipment rentals and lessons are available. Soldier Hollow also has a 1,200 foot tubing hill which is one of its most popular winter attractions.
Fishing
Heber City offers world-class opportunities for fly fishing. Heber City is located minutes from three good fishing reservoirs: Strawberry, Jordanelle and Deer Creek. Strawberry Reservoir offers some of Utah's best fishing for trophy rainbow and cutthroat trout. Jordanelle and Deer Creek state parks are also favorite local destinations for boating and other family-friendly fun.
One of the most unique activities you'll ever experience in your lifetime, The Crater is a geothermal spring hidden within a 55-foot tall, beehive-shaped limestone rock located on the Homestead property. You can go swimming, scuba diving, snorkeling, enjoy a therapeutic soak, or even take a paddle-board yoga class. The Crater is the only warm water scuba diving destination in the continental US and attracts many diving enthusiasts and those wishing to get certified in a comfortable environment.
Sky Tour
OK3 AIR The Heber Valley is one of the most beautiful places in the world to fly. As the closest airport to Deer Valley and Park City, OK3 AIR provides the most convenient, uncongested, and high-quality approach to these resorts giving you the full experience!
Hot Air Baloon Ride: Take an adventure you will remember for the rest of your life. On the 1 hour morning flights you will see the earth from a new perspective, leaving you stunned with impressions.
Winter Activities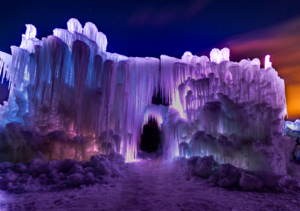 Ice Castles: The Midway Ice Castle is an acre of splendor with millions of illuminated icicles formed into one of the world's winter wonders.  With walk-able glacial caves, stunning views, and ice slides for the children. Make sure to check the website to see when the ice castle will be open!
One of the most popular features of the Ice Castle is the evening light show. Thousands of LED lights embedded in the ice coordinate with stirring instrumental music to transport guests into a fantastical wonderland.
Skiing: The Heber Valley is a true ski destination due its proximity to world-class ski resorts.  Conveniently situated by Deer Valley Ski Resort, the #1 ski resort in North America, and Robert Redford's renowned Sundance Resort, vacationing in the Heber Valley provides quick access to all of you skiing needs.
For the cross-country skier, the 2002 Olympic venue Soldier Hollow provides endless trails and breathtaking views.  Additionally, Soldier Hollow is home to the longest tubing lanes in North America.  With 1,000 miles of snowmobile trails, entertaining horse-drawn sleigh rides and dog sled tours, the Heber Valley truly is a winter wonderland.
Ice Skating: The Midway Outdoor Ice Rink is the perfect family activity this winter. Open seven days a week and rentals available for every size, your family will love the beautiful scenery and wonderful atmosphere of the ice rink.
Snowmobiling: Whether you want groomed trails or untracked isolation, snowmobiling opportunities abound in the Heber Valley. Miles of trails wind through mountains and forests, opening onto delightful meadows and vast plateaus. You make the choice whether to take a guided tour led by knowledgeable guides or strike out on your own into the pristine wilderness.
Snowshoeing: Walk among the edges of a groomed trail network following one of the hundreds of miles of trails around town. With so many options, there is really something for everyone, whether you're looking for a casual walk in the woods, a more intense workout, or something in between.
---
Get ready for your Utah Trip with a Jello Pretzel Salad.
For more information, updates, travel tips and news from Sundance Vacations, be sure to follow us on the following social media outlets:
Are you a fan of Frozen? The Midway Ice Castle in Heber City, Utah is made only of ice and has Elsa inviting you in! https://t.co/v8WDT2Bs0q pic.twitter.com/lO8Td20qHD

— Sundance Vacations (@travelsundance) October 18, 2017
Summary
Article Name
Things to Do in Heber City, Utah
Description
If you're looking for some breathtaking views, hiking or fishing in the summer with plenty to do in the winter, then Heber City, Utah is a place to go!
Author
Publisher Name
Publisher Logo