Now that both the spring and summer travel seasons are behind us — and the fall season is already racing towards the finish line — it's time to look ahead to the prospect of a winter vacation to round out 2016 with fun things to do in Colorado!
Although many people choose other seasons as their "favorite", winter travel offers a whole host of new options that are not available during those warmer months of the year.  Skiing or snowboarding may be the most prominent activity that sticks out during the winter, and few places are better for a ski trip than the state of Colorado.
Sundance Vacations offers multiple properties in the Rocky Mountains of Colorado which includes accommodations in Winter Park, Frisco and the ever-popular Breckenridge.
As for the travelers that don't mind getting out of the cold once in a while, there are plenty of other things to do that will keep you out of the snow.
Checking out the local breweries and places to eat as well as the various shops in the downtown areas can be a great way to unwind or catch a break from the slopes.  With plenty of resort-quality spas in the area, travelers will certainly find it easy to pamper themselves as well.
Start planning your trip for Colorado today and find out why it's not only a skier's paradise, but a great place for a winter vacation!
Hit the slopes
Any traveler that loves to ski is certainly chomping at the bit for the first flakes to hit the mountains.  You'll also be surprised to know that most of the major ski resorts in the area — like Copper Mountain, Breckenridge and Winter Park — are projected to open around the second week of November this year, which is essentially later this week!
With an average annual snowfall total of 107 inches, Breckenridge alone will see nearly a fifth of that total fall in just the autumn months of the year.  So whether you want to get an early start on the ski season, or you want to wait until conditions are pristine, the many ski resorts in the area will surely have availability for you to shred some fresh powder.
Sundance Vacations has properties in Breckenridge, Frisco and Winter Park, with the two farthest being just about an hour and a half apart.  Meaning that our travelers will be able to hit multiple ski resorts no matter which set of accommodations they decide to stay in.  Travelers staying in Frisco can journey just 15 minutes to Breckenridge and vice versa.
In total, there are six major resorts within close proximity of our Sundance Vacations destinations:  Copper Mountain, Breckenridge Ski Resort, Keystone Resort, Arapahoe Basin Ski Area, Loveland Ski Area and the Winter Park Resort.
For travelers staying in either Breckenridge or Frisco, access to both Breckenridge Ski Resort and Copper Mountain is available by traveling in under 30 minutes.
Breckenridge — which is one of the western hemisphere's most-visited ski resorts annually — has a mountain that rises 3,998 feet from its base and offers up 187 trails for skiers and snowboarders to take advantage of.  In operation since 1961, "Breck" has been advancing the sport of skiing ever since and was actually the first in the state of Colorado to allow snowboarding, back in 1984.  With 34 ski lifts in operation and 2,908 acres of terrain to ski and ride on, its understandable why so many people come back each year.
The ownership group behind Breckenridge, Vail Resorts Management Company, also manages other world-class ski resorts like: Vail in Vail, Colorado; Keystone Ski Resort; Heavenly Ski Resort in Lake Tahoe, California and Park City in Utah. Clearly a company that has been perfecting its craft over the last few decades, which should make Breckenridge an even more desirable destination for ski lovers.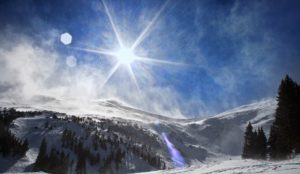 Breck also combines some amazing events alongside the amazing skiing terrain.  This season, Breckenridge will host the Hartford Ski Spectacular, between November 27 and December 4, which is the nation's largest winter sports festival for people with physical disabilities.  Also this year, the Dew Tour makes its return to the mountain, from December 8 through the 11, and will showcase some amazing talent in the category of winter action sports.  For more events that will be coming to the resort as well as more information about Breckenridge, visit the Breckenridge website.
Situated slightly to the west of Breckenridge is Copper Mountain, another high-quality ski resort that is close by for travelers staying at Sundance Vacations properties.  Featuring 140 trails, 2,490 acres of skiable area and a vertical drop of 2,601 feet from elevation to base, this ski resort is another option for those that want to hit some fresh powder.  For a full list of prices and conditions check out the Copper Mountain website.
Travelers that decide to stay at our accommodations in Winter Park will find themseleves right at the foot of the mountain.  With our property at Beaver Villiage, skiers will be able to leave their home away from home and be at the ski lifts in under 10 minutes.  Plus, with 3,081 total skiable acres — which includes 143 trails and 1,212 acres of additional terrain — across six mountain tops, you'll be hard pressed to find a skiier or snowboarder who gets bored of the terrain.
The Winter Park Resort also offers onsite events and a whole host of other winter activities that will keep skiiers and snowboarders coming back and not experiencing the same day twice.  This year, the resort is offering skiiers and snowboarders a chance at demoing some new gear during demo days, from December 3 to the 4, a Christmas Eve Torchlight Parade complete with fireworks and they will also host a Vans King of the Grommets competition twice this season (January 28, 2017 and March 18, 2017) for kids to take part in.
No matter which one of our many Sundance Vacations properties you choose to stay at in Colorado, you'll be sure to find plenty of amazing skiing options, which could make this the perfect place for a winter getaway for years to come!
Take advantage of other winter activities
While most would agree that skiing and snowboarding generally takes center stage in terms of activities during winter travel, there are plenty of other awesome options out there as well.
For those of you out there that would love to hit the mountain, but aren't into the ski or snowboard scene, snowtubing could be the perfect alternative.  Of the above mentioned major ski resorts, Copper Moutnain, Winter Park Resort and the Keystone Resort all offer snowtubing.  While in the town of Frisco, be sure to visit the Frisco Adventure Park, which offers snowtubing and many other winter activities.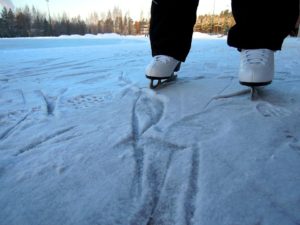 Travelers that would rather take to the ice can find options for that at Copper Mountain or at the Stephen C. West Ice Arena.  There are options for beginners, in the form of lessons, and seasoned professionals can also skate on these surfaces.  While the skating surface at Copper Mountain provides a more traditional, wintery feel for travelers as it is outdoors, travelers that want to get in from the elements will want to skate at the Stephen C. West Ice Arena.  For schedules and pricing be sure to check out each of the two websites.
Near the Winter Park Resort, there are two rather unique options aside from many of the other resorts in the area.  One of which is a winter activity that has been around for centuries and another that has become more popular over the last few years.
Dog Sledding has been in use since somewhere around the 10th century, and in some cases, is still used today as a mode of winter transportation.  Travelers will be able to get on the sled as a guide will take you on a tour of the area in all its wintery bliss.  The tours — which are serviced through Dog Sled Rides of Winter Park — vary in price depending upon how many people will be taking the tour, be sure to see their pricing scale here.
A newer obsession that has been sweeping the outdoor, winter-activity community is fat biking.  These bikes have over-sized tires that each have aggressive treads made for riding on packed snow.  Travelers can rent these bikes, as well as a helment, for either a half day, full day or even by the hour.  There are two separate trails in the Winter Park area each of which offers a slightly different experience.  For more information about this new trend, including pricing, check out this page on the Winter Park Resort's website: "Fat Biking around Winter Park"
Treat yourself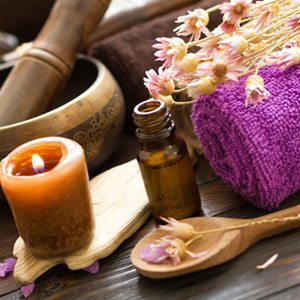 With a number of high-quality ski resorts in the area, it's basically a no brainer that there will also be some onsite spas that will pamper you while on vacation.  Copper Mountain, Breckenridge, Keystone Resort and the Winter Park Resort all have spas located nearby for travelers to use and find a deeper sense of relaxation while on vacation.
The Spa at Breckenridge is located right at the base of the Snowflake ski lift and has a number of ways to get travelers feeling their best.  With a wide range of amenities and services, like massages, treatments and more, the spa certainly has all the tools needed to get you feeling relaxed after a long day on the slopes, or to de-stress on the first day of your travels.  For more information about what they offer as well as directions and hours, check out their website.
Copper Mountain has a spa onsite that offers numerous types of massages and more.  Plus, once your treatment is over, you'll receive complimentary access to the pool, weight room, cardio equipment, hot tubs, saunas and steam rooms that are all onside, on the same day of your service.  The services at the spa are available from the date of opening (November 11) until April 17, 2017, so there is plenty of time to book a trip and make a reservation!  For a full menu of services, as well as pricing, check out this page: Copper Mountain Spa & Athletic Club
Alpenglow Massage, is located in the resort village at the Winter Park Resort.  It offers traditional massage services and is located within walking distance of most of the activities and things to do on the resort.  Open year round, the Alpenglow staff is looking to pamper you and ensure that your vacation is as stress free as possible.  You can book ahead by visiting this page on the Winter Park Resort's website: "Alpenglow Massage"
Grab a drink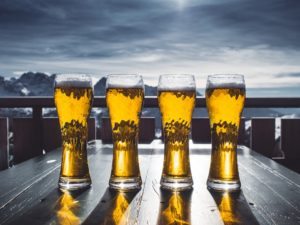 There are a number of breweries and distilleries in the area of our Sundance Vacations properties.  In 2015, Colorado ranked third in the United States for most craft breweries per capita.  Coming in just behind Vermont (9.3) and Oregon (7.7), the Centennial State finished with 7.3 breweries per every 100,000 people age 21 and over.
While in the Breckenridge area, consider a visit to the Broken Compass Brewery and Tap House — located under 10 minutes from where you'll be staying — and sample a beer or two before heading out for dinner.  For beer and dinner combination options, travelers will want to check out the original location of the Breckenridge Brewery.  Opened in 1990, the brewery has since relocated it's main facility closer to Denver, however this location now serves as a new-age brewpub and is the only of it's kind in Breckenridge.  The pub boasts a menu featuring things from the exotic to traditional and is just a six-minute car ride from the Breckenridge Ski Resort.
Six minutes to the north, travelers can also pay a visit to the Breckenridge Distillery, where they can take a tour of the award-winning facility and even get a taste of some of the company's products.  This location, however, is all about spirits and no food is avilalble onsite.  Should you want to skip the tour and just taste test and purchase some of the distilleries products, they also offer a tasting room located on South Main Street in the town of Breckenridge.
While staying near Winter Park, there are two spots that visitors will definitely want to stop by and sample a few brews at.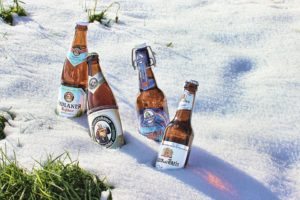 The Hideaway Park Brewery, just a six-minute ride from the Winter Park Resort, was started as the owner's attempt to escape corporate America.  There brewery offers multiple beer options and a rotating tap list, to learn more about their current selection, be sure to visit their website.
Also, located right at the base of the mountain, the Moffat Station Micro Brew and Restaurant is yet another awesome place to sample some delicious craft brews.  Unlike the Hideaway Park Brewery, travelers can also get food at Moffat Station.  Visitors can sample lagers, stouts and ales as they take in some delicious fares that ranges from casual to fancy.  For more information, including their hours and a menu, be sure to check out their website.
Visit downtown shops and more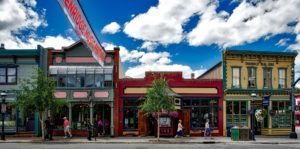 Travelers that are heading to Breckenridge will be treated to one of the best downtown experiences that a vacation can offer.  With places to shop, dine, relax and more, it's no wonder why this is such a favorite destination for so many.  Add in the town's laid-back and friendly vibe and you'll want to visit again and again each and every year.
With a number of amazing places to grab a drink and enjoy nightlife, which includes the above mentioned Breckenridge Brewery, downtown Breckenridge is a perfect place to check out after a long day on the slopes.  Wind down the day with some craft beers or even a delicious meal at one of the many local restaurants.
During the day, and if you are a fan of breakfast, you'll want to pay a visit to the Columbine Cafe.  The local cafe is open from 7:30 a.m to 3 p.m. and serves their delicious breakfast menu all day.  So whether you are early riser or someone who rolls out of bed around noon, you'll still be able to grab breakfast favorites like waffles, eggs and more.  For the lunch crowd, there are many options served for that too.
With sports stores — that offer rentals for those that will be skiing — Christmas shops, art galleries and more, there is something for everyone when shopping in downtown Breck.  The town's charm that features buildings that have stood for over 100 years is a perfect setting to spend a day away from the slopes.  This former mining town will be the perfect place for travelers to call their home away from home during their winter vacation.
For more information, updates, travel tips and news from Sundance Vacations, be sure to follow us on the following social media outlets:
Sundance Vacations Things to Do in Colorado video transcription:
Things to Do in Colorado. Winter is the perfect time to visit our Sundance Vacations properties in Colorado! With accommodations around Frisco, Breckenridge and Winter Park, skiers and snowboarders can visit a number of resorts, maybe even hit the slopes at all three destinations on their trip. Travelers visiting Winter Park will be at the foot of the mountain and only 10 minutes from hopping on a ski lift. If Winter Park Resort's 143 trail systems aren't enough to keep you busy, head over to Frisco and experience Arapahoe Basin, Keystone Resort, or Copper Mountain Resort. Copper Mountain Resort actually offers indoor freestyle training facilities to practice tricks at Woodward Copper as well! Then finish off your trip with the perfect ski down Breckenridge Resort's mountains, the second most visited ski resort in America. For those of you who aren't skiers or snowboarders, many of the resorts have ice skating rinks or snow tubing. In addition to the area's long list of places for winter activities, Colorado offers a number of places to relax after your excursions. The state boasts the third most craft breweries per capita in the U.S. and offers many places to grab a drink. Only 10 minutes from our Sundance Vacations property in Breckenridge is the Broken Compass Brewery and Tap House. The company doesn't bottle or can any of their beers, so be sure to drop by for a local taste. Not too far from there is the Breckenridge Distillery, where you can take a tour of the award-winning distillery or simply stop by their tasting room on South Main Street. There's also commercial and local shopping around each of our three properties to bring back a souvenir from your getaway. There's so many things to do, you're sure to have an exciting winter adventure while staying with us in Colorado! Give us a call at 1-800-220-9400 to schedule your trip today. And be sure to subscribe to Sundance Vacations on YouTube for more destination videos and more!
Summary
Article Name
Sundance Vacations Destinations: Colorado
Description
As the temperatures begin to drop around the country, one this is clear, winter is on the way. Just because it's colder out doesn't mean we can't take vacations though. Colorado is a perfect place for travelers to ski, relax and enjoy everything a winter vacation has to offer.
Author
Publisher Name
Publisher Logo