Sundance Vacations: Tips for First-Time Skiers
First time skiers often feel frustrated by the winter sport. Who could blame them? Tripping over your clunky skis, face planting in not-so-soft powder and feeling every cell in your body freeze to ice.
There is no denying it is hard to get into this whole "playing in the snow" business when you suck at functioning in the bitter cold.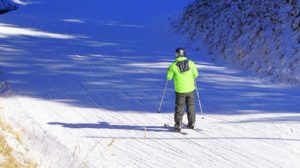 Some Sundance Vacations travelers admit that they would rather lounge on the beach than trek through the snow while on their family retreat, while others are true winter vacation lovers.
Regardless, it really is easy to start imagining yourself on a pair of skis after seeing exhilarating YouTube videos of professionals ripping down the slopes or families gliding along making once in a lifetime memories with one another.
These travelers are excited by the idea of escaping to a snowy resort to learn how to ski with their loved ones. They see the beautiful log cabins with a toasty fireplace and start to think that maybe winter could be just as exciting as summer for vacationing — and it can be!
Nonetheless, most new skiers dive right in and skip the basics, causing the thrilling skiing experience you envisioned to turn into a miserable and discouraging trip.
Sundance Vacations empathizes with first-time skiers' woes and is here to offer some advice for newbies on the slopes!
Oftentimes, first-time skiers hate the slopes because they went in unprepared.
You would certainly never show up to a meeting at work unprepared, so why on earth would you hit the slopes without doing your research on best practices for learning how to ski?
Utilize these first-timer tips and hit the slopes with confidence!
1. "Can I Borrow Me Your Bathroom?"- Borrow Your Gear
Just like Amy Poehler asks in the new comedic movie Sisters, do not be ashamed to ask to borrow something before deciding if you will actually use it.
Although it is a great idea to use the facilities right before hitting the slopes, in this case, what we mean is borrow your ski equipment and gear for your first few excursions.
A new skier might think that just bundling up is enough to keep warm, however that is not the case!  Many resorts will allow people to rent more than just the skis themselves; oftentimes parkas and snow pants rentals are available as well.
Newbies will not know if they will stick to skiing right away, so do not waste money on expensive winter gear before a few tries on the slopes.
Luckily, most people have the basics to get started and can rent the rest.
Layer up! Besides a waterproof jacket, put a couple of sweat-wringing layers on underneath your coat. Remember, it is easy to remove clothing to cool off, but impossible to put on more clothes that you do not have!  It is okay to be on the verge of sweating in your gear, however, be sure to dress appropriately so moisture does not cling to your clothing.
Sundance Vacations advises new skiers to not wear jeans or cotton sweatpants/shirts on their adventures. Water soaks into to these materials and the fabric will not dry in the cold.  The safest bet is to rent properly insulated and water-resistant snow pants. Thick ski pants are great for beginners because they are usually padded and have extra cushioning to protect against a fall.
Perhaps most importantly, new skiers should make sure their boots are a good fit.
Megan Ericksen from Ski 'N See near Park City, Utah, shares some advice about picking the right boots.
"You want your ski boots to fit nice and snug," Ericksen told Sundance Vacations. "If your toes are brushing the end of the boot, that is perfect. You don't want your toes to be crushed, because that obviously isn't comfortable, and you don't want too much room in the toe or else your foot is going to slide around in the boot and cause more pain."
Knowing if you have the right fit may end up being difficult for first-time renters, but try a few on before hitting the slopes.
It may sound tempting to double up on socks to avoid the cold or to fill the space of a boot that is too big, but generally, this is a bad idea. Do not let your foot be so packed that you lose circulation to your toes on the slopes. Find a nice insulated sock that allows enough breathability as to not be cramped, but that will still shelter your feet from the cold enough that your toes will not go numb.
Some of our travelers admit they are embarrassed to try on five pairs while their friends anxiously wait in the resort rental shop. If that is the case, head to a ski shop before meeting up with the gang to try on a few pairs and feel confident about your fit. The worst thing a newbie can do is get boots that are too big or too loose so take the time to find the right pair.
Heading to a Sundance Vacations property? Scroll to the bottom of this article for links to the best ski shops to rent from.
2. Monkey See, Monkey Do- Learn from a Professional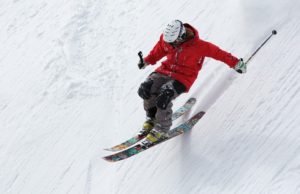 How the heck are you supposed to move with these long, fin-like boards attached to your feet?
You learn, and you learn the right way, right away.
This often requires lessons from a trained professional who can help you quite literally get your footing. Your friend's uncle may think he is a skiing expert, but more than likely he is not, and when you are first starting out, it is easier to pay for the real stuff.
Sundance Vacations suggests new skiers take the time to learn the proper techniques first so they do not have to break the bad ones later.
Peter Levan, a certified skiing instructor at Winter Park Resort in Colorado, tells Sundance Vacations that learning from a teacher is all-around better for your development on the slopes.
"When a person is nervous I work to develop trust by explaining our lesson plan," Levan said.
After realizing a trained professional will be there to help, he tells us that people usually feel more comfortable giving it a try.
Once on the slopes, Levan starts with the basics of explaining which muscles are used to control the skis and covers everything from how to stop to controlling speed until a newbie is ready to move to increased terrain.
Some people can grasp the basics rather quicly while others need a few tries before the proper body mechanics kick in. Do not fret if it takes you longer than others. Everyone falls and eats a little snow, but it is important to not get discouraged and understand that everything you do in life is a practice, and everyone learns at different stages.
Certain basic techniques such as turning, wedging, snowplowing and transitioning across flat land and hills are not things newbies will typically learn with just one lesson. Be sure to check out beginner packages; oftentimes they will come with a series of lessons in addition to rental equipment and lift tickets to make learning affordable.
Don't monkey around when it comes to learning how to ski; take lessons from a professional!
Consider taking a course that's gender exclusive.
It is totally not sexist; men and women have different centers of gravity and often dissimilar upper body strength, and therefore, sometimes learn in unique ways. Because both play an important role in creating a strong foundation for new skiers, put your "Equality for All" griefs away and understand why the classes are offered segmented.
Even after some lessons, it is a good idea to go out the first few times with some experienced riders. NEVER hit the slopes alone.  Find a friend who has been doing it for years and another newbie to share your first few goes with. Sometimes it is comforting to have a teacher who can offer proper guidance as well as another first-timer to share laughs about your struggles with.
A patient, knowledgeable skiing partner will be a savior on the slopes and the ideal person to gain solid riding experience with. No one wants a discouraging or controlling teacher, so be sure to elicit the right friend to make your experience as enjoyable and instructive as possible.
For more information on where you can take skiing lessons on your Sundance Vacations trip, scroll down to the bottom of this article for links to the best places to learn how to ski.
3. You Can't Teach a Kid New Tricks- Enroll your Child in Lessons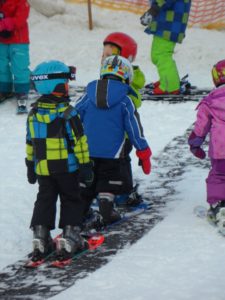 Or rather, you can teach a kid new tricks, but you shouldn't.
Wait, what?
We are not saying that a child should not learn how to ski. Sundance Vacations thinks it is a wonderful idea to introduce winter sports to children at a young age.
We are simply saying that it might be better to have your toddler or young child learn from a professional instructor.
So why not have parents teach their children how to ski?
In the same regard as why Sundance Vacations suggests adults takes lessons from a trained professional , we also recommend parents enroll their children in skiing lessons.
This is because it is super fun for kids to learn around others their age from a teacher that knows your child's abilities at this time in their development.
Children typically do not have the ability to learn to ski until they are between three and four years old based on their cognitive ability to learn and their comfortability with their bodies. A child should be potty-trained and be able to follow directions before even considering putting them on skis.
Peter Levan tells Sundance Vacations that children would really benefit from lessons with a certified ski instructor.
"A professional ski instructor has the education and experience to deal with a lot of variables," Levan said, "therefore, the student learns and improves at a faster rate."
Levan tells Sundance Vacations that each child learns differently at Winter Park's Ski and Ride School. He categorizes their learning preferences into types: Thinkers, Watchers, Feelers, and Doers.
He addresses each child based on their style and diligently works to form a bond to help them feel safe, secure, and confident as they learn. He works to keep the learning experience fun and interactive while offering skill-specific activities to develop positive movement patterns.
Levan believes through proper guidance each child should develop a sense of self-esteem and self-actualization on the slopes. He helps empower them by making each lesson personal to each child's progress, focusing more so on what the child did instead of what he taught.
"I would not recommend a parent teaching their child how to ski unless they are trained in teaching skiing," Levan emphases. "As a professional ski instructor, I continuously attend training. If a child is being taught by a parent (and) the child isn't learning as fast as they feel they should, the child may feel they are disappointing the parent."
Letting them learn from a professional saves parents moments of frustration or doubt and ensures that their child is learning at an appropriate pace based on their abilities at their age.
All in all, each child is at a different place in their development and it is unfair to expect a parent to not only be able to distinguish this, but to be able to teach them based on their ability.
Some parents will always believe it is better to teach their children themselves, but it is often because they simply want to spend more time with their kids and grow closer as a family.
Andrea Johnson, a ski instructor at Squaw Valley Ski near Lake Tahoe, California, understands that parents want to be a part of the first-time experience with their child.
"There's a special bonding moment when learning to ski or snowboard with your child for the first time, and that is a priceless memory," Johnson tells Sundance Vacations.
Johnson recognizes the bond, but although she sees no harm in taking your child out for their first time, she also encourages parents to enroll them in lessons.
Vacationing is a great time to connect with the family, but parents can still bond with their children by simply accompanying them to a skiing lesson!
Interested in learning from a certified ski instructor at Winter Park Ski and Ride School or Squaw Valley? Visit their website to start planning your lessons on your next Sundance Vacations trip!
4. Forget "Go Big or Go Home"- Be Practical and Patient
In fact, this is an acceptable time to go small. A baby cannot walk before it learns to crawl and newbies are sure to have some nasty wipeouts if they do not allow time for their bodies to adjust to skis.
There is no shame in learning on the "bunny" hills. These are gentle inclines that are easy slopes for beginners to practice on.
"We see a lot of people get so amped on being out here that they overdo it on Day 1," said Derek Althof, a ski training manager at
Deer Valley Resort
in
Park City, Utah
. "Challenging yourself with the expert terrain that first day could end your week long trip, so save the hot-dogging for later."
And he is right. The worst thing anyone could do as a beginner is try a slope way beyond their skillset.
Only after practicing on numerous beginner hills should a new skier move on to more advanced slopes.
Be mindful to not exhaust yourself on the gentle hills and then try an intermediate trail in the same day. It will be easy to become intimidated and leave feeling defeated. Your "go big" will literally turn into a "go home."
Even after hours and hours of practice, most new skiers will fall, and that's okay! If you have any control of the fall, try to land uphill on your buttocks. It will feel strange trying to get up because it is impossible to bend your ankle in the boots. Skiers can plant their two ski poles into the ground and shuffle their feet back to get into a squatting position. Then they need to just simply push up!
Some people still cannot get up out of the sinking snow even after few tries.  Do not feel ashamed to ask your ski partners for help.
Laugh it off! Remember, new skiers are like babies learning to crawl. Just as infants cannot stand on their feet right away, you too might need some more practice!
New skiers should be able to tell when they are past their bunny slope days and are ready to hop onto something a bit more technical, but be sure to tackle these slopes only when you are ready.
In the first-timer lessons, everyone should learn the basics of how to turn, stop, slow down and stand after a tumble, but it is unwise to think knowing these four things makes you ready to stop on a dime or swerve to avoid unseen obstacles. It might seem like a good idea until reaching the top of the slope and feeling unprepared. It is all downhill from there.
"There is a huge difference between 'surviving' a run and 'skiing' it," Althof said.
Make sure you recognize your ability and become familiarized with the basics before "hot-dogging" it.
For more information on taking some skiing lessons on your next Sundance Vacations trip to Utah, check out Deer Valley.
5. There's "Snow" Better Time to Start- Book Your Trip!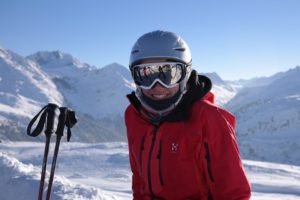 You could research online forever, but there is nothing like actually getting out there on a pair of skis.
Remember to not be too hard on yourself your first few goes.
If you find yourself or your child coming back week after week, invest in some high quality equipment. When dealing with the bitter cold, it is not the time to skimp on cheap gear. You will want to be properly insulated and have equipment and gear that will not only survive wear and tear, but are comfortable and fit properly.
After reading these insider tips, are you ready to give skiing a whirl?
There is no better time to hit the slopes than 2016!
Sundance Vacations offers a variety of snowy escapes in Pennsylvania, Colorado, Vermont, Lake Tahoe and more to learn how to ski.
Visit the Rocky Mountains, Heber City, Stowe or another favorite winter destination for your first skiing experience.
Newbies may have a few wipeouts when first learning, but with the proper knowledge of the slopes and some practice, you can rock it like the pros!
Enjoy watching others eat some dust to prepare for your first spill. Remember, falling is half the fun 😉
For more information, updates, travel tips and news from Sundance Vacations, be sure to follow us on the following social media outlets:
Where to Rent Your Skis
California: Tahoe Powder House, Tahoe Dave's Skis and Boards and Heavenly Mountain
Colorado: Winter Park Resort, Breck Sports and Christy Sports
Pennsylvania: The Loft, Peterson's Ski and Camelback Mountain
Utah: Midway Adventure, Adventure Haus and Ski 'N See
Vermont: Stowe Mountain Resort, AJ's Ski and Sports and Pinnacle Ski Sports
Where to Learn How to Ski
California: Heavenly Mountain, Sierra at Tahoe and Squaw Valley
Colorado: Winter Park Resort and Destinations West
Pennsylvania: Camelback Mountain and Shawnee Mountain
Utah: Park City Mountain, The Lowell and Deer Valley
Vermont: Stowe Mountain Resort and Ski Vermont