Let's face it, there's so many unique food options in EPCOT that it's sometimes overwhelming to decide which one will serve as the perfect treat. Well, think no more! With this Sundance Vacations guide, you'll know the go-to spot for the best savory and sweet counter-service snacks in each EPCOT pavilion!
Here are the EPCOT snacks you must try when visiting the park!
---
Mexico
Pollo Cascabel: Marinated Grilled Chicken, Rice and Corn topped with a spicy Tomato Sauce, Pickled Onions, Queso Fresco, and Cilantro.
All your favorite parts of a taco tossed together into a bowl—what's not to love? Deliciously seared chicken combined with the spicy, mouth-watering flavors of Mexico, it's making us drool just thinking about it. This protein-packed dish is a favorite among most who visit La Cantina de San Angel in the Mexico pavilion, and it will give you the energy boost you need to get through your busy Disney day!
---
Norway
School Bread: Sweet Roll filled with Custard and dipped in Coconut.
So, why is this delectable treat called school bread? Well, fun fact, it was often given to children in school in Norway as a lunch snack, and it's made with a sweet roll, sooo… Skolebrød! Take a moment to cool off on the Frozen Ever After log flume dark ride, then after, step into Kringla Bakeri og Café for this vanilla flavored sweetie. We highly recommend taking a seat to eat this dessert because it could be a bit messy—think a Boston cream donut, but with more filling.
---
China
Bubble Milk Tea (Iced and Sweetened) Peach Black Tea with Boba.
Okay, so this one isn't food, but it's still a saccharine treat that will keep you full and satisfied—just one that's sippable! Bubble tea is a milk-based drink that is filled with boba—tiny squishy spheres made from tapioca. The peach flavor adds a splash of sweetness to an already creamy, charming tea! If you've never tried bubble tea, this is highly recommended! If you have, try this traditional Chinese drink with an EPCOT spin on it! This is located at Joy of Tea in the China pavilion.
---
Germany
Bratwurst: Served on a Freshly Baked Roll with Sauerkraut and House-made Paprika Chips.
No German food is more commonly recognized than a fat bratwurst sausage! This hotdog-like meal can be found at Sommerfest located in the Germany pavilion. Loaded with sauerkraut and toppings of your choosing, and paired with mildly dusted paprika chips, you're going to want to bite into this smoky, garlic-scented sausage. Wash it down with a Warsteiner Dunkel beer in a souvenir stein to complete your German foodie experience.
---
Italy
Cannoli Al Cioccolato: Crisp Pastry filled with Sweet Ricotta, Chocolate, and Candied Orange
I'm partial to an Italian dessert, and this one is classico! When we say that this cannoli is massive, we mean MASSIVE, but that doesn't mean we didn't finish it in one sitting! The signature ingredient that sets this cannoli aside from the rest is the candied orange. The flavor is subtle, but enough to make a difference. It adds a nice hint of citrus to this creamy bite. The Cannoli Al Cioccolato is located at Gelateria Toscana, so be sure to try some gelati while there, too!
---
United States
Sliced Texas Beef Brisket Sandwich: Rubbed with a secret Brisket Rub then Slow-smoked and smothered in Spicy Mop Sauce, and placed between Garlic Toast and served with your choice of side.
Nothing screams "America" more than a meaty, messy brisket sandwich. What's our favorite part about this sloppy creation? The toasted garlic bread bun, of course! Show your spirit and patriotism with this large and in charge meal. We recommend the mac and cheese or the coleslaw as your signature side, as both pair perfectly with the sauce! You can order this saucy sandwich at the Regal Eagle Smokehouse in the United States pavilion.
---
Japan
Chicken Cutlet Curry: Curry Sauce with Chicken served with Steamed Rice and Mixed Vegetables.
This restaurant, Katsura Grill, is often overlooked by many and is know as "the hidden treasure on the hill" by fans, but we promise, you're not going to want to skip this gem! Curry is one of the most popular dishes in Japan and the cultural taste should be experienced by everyone. Lightly breaded chicken cutlets are placed on a bed of rice and steaming curry sauce to complete this delightful veggie and meat combo!
---
Morocco
Tiropitakia: Cheese-filled Phyllo, Cucumber-Tomato Relish
Otherwise known as Greek feta cheese pies, these little triangles are a staple of Greek culture. Tiropitakia is baked until golden and crunchy, and is often compared to crab rangoon due to its shape and texture. If you like cheesy, carb-loaded goodness, this is the perfect snack for you! These little bites can be found at the Spice Road Table in the Morocco pavilion.
---
France
Cream of Brie Cheese Galette
This savory French pancake is a go to palate-pleaser when you're in the mood for something airy and light. Located at La Crêperie de Paris's quick-service counterpart, Crêpes à Emporter–one of EPCOT's newer serving stations–this flat food is a must-try! I think that this galette pairs best with a cold glass of milk, but feel free to try any of the daring drinks, alcoholic or non, on the menu!
---
United Kingdom
Fish and Chips
A classic British duo. You may have had fish and chips from a restaurant in your town before, but if you haven't them from the United Kingdom pavilion in EPCOT, then you haven't truly experienced this flaky, greasy meal. Served at the Yorkshire County Fish Shop, these crispy battered fillets are the closest you can find to genuine fish and chips from across the pond! Though it's basic and simple, this is our pick for the best snack to chow-down on in United Kingdom!
---
Canada
Maple Popcorn
Popcorn and maple and salt, oh my! Or should I say O' Canada? This is a snack that you're going to want to share with every member of your group, and it's certainly big enough for it. This sweet and salty mixture makes for one of the best, easy to grab-and-go snacks in the Great White North. This treat is vegan friendly, too, so grab a bag at the Popcorn in Canada stall to take with you on your travels!
---
For more blog posts on Walt Disney World and Florida, check out some of these
For more information, updates, travel tips and news from Sundance Vacations, be sure to follow us on the following social media outlets:
Summary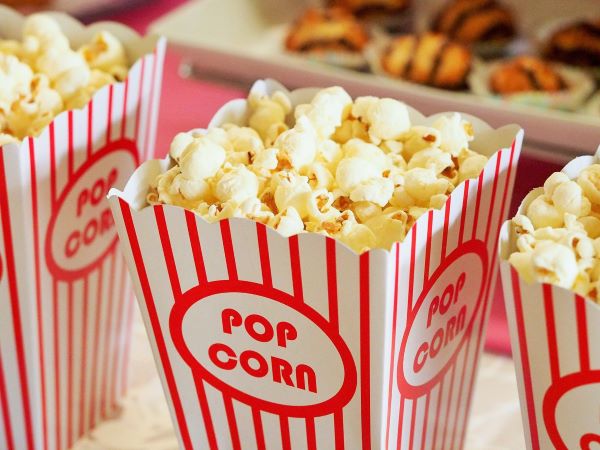 Article Name
MUST TRY Snacks From Every Country in EPCOT!
Description
Let's face it, there's so many unique food options in EPCOT that it's sometimes overwhelming to decide which one will serve as the perfect treat. Well, think no more! With this Sundance Vacations guide, you'll know the go-to spot for the best savory and sweet counter-service snacks in each EPCOT pavilion! 
Author
Publisher Name
Publisher Logo