Are you starting to feel the cool, crisp air as the months drag on? Many people tend to hit a slump as we get closer to winter and are looking for that pick-me-up to finish the year off.
One of our travelers' favorite destinations for that boost is Florida! Although most people want to go to Florida for Walt Disney World, have you thought about Florida has to offer?
Florida's Beautiful Scenery
With having many options on where to travel in Florida, here are some of our favorite hidden secrets within driving distances from our destinations!
Looking for an authentic homage to Japanese art and culture? Visit Delray Beach's Morikami Museum and Japanese Gardens, which located just 30 minutes from Sundance Vacations Avalon Resort! The museum is modeled after a Japanese villa and features a ring of exhibition rooms surrounding an open-air courtyard with a dry garden of gravel, pebbles and small boulders!
The campus includes two museum buildings, the Roji-en Japanese Gardens: Garden of the Drops of Dew, a bonsai garden, library, gift shop, and a Japanese restaurant, called the Cornell Cafe, which has been featured on Food Network!
The six historical gardens you can visit are: Shinden Garden, Paradise Garden, Early Rock Garden, Karesansui Garden, Hiraniwa Garden, and Modern Romantic Garden. Each garden is inspired by famous garden styles throughout Japan's history.
Sometimes referred to as Florida's Stonehenge, the Coral Castle is an oolite limestone structure comprised of numerous megalithic stones, mostly limestone formed from coral, with each weighing several tons.
After his beloved Agnes left him a day before their wedding, early 1900s sculptor Ed Leedskalnin took 30 years to hand-cut gigantic pieces of stone into the works of art.
The grounds of Coral Castle consist of 1,100 tons of stones in the form of walls, carvings, furniture and a castle tower. Commonly believed to be made of coral, as in the name, it's actually made of oolite, also known as oolitic limestone. Oolite is a sedimentary rock composed of small spherical grains of concentrically layered carbonate that may include localized concentrations of fossil shells and coral. Oolite is found throughout southeastern Florida from Palm Beach County to the Florida Keys. The crazies part of Coral Castle is that there is no documentation on how Ed created all this beauty without any heavy equipment tools!
Located minutes form Sundance Vacations destination, Anna Maria Island is a barrier island on Florida's Gulf Coast. It's known for its broad beaches, like Manatee Beach Park. In the small resort city of Anna Maria, Pine Avenue is lined with shops, galleries and eateries. While on the island, most people will fish, bike around the island, go paddle boarding, surfing, or boogie boarding, and shop! The Anna Maria Island Historical Society Museum features a restored 1920 cottage!
The Venetian Pool is a historic U.S. public swimming pool located in Coral Gables, Florida! The pool was created in 1923 from a coral rock quarry, where much of the original coral rock was used to border and further accentuate the pool. It also features two large historic lookout towers, with a view to the City Beautiful.
The 820,000-gallon pool is filled with spring water from an underground aquifer. In the spring and summer seasons, the pool is filled and drained daily!

Established in 1963, the John Pennekamp Park covers 178 nautical square miles of coral reefs, seagrass and mangrove swamps, all teeming with a wide variety of wildlife, and was the country's very first undersea playground!
The Christ of the Deep statue is one of the park's biggest draws, which can be seen by taking a snorkel tour.
The park contains a wide variety of tropical vegetation, shore birds and marine life. While the mangrove swamps and tropical hammocks offer visitors a unique and interesting experience, it is the coral formations and associated marine life that most park visitors come to enjoy.
Have you ever imagined swimming with manatees in their natural habitat? Florida's Crystal River National Wildlife Refuge is the place to go, and only located an hour away from our Indian Rocks Beach destination! Established in 1983, Crystal River National Wildlife Refuge is home to America's largest concentration of the 1,000-pound gentle giants! West Indian Manatees flock to Crystal River for warmth during winter, and with hundreds of manatees in a small area, sightings are frequent!
Visitors to the Crystal River National Wildlife Refuge must approach the area by boat and have trained wildlife experts lead excursions onto the river for visitors to view the sea and snorkel among the manatees. In addition to manatees, you may see dolphins, birds, fish, and turtles. Though manatee encounters are never guaranteed, the refuge is one of the few natural habitats where people are permitted to swim with them.
Take a stroll into large natural habitats that are home to Gray, Arctic and British Columbian wolves; where they become part of the pack. Visitors experience rare hands-on experience with the Seacrest Wolf Ambassadors as they learn important scientific facts about this amazing keystone species. Saturday Wolf Encounter Tours last approximately 3 1/2 to 4 hours and includes a Small Animal Adventure where you can feed the raccoons, hug a skunk, play with foxes, and meet Pecos the Coyote. All tours are by reservation only and bookings are accepted during the week by calling the wolf preserve.
All wolves are tamed and have been tamed and have been living in the preservation since they were pups, so they're accustomed to being around human.
Visit sparkling springs nestled under the dense canopy of palms and oaks and enjoy Juniper Springs in the heart of the Big Scrub region! Hike or canoe along the many tranquil waterways while taking in nature or take a dip in one of the bubbling pools!
Some popular activities include picnicking, swimming, snorkeling, bird watching, paddling, and hiking. Juniper Springs Recreation Area is under an hour drive from Sundance Vacations DeLand Florida Destination!
Devil's Den is formed by a karst window, in which the roof over a subterranean river has collapsed, and exposed the water to the open surface. The Devil's Den is privately owned and operated as a SCUBA diving training and recreational facility.
This underground spring located inside a dry cave has been home to many extinct animal fossils dating back to the Pleistocene Age, and can be seen on display at The University of Florida's Museum of Natural History!
With crystal clear water, year-round 72-degree water temperatures, on cold winter mornings you can see steam, like smoke, rising from the chimney opening. Which is why the early settlers gave the name Devil's Den!
Minutes from Sundance Vacations Miami properties, the Vizcaya Museum and Gardens is a must-see when visiting Miami! Just by taking a walk around the outside, you'll be dreaming of Europe! The Vizcaya Museum and Gardens was built in the 1910s, and is surrounded by acres of serene European-style gardens chockablock with fountains and statuary, with some that date back to antiquity.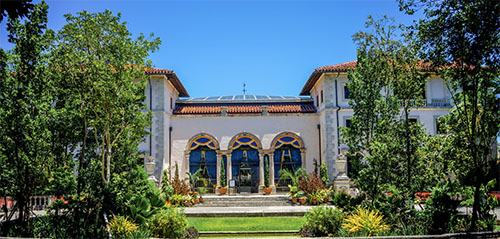 ---
For more information, updates, travel tips and news from Sundance Vacations, be sure to follow us on the following social media outlets:
Summary
Article Name
Florida's Best Hidden Secrets
Description
One of our travelers' favorite destinations is Florida! Although most people want to go for Disney World, have you thought about Florida has to offer?
Author
Publisher Name
Publisher Logo