If you're planning on visiting Daytona Beach with Sundance Vacations, you will be happy to hear we have an amazing property in the perfect location! Daytona Beach Regency is located in the heart of Daytona, Florida. Located just steps from the shore, this property is perfect for a seaside escape. Spend your days relaxing in the sand, indulging in local cuisine or exploring the boardwalk attractions. Daytona Beach Regency features spacious accommodations that include a fully-equipped kitchen and full bathroom. Families will love the arcade, fitness center, indoor and outdoor pools, and water slides. The resort is a true coastal retreat.
Check out this list of fun things to do while visiting Daytona Beach!
Daytona International Speedway
I have been to the Daytona International Speedway a few times with my grandparents, and I will never forget it! The first time visiting, I was amazed by the race cars on the track! They are there one second and gone the next! I can't remember the exact tour we took, but I do remember walking around and checking out the memorabilia, and legit race cars that you would see in the Daytona 500. I would suggest checking this place out even if you're not a race fan. They have three tours to choose from.
The All Access Tour lasts about ninety minutes and you get to tour the two-and-a-half-mile Speedway from a "variety of vantage points". You will get face to face with the racetrack and check out the start/finish line, and the thirty-one-degree high bank, all the way down to the pit. This tour also gives you an inside look into the media deadline room, Gatorade Victory Lane and if you go up the escalators for a stunning view of the infield and tri-oval. Adults are $26.00, children ages five through twelve are $20.00 and kids who are four and under are free.
The Speedway Tour is fun and exciting! They take you on an open-air tram car into the World Center of Racing. As you enter, prepare to be amazed. You'll get to experience the thirty-one-degree high banks as the tram drives along turns three and four. Then you'll find yourself walking on the same ground as racing legends in the past! Make sure you bring your camera to snap a photo at the Gatorade Victory Lane. This thirty-minute tour ends next to this year's DAYTONA 500 winner's car! After the tour, you can now access the new Motorsports Hall of Fame of America, which is now located in the DIS Ticket and Tours building. Here you will see a variety of different motorsports like stock cars, open-wheel motorcycles and more.
The Final tour is the VIP Tour. Here you will get to experience the past, present and future of the Daytona International Speedway. This is a smaller, more intimate tour, which gives you a more relaxed experience. You will ride around in their VIP bus and visit the Archives and Research Center, which is home to some of the most prized racing artifacts. You will get to walk on the same grounds legends in the past have. You will learn facts and stories about the raceway and legends who have raced there. You will also get to see the Media Deadline room, Gatorade Victory Lane, and if you up the escalators you'll get to view the front stretch, infield, and trioval. You can also go up into the tower above the Houston Lawn Press Box overlooking everything. The tour will end with a stop to see the newest DAYTONA 500 winner's car. You get to do everything from the other tours and more with this VIP tour! This tour lasts about three hours and costs $55.00 per person. "Memories await you here at Daytona International Speedway."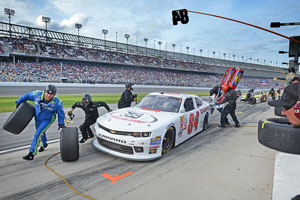 Angell & Phelps Chocolate Factory Tour
Angell & Phelps Chocolate Factory has been making quality chocolates since 1925! Here you will get to take a FREE factory tour with FREE samples! You will get to view the candy making process through old cottage windows. That's right, they are still making candy the old-fashioned way here. The guided tours last about twenty minutes and at the end, you will get to sample some freshly made chocolates. They have a plethora of different snacks from chocolate covered delights to, chocolate covered chips, popcorn and pretzels. They not only have treats for humans, but they also have special homemade treats for your favorite pooch This is a tour sure to get your taste buds excited. Tours are absolutely free and are available Monday through Saturday at special times.
Free Bandshell Concerts
During the months of May through September, you can catch a Free Bandshell Concert in Daytona. The concerts are every Friday and Saturday nights from 7:15 PM to 9:30 PM. After the concert on Saturdays, hang out for the fireworks show at the Daytona Beach Boardwalk and Pier at 9:45 PM. They also have extra concerts for special events on Memorial Day, Independence Day and Labor Day weekend. You can park in the Ocean Center garage for free ad take the crosswalk to the Daytona Beach Bandshell in Oceanfront Park. If you want to pay a small fee, you can rent a VIP seat for the concerts. I'd suggest getting there a little early to get a good spot and to try out the food and photo opportunities on the Pier.
Ponce Inlet Lighthouse
The Ponce Inlet Lighthouse & Museum is a National Historic Landmark and has been a Florida tradition since 1887. They have group tours, or you can do a self-guided tour of the grounds. You will receive a map with your paid admission and the brochure provides history, purpose and information about the lighthouse. The lighthouse is open daily at 10:00 AM and costs $6.95 for those 12 years and older, $3.95 for kids ages three to eleven, and children two and under are free.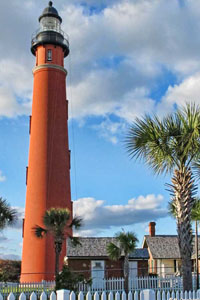 Daytona Beach
Daytona Beach has been named the "World's Most Famous Beach" and you can easily understand why. This twenty-three-mile-wide beach has hard packed sand, which makes it perfect for driving on the beach. You can drive directly onto the beach and park your car. Say goodbye to lugging your beach chairs across the hot sand with beach parking. Beach parking is restricted to certain access points along the beach and costs only $10.00 for the entire day. Just keep an eye out for the traffic, because you might not remember that there is a driving lane on the beach.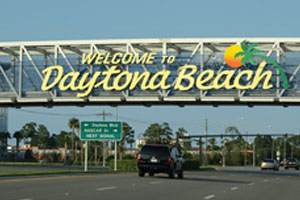 Daytona Beach Boardwalk
The Daytona Beach Boardwalk is open year-round every morning at 9:00 AM. They have arcades, gift shops, snack bars and much more! Memorial Day through Labor Day are the most popular times for the boardwalk. This is when the rides are running, and the street performers are out and about entertaining everyone. They have jugglers, magicians and escape artists to name a few. They also have free fireworks on Saturdays and free Bandshell Concerts on Fridays and Saturdays.
Daytona Lagoon
The Daytona Lagoon is fun for everyone. The park features a full day of fun in the sun. They have laser tag, go carts, a rock wall, a huge arcade, waterslides, mini golf, a lazy river and so much more! You can get ticket pricing here. 2019 brought two new attractions to the water park:
Krackens Revenge is a high-speed thrill waterslide that is fifty feet tall! You can race three of your friend and family members.
The Shaka Halfpipe is perfect for those who crave adrenaline. You will get propelled straight up in a tube, then backwards down a fifty-foot drop!
Walt Disney World
Walt Disney World is only about an hour and a half away from Daytona Beach. If you're visiting Daytona Beach with Sundance Vacations, make sure you make time to visit Disney World. This is the "Happiest Place on Earth" and everyone should visit here at least once in their lifetime. Disney World is the size of San Francisco, or two Manhattans. To put it simple, it's massive! There are tons of rides, shows, shops, and so much to explore and experience here. It's where adults get to be kids again, and enjoy the more innocent, carefree days.
When I was younger, my Nanny and Poppy would take us grandkids to Florida every year in May. Some years, we would stay at Daytona Beach and drive to the Disney parks. I remember going to the parks and having my autograph book for all the characters to sign. That autograph book was my prized possession at one point, I would show it off when returning to school. I felt so cool having met Tigger and all the others! Haha imagine that. The magic and memories we made will be cherished for years to come. We wend to Epcot, Islands of Adventure, Universal Studios, The Magic Kingdom and Animal Kingdom.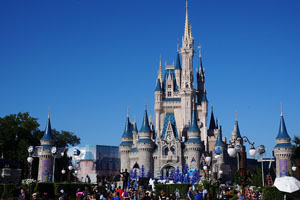 Daytona Beach Ale Trail
If you like to explore different craft breweries, the Daytona Beach Ale Trail is a unique experience for sure. Each brewery and distillery is very different from the last. The atmospheres change from place to place, and they are all owned and operated by those who are truly passionate about their brews and spirits. Some of the breweries have food to sample, while others encourage you to bring your own snacks and food to enjoy an outdoor picnic. They may even have a food truck or two from time to time. The Dayton Beach area has a long trail of favorite craft beers.
If you're looking for a crazy and unique way to experience the areas breweries and distilleries, you want to pay close attention to the next few sentences. You can rent a 'Hopcycle' with a group of friends! What's a Hopcycle you ask? Well, it's only the best thing ever! It's a large bike/ bar! It's the best way to experience a pub crawl. You need a minimum of eight people to rent one because eight of the fifteen seats on the cycle needs pedaling to get the bar in motion onto your next pub. You can bring your own beer to drink while pedaling around the Daytona Beach area, or they have special routes and tours to ensure you get the best pub crawl experience with drink specials at each stop. Two of the most popular tours you can choose from, are either a two-hour pub crawl or a two-hour pub crawl scavenger hunt!
The breweries and distilleries in the area include:
Beachside Brew Pub
The Beachside Brew Pub has food trucks weekly and has twelve draft beers on tap to choose from. You can also take a tour to see where all the magic happens.
Ormond Brewing Company
The Ormond Brewing Company usually has live music and food trucks. They have a large outdoor patio to unwind in the sunshine. They have more than 200 recipes and flavorful beers with 18 beers on tap available to choose from.
Ormond Garage Brewing
Ormond Garage Brewing offers ice cold pints and delicious food in an old historic garage setting. They really bring the Ormond Beach racing history to light here.
Tomoka Brewery
The Tomoka Brewery is oceanfront and has a large selection of not only beer but also Florida's fine wines as well. They have a delicious hand tossed round pie to pair with your ice-cold beer.
Persimmon Hollo Brewing Co.
The Persimmon Hollo Brewing Co. came to life by two best friends who began brewing at home. They offer delicious craft beers.
Copper Bottom Craft Distillery
The Copper Bottom Craft Distillery was Volusia County's very first craft distillery. Here you will get an old school vibe dating back to the famous bootlegger Bill McCoy.
Daytona Beach Brewing Co.
The Daytona Beach Brewing Co. is seconds away from the Daytona International Speedway. This brewery has eleven taps to choose from and has Growlers to go!
Daytona Taproom
The Daytona Taproom has more than ninety beers on tap, and is home to a famous burger, which was featured on the Travel Channel's Man vs. Food.
McK's Tavern & Brewery
McK's Tavern & Brewery is known for its Irish cuisine and beers from around the world.
Mr. Dunderbak's
Mr. Dunderbak's has been named the best German restaurant, and it's located in the Volisia Mall. They have more than 130 bottled beers to choose from, as well as tap beers from around the world.
Red Pig Brewery
The Red Pig Brewery is the neighbor of the Copper Bottom Craft Distillery and offers a number of ales, porters and pilsners.
Rock Bottom Brewery
The Rock Bottom Brewery is a three story restaurant famous for its fresh, handcrafted brews and comfort food. The view from the rooftop bar is breathtaking! Here, you can watch the excitement taking place in the Daytona International Speedways Winner Circle down below.
Seabreeze Taphouse
The Seabreeze Taphouse is known as a food haven with hundreds of beers to choose from.
Half Wall Beer House
The Half Wall Beer House is a craft beer house with more than one-hundred and seventy five beers to choose from!
New Smyrna Beach Brewing Co.
The New Smyrna Beach Brewing Co. is located just steps from a 40-by-80-foot coquina ruin. This rock is known as a mystery to locals and is a unique photo op. The brewery specializes in its stouts.
Sugar Works Distillery, LLC
Sugar Works Distillery, LLC is family owned and operated. They make rum, moonshine and whiskey on site.
Central 28 Beer Company
The Central 28 Beer Company uses only the finest ingredients from around the world to brew their beers.
Odd Elixir MeadWorks
The Odd Elixir MeadWorks is the areas first and only boutique winery specializing in craft mead, which is the oldest known fermented beverage made from delicious honey.
There you have it, a variety of free and unique entertainment for you to try while vacationing with Sundance Vacations in Daytona Beach. Are you visiting Florida with Sundance vacations? Be sure to check our other informational blogs like  like the Top 5 Disney Sweet Treat Stops, Holiday Season at Walt Disney World Florida and Sundance Vacations Orlando Family Vacation.
---
For more information, updates, travel tips and news from Sundance Vacations, be sure to follow us on the following social media outlets:
Summary
Article Name
Daytona Beach Regency with Sundance Vacations
Description
Sundance Vacations has a new property! Check out the Daytona Beach Regency located in Daytona Beach, Florida.
Author
Publisher Name
Publisher Logo