Are you looking into getting a passport this year? If so, Sundance Vacations is here to help guide you in the right direction to make the process a little bit easier. Before we get into the details, just remember that every traveler is unique, so make sure you check for specific information to your needs.
The passport application process takes time and there are some steps you need to take before you get one. You need to apply for the passport and have the proper documentation. If you don't have the proper identification and documentation already, the request for the documents will take about a month before you can even start the passport application process. Currently it's taking eight to eleven weeks to get a passport, but you can pay an additional fee to get expedited processing if needed.
---
Necessary Steps and Documentation
Proof of citizenship: A U.S. birth certificate, consular report of birth abroad or certification of birth, certification of naturalization, or certificate of citizenship are all acceptable documents.
Photo ID: A driver's license, military ID, government-issued ID, or certificate of naturalization are all acceptable forms of photo ID.
Photocopy of the front and back of your ID
A passport photo
---
Passport Fees
Once you fill out the application and prepare the necessary documents and identification, it's time to make an appointment and pay for the passport acceptance and processing fees. Most post offices have passport services on site. You can use the online Retail Customer Appointment Scheduler to schedule an appointment at a location near you. Make sure to ask if that center takes care of the passport photo service too. If they don't, you will need to make arrangements to get a passport photo taken.
---
The "Six Month Rule"
Even if your passport isn't expired yet, it could be useless. Most countries will not permit a traveler to enter their country unless the passport is set to expire at least six months after the final day of travel. That means if your passport has less than six months remaining until the expiration date, you should renew it right away!
Renewing your passport at least nine months before it expires is generally a good rule of thumb to ensure it is accepted everywhere but be sure to check your destination for their requirements.
Generally, the six month rule applies to common vacation spots like the Bahamas, Mexico, Jamaica, and other places in Asia and Europe.
This "rule" isn't a requirement by the U.S. government, it is something that other countries monitor to avoid having guests staying past their passport expiration.
---
Before You Travel
If you have less than six months before your passport expires and you have a trip planned, you'll need to expedite the renewal as soon as possible. With the normal processing time currently being eight to eleven weeks, the standard expedited renewal will take five to seven weeks.
To get your passport renewed, it usually costs about $130, but it could be more than $200 when you add processing fees and rush the process. You can use the State Department's Passport Fee Calculator to see what your cost would be for your needs.
Do You Need to Rush Your Passport?
You may be able to get an expedited passport sooner than five to seven weeks if you have a life-or-death emergency or urgent travel. You will need to set up an appointment because they are not currently offering walk-in services.
There are two types of appointments: Life-or-Death Emergency Service and Urgent Travel Service.
Life-or-Death Emergency Service: Customers who are traveling internationally in the next three business days due to a qualified life-or-death emergency. If you need this service, call to make an appointment. What number you call depends on the day of the week and time of day. Learn more on the Life-or-Death Emergency page.
Urgent Travel Service: Some agencies and centers are also offering limited appointments for customers who have urgent international travel in the next five business days for reasons other than a life-or-death emergency. You may schedule an appointment if you are traveling within two weeks or need a foreign visa within four weeks; however, the appointment cannot occur more than five business days before your date of travel, or ten business days if you require a visa. Call 1-877-487-2778 from 8AM. to 10PM ET, Mondays through Fridays.
---
Preparing for Your Appointment
Collect all of your application materials before you arrive for your appointment. Bring the information you got in the confirmation email from the National Passport Information Center when you scheduled your appointment.
Use the online form filler to fill out your form and print it before you arrive for your appointment. You can also print a PDF of your form and complete it by hand in black ink before you arrive. Both of these options reduce the amount of time you spend at your appointment.
---
Renew Your Passport From Home
If you need to renew your passport and don't need it expedited, log onto ItsEasy.com to take the hassle out of renewing your passport. You can complete the renewal process on your lunch break or from home, it's that easy! For more information about ItsEasy, check out their website at www.ItsEasy.com.
---
Children
There are a lot of regulations around minors to ensure they are safely flying, so make sure you know what your child needs! For example, minors under the age of 16 must have a parental or legal guardian's consent in order to get their passport. When applying for a passport, the application has to be submitted in person at an agency or passport accepted facility and can't be renewed by mail. If a child is too young to sign, their parent or legal guardian must print the child's name and sign their own name in the signature space and their relationship with the child.
While adults don't generally have to renew their passport for a ten year span, children under the age of 16 must apply for a new passport every five years. Children must get passports more frequently because their face and appearance can drastically change during that time span as they grow.
---
PSA PreCheck
Have you ever heard of PSA PreCheck? This program gives eligible travelers the opportunity to receive expedited screenings where there's no need to remove your shoes, belt, laptops, or light jackets at more than 200 participating U.S. airports while traveling on more than 81 participating airlines. It's simple to register for the TSA PreCheck too!  You simply apply online enroll in person for fingerprinting and background check and that's all there is to it. Last year, 94% of TSA PreCheck passengers waited less than five minutes for their screening. The best part is there are a few options to get the PreCheck for free. You can take advantage of  loyalty programs , use your miles or points, or use an approved credit card. If you aren't eligible for the free TSA PreCheck, the price is $85 for five years. To learn more about enrolling in the program, check out TSAs PreCheck FAQs and our blog on The TSA PreCheck Program.
Interesting Tidbit!
Did you know you can purchase an additional passport card to use as a second ID almost anywhere? It can be an ID for domestic air travel within the United States. It can also be used for land and sea travel in North America, Canada, Mexico the Caribbean, and Bermuda. Some people like that it's also a proper ID for entering federal buildings and is a "List A" document that could be used for employment eligibility verification. Travel with peace of mind with the passport card. You can carry this and keep your passport locked away in your room where it's safe and sound. Most people don't know this card is a convenient second form of ID.
---
Once you get your passport, you can travel to these amazing Sundance Vacations locations! You have now unlocked many different locations outside of the United States and you're one step closer to sipping margaritas in Aruba or snorkeling in Cancun!
Aruba
Azure Beach and Blue Residences
Azure Beach and Blue Residences are two condominium complexes located across from one of Aruba's most beautiful beaches, Eagle Beach. Aruba is known for being the happiest and friendliest islands in the Caribbean, also known as the One Happy Island. It is famous for its soft white sandy beaches, warm tropical breezes and turquoise water. The island is ideal for family vacations, a romantic honeymoon, destination weddings and even a relaxing getaway for you to unwind.
Dominican Republic
Presidential Suites by Lifestyle, Cabarete
Experience exceptional accommodations and exclusive services at the Presidential Suites by Lifestyle, Cabarete. Our magnificent all-in complex is a true paradise for scuba divers, windsurfers, and kite surfers from all over the world. This impressive destination features the brilliant turquoise ocean, continuous breezes, shimmering sandy beaches, and a refreshing tropical environment. Dine in three restaurants and two snack bars or enjoy a host of delicious beverages in the rooftop lounge or casual beach bar. You'll find all you need to create exciting memories or simply relax away your days.
Mexico
Club Regina Cancun
Club Regina Cancun is a beach resort located in Mexico's premier vacation destination, nestled between the turquoise waters of the Caribbean Sea and the Nichupte Lagoon. This perfect location is your gateway to ancient and modern Mexico. Gorgeous sandy beaches, high-end shopping malls, and upscale restaurants of Cancun's famous Hotel Zone, as well as stunning Mayan ruins and traditional Mexican towns will bring your vacation experience to the next level.
Club Regina Puerto Vallarta
Raintree's Club Regina Puerto Vallarta wraps elegance and tradition around relaxing ocean and marina views. Our pools, lush landscaping, beach, and the Bay all enhance your experience. Puerto Vallarta's beautiful beaches, rich biodiversity, and wealth of outdoor adventure attract tourists from around the world. Traverse Puerto Vallarta's picturesque Malecon or Romantic Zone; browse the art, jewelry, and handcrafts at the Isla Rio Cuale market; hit the trails on an ATV; or soar through the canopy on a zip lining tour. There is no shortage of ways to enjoy Puerto Vallarta–let Club Regina Puerto Vallarta be a part of your fantastic vacation.
Sint Maarten
Royal Palm Beach Resort
A haven of sun, sea and sand awaits you! Poised on a pretty bay with the powdery sand beach just steps away, Royal Palm Beach Resort is located on the island's Dutch side, known as Sint Maarten. Endless stretches of powder white sand, swaying palms and the clear blue waters of the Caribbean Sea engulf magnificent beaches that will take your breath away. Experience Caribbean splendor steeped in French and Dutch culture as you stroll along island beaches listening to the calypso sound of steel pan drums and watch the hypnotic beat of carnival dancers. Just imagine strolling along the gorgeous beach, swimming in the sparkling blue waters, and just relaxing by the pool at the resort. If you are looking for the ultimate in relaxing vacations, you will find it at Royal Palm Beach Resort.
Don't forget to check out "The Importance of Travel Protection and Travel Insurance" when traveling. This will help make sure you're ready to face anything that's thrown your way on vacation.
If you're not ready to travel outside of the country just yet, check out these "7 USA Destinations That Make You feel Like You're Abroad."
https://www.nerdwallet.com/article/travel/how-to-get-tsa-precheck-free
https://www.tsa.gov/precheck
https://www.moneytalksnews.com/7-surprisingly-simple-ways-to-become-a-millionaire/
https://www.nationwide.com/lc/resources/home/articles/passport-requirements
https://www.tsa.gov/precheck/faq
https://www.usps.com/international/passports.htm
---
For more information, updates, travel tips and news from Sundance Vacations, be sure to follow us on the following social media outlets:
Summary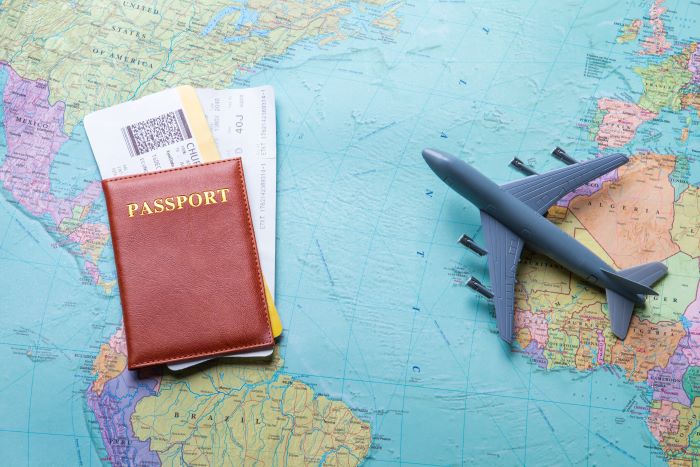 Article Name
How to Get Your Passport | Sundance Vacaations
Description
Are you looking into getting a passport this year? If so, Sundance Vacations is here to help guide you in the right direction to make the process a little bit easier.
Author
Publisher Name
Publisher Logo