Wake up Wildwood! Winter hibernation is over! It's time to wake up and prepare for the upcoming summer beach season. Wildwood is slowly becoming busier with the local businesses preparing for summer of 2019. If you find yourself in Wildwood during the spring, be sure to check out the events happening at the Wildwood Convention Center. Which you can find below.
Wildwood is known for its 38-block boardwalk, and clean beaches. There is fun for everyone, young and old. The boardwalk has two water parks, an aquarium, three amusement park piers, monster truck rides, and tons of food and beverages, just to name a few. Wildwood is a very exciting place you can spend your time visiting, but you can also spend your time sitting next to the Atlantic Ocean relaxing. Although the Spring months are still a bit cold to be a beach bum, there are still plenty of things to keep you busy during Spring.
Some of the best things to do in Wildwood revolve around the beach of course. However, in the spring, the water is still a bit cold and ranges from 39 to 57 degrees. One positive thing about Spring in Wildwood is the crowds are much smaller than during prime time. You can take advantage of a 12-mile round trip bike path. You can pedal the whole island starting from the Wildwood Crest Dunes Bike Path , which takes you up onto the boardwalk, to finish along the Mulberry Bike Path in North Wildwood. You can bring your own bike or rent one at many different shops like Crest Bike Rental, or Wildwood Bike Rentals.
Wildwood still has the old-fashioned charm, and that is why everyone loves this town so much. You can enjoy a "Blast from the Past" and take a trip to visit the Doo Wop Experience. This small museum has a unique collection of 50's and 60's style memorabilia. You will see colorful neon signs, plastic palm trees, furniture, photos and more, from the "Doo Wop Era". The Doo Wop Experience is located across from the Wildwood convention center, on Ocean Ave between Burk and Montgomery Ave.
I believe the most enjoyable thing to do in Wildwood would be visiting the boardwalk. The boardwalk has 38 blocks of family fun to enjoy! It's packed with shops, stores, water parks, restaurants, amusement parks with over 100 different rides and attractions. Here are some fun facts I bet you didn't know about the Wildwoods boardwalk: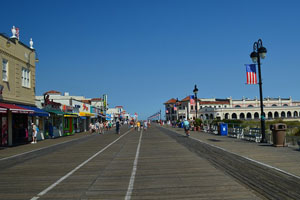 Wildwood Boardwalk Fun Facts
The Wildwood boardwalk was originally created in 1903. Oliver Bright ordered hundreds of workers to remove the original boardwalk in 1920 in one night! The new boardwalk was moved a bit closer to the ocean despite the public's opinion. Shortly after making that decision, the City Commissioner, Oliver Bright was removed from office.
"Watch the Tram car, please!" The Tram cars were originally built for the 1939 world's Fair in New York City and were powered by diesel engines. They have carried tens of millions of beachgoers to date. The Tram cars travel at a speedy 5 MPH and operate on a single 2,000 pound, 36-volt electric battery! John Gigliotti has been driving the Tram cars for nearly 25 years and is now the Tram Safety Coordinator. 2018 marked the 70th Anniversary of the Wildwood Tram cars!
The Wildwood board walk is made of more than 70,000 wooden planks and stretches nearly two miles!
The Whaling Wall mural made famous by Wyland stands an impressive 30 feet high and is 220 feet long! Russell Simmons from The Wildwood Arts Foundation announced that they will be able to save a portion of the wall. You can find this at Garfield Ave.
During prime season, Wildwood has a population of nearly 250,000 people, and during the off season, it has only 5,400 residents!
"Wildwoods" is a term used to bring the four Wildwood communities together. They are Wildwood Crest, the City of Wildwood, the City of North Wildwood and the Borough of West Wildwood.
A few songs from the rock band KISS '1975 Alive!' album was recorded on July 23rd, 1975 at the Wildwoods Convention Center.
Wildwood beach is growing at a rate of 100 feet a year, and is one of the ONLY places on the East Coast where the shoreline is not shrinking!
In 2008-2009, a section of the boardwalk had to be rebuilt using Ipe tropical hardwood, instead of the environmentally friendly black locust wood.
Access to Wildwood beaches is free all year long!
The Wildwoods Convention Center is a 260,000 square foot facility which hosts a plethora of different events from concerts, weddings, exhibits, meetings and more! The 6,600 square foot deck is conveniently located right on the beach, with a gorgeous ocean view. Here is a list of the upcoming Springtime events being held at the Wildwoods convention center.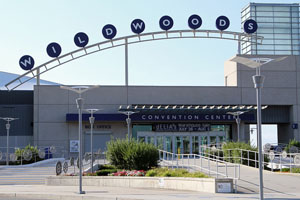 Wildwood Convention Center Events
APRIL EVENTS
MAY EVENTS
JUNE EVENTS
Bye by Spring, Hello Summer!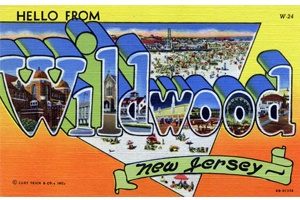 ---
For more information, updates, travel tips and news from Sundance Vacations, be sure to follow us on the following social media outlets:
Summary
Article Name
Spring in Wildwood New Jersey
Description
Here you will find a list of events taking place during the Spring season at the Wildwood convention center in Wildwood, New Jersey.
Author
Publisher Name
Publisher Logo