Treat yourself and your Sweetie this V-Day
Why waste your favorite romantic holiday at home when you could spend Valentine's Day in Stowe, Vermont with Sundance Vacations?
It may surprise you that February has crept up so quickly, but the month is upon us and it's time to show your sweetheart how much you appreciate all they do.
Instead of the usual flowers and chocolates, why not escape on a romantic getaway you'll never forget?
Stowe, Vermont is a wonderful winter escape for a week-long adventure or simply a cozy weekend getaway.
Here are some exciting ideas for Valentine's Day in Stowe, Vermont this year:
Grab some Drinks
Shelburne Vineyards will offer wine tastings paired with special Bijou fine chocolates on the Sunday before Valentine's Day.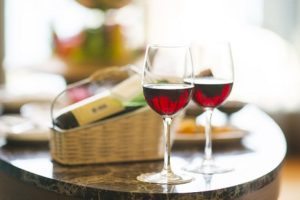 The hand-made artisan chocolate will pair excellently with their award winning wines like their Marquette Reserve or St. Croix.
The vineyard is only about 50 minutes from our Sundance Vacations property in Stowe and a nice scenic drive in the wintertime.
Another highly recommended place to get some libations with your honey is at Citizen Cider in Burlington.
They have twelve different ciders that are 100% made from locally-sourced apples. They'll have special cocktails for the holiday on their "Single Citizens" menu that you can spurge on even if you're happily taken.
Not only is the city only a 40 minute drive, but it's also a great place to shop and pop in unique shops to spoil your sweetheart with gifts to remember your trip.
Share a Romantic Dinner
Couples all over the country will be celebrating their love with a Valentine's Day dinner. There are a number of eateries to experience dining at its finest this Valentine's Day in Stowe, Vermont!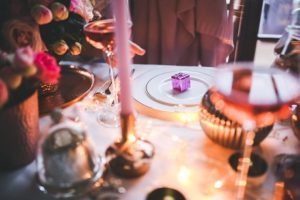 Hen of the Wood has locations in Waterbury and Burlington and so highly rated on TripAdvisor that it books up fast, so be sure to make your reservations for their special hanger steak with smoked potato or their cast-iron seared cod.
If you want to stay right in Stowe, Solstice inside of Stowe Mountain Lodge has an oven poached maple duck breast or organic Norwegian salmon on the menu!
While you're bouncing around the town during your stay, surprise your sweetie with a warm egg sandwich and chai tea latte from Green Goddess Café or pick her up dessert at I.C. Scoops!
Take a Scenic Drive
Vermont is not just a beautiful place to see the fall foliage. The stunning mountain ranges also make it a special place to view snowy caps and white powder-covered trees.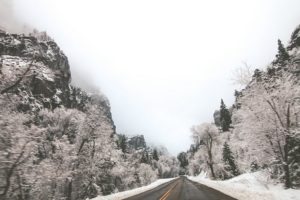 Stowe, Vermont is full of beautiful views, perfect for scenic drives throughout the town and surrounding area.
Just imagine turning up some romantic tunes and bringing the outdoor picnic into your car. Pack some cheese and crackers and wear some comfy clothes to enjoy the frosty sights with your favorite explorer.
Take the eight mile drive along the Little River as it flows to the Stowe Visitors Info Center. You'll see a babbling brook that might be frozen this time of the year, and have a taste of the town and the highway.
Looking for a really long drive to pass the day away? There a 37.5 mile route from Stowe Hollow, stopping off at Ben & Jerry's and even Cold Hollow Cider Mill.
The Ben & Jerry's Factory in Waterbury have tours almost every 30 minutes and would be a nice stop to stretch your legs and enjoy a treat.
The fun thing is, Go Stowe outlined eleven different road trips to check out during your stay with driving directions and sneak peaks about what you'll see.
Check out the complete list of scenic drives through Stowe on Go Stowe's website.
Ski, Skate, Snowshoe or Climb!
You probably knew that you could ski in Stowe since that's what the area is best known for, but did you know all your winter activity options?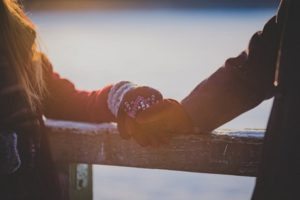 Stowe Mountain Resort is your go-to place to do it all for Valentine's Day in Stowe, Vermont.
If you and your sweetie aren't expert skiers, you could try the bunny slopes or stick to ice skating at Spruce Peak. There's a new outdoor ice rink at the village center with lights and music.
If you'd rather be out in the snow (how romantic is snow ball fight?!), take a snowshoe tour. Mountain guides will lead you through the trails, meadows, and bring you to a frozen waterfall. These tours are offered Wednesday through Sundays at 11 am, 1 and 4 pm.
Stowe Rocks is a climbing gym in the Adventure Center. Beginners are welcome! With 16 stations for top roping, your partner can support you with rope while you climb to the top.
There's also cross country skiing and snowshoeing as well as skiing and snowboarding mountain tours.
Stowe Mountain Resort isn't the only place to go for couple-friendly winter sports either. You could always throw on your boots and walk down the Stowe Recreation Path to see the snow filled trees in the park. There are also some trails at Smugglers Notch State Park or Moss Glen Falls.
Vermont is also home to 106 covered bridges according to Vermont.com. Check out some in Stowe!
Stay Inside!
If there's a huge storm, don't panic, you'll have plenty to keep you and your boo entertained inside your Sundance Vacations cottage for Valentine's Day in Stowe, Vermont.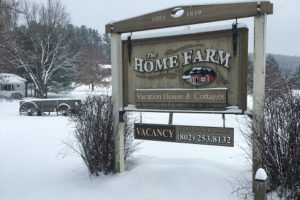 The Home Farm property is a cute vacation home that's all yours.
There's a covered porch with a private year-round hot tub spa on the back patio for private time together. Can you imagine watching the snow fall while you're soaking in the hot water with a glass of merlot?
There's also a kitchenette if you need to heat up leftovers or make popcorn for a movie! The range top is perfect for boiling water for a steamy hot tea too.
Plus, there's a washer and dryer in the unit to do laundry if you want fresh clothes for adventuring after you relax.
Consider all options for Valentine's Day in Stowe, Vermont!
There are so many things to do in Stove, Vermont that it'll be hard to choose what to do on your trip!
Regardless of what you do, it's sure to be a romantic escape for you and your partner.
For more information, updates, travel tips and news from Sundance Vacations, be sure to follow us on the following social media outlets: