Father's Day is just around the corner! Each year this special day falls on the third Sunday in June, and this year the holiday is on June 16th. President Nixon first officially honored Father's Day in 1972, nearly 60 years after Mother's Day was created. Dads used to be behind the scenes, but today being a father is super important and they deserve to be celebrated. We all know it's sometimes hard to think of a gift for your dad. This year I am suggesting sending him on a getaway he will remember for years to come. Sundance Vacations offers many different destinations that will be sure to give him just that.
---
Fishing Getaway
Fishing in my opinion, is one of the easiest ways to simply relax and connect with nature. If your dad is too busy to get out and enjoy the water, a fishing trip will be perfect! Father's Day means it's almost summer. Summer starts this year on Friday, June 21st, which means warm and sunny days are to come. Luckily, Sundance Vacations has plenty of destinations to enjoy this time of year. You can check in at 'Skipjack Resort' located in Marathon Florida. After all, Florida is known as the "fishing capital of the world."
The Florida Keys attract an abundance of fisherman year-round. They host more than 50 fishing tournaments each year! The locals brag about the abundance of marlin, tarpon, grouper, mackerel, yellowtail and more! If your dad loves fishing, he will love you for sending him there! You can even hire a local licensed tour guide to show you around the area to have a better chance at casting in that trophy. For more information, check out the Florida Keys Fishing Directory, and The Best Fishing Spots in the Keys and How to Fish Them.
"Fishing provides that connection with the whole living world. It gives you the opportunity of being totally immersed, turning back into yourself in a good way. A form of meditation, some form of communion with levels of yourself that are deeper than the ordinary self"- Ted Hughes
---
Nature Retreat
Taking a nature retreat might be just what your dad needs. He's so busy with work and home projects, that there might not be much down time to enjoy nature. Getting outdoors and taking in the sights and sounds reduces stress, anxiety and is also known to help reduce blood pressure. So, sending your father to Sundance Vacations 'Snow Ridge Village' will actually benefit your dad. 'Snow Ridge Village' is located in the heart of the Poconos in Pennsylvania. This resort is a short drive from activities your dad might want to take advantage of. While there are many different locations to hike or bike around this property, my favorite place to visit is less than 15 miles away. 'Hickory Run State Park' is home to an enigma known as 'Boulder Field.' Boulder field is just that, a giant field of boulders. It is 400 feet wide, 1,800 feet long and about 10 feet deep. The boulders are a result of melted glaciers from the Ice age. 'Hickory Run State Park' has more than 40 miles of hiking trails, and miles of trout streams. You can easily spend an entire day exploring this fascinating State Park.
---
Golf Escape
If your dad loves to golf, you definitely want to book him a vacation to Myrtle Beach! Myrtle Beach is known for its gorgeous and well-manicured golf courses. There are more than 100 different golf courses to choose from, that's why some call it the "supermarket of golf." Whether you're a beginner or an expert, this area will have a course to suit you. Sundance Vacations 'Myrtle Beach Resort' is located in the seaside golf capital of the world, and has a beach on site. If you're taking the whole family to Myrtle Beach, check out fun 'Family Attractions in Myrtle Beach'.
---
Brewery Adventure
What's better than having the opportunity to crack a cold one with your dad? My dad and I have had some of the best conversations sitting around relaxing while sipping on an ice-cold beer. We have shared stories, laughter, tears and it's in that moment where you can be silly or serious and just enjoy each other's company. If your dad is a beer lover, you might want to consider a unique Father's Day gift. A brewery tour will give you that. You can take a tour of the brewery, see how the beer is brewed and packaged, then take a sample of freshly brewed beer!
My favorite brewery is located near my hometown, the Yuengling Brewery is only about 78 miles from Sundance Vacations 'Woodfield Manor' property, but we will talk about that a little later. My second favorite brewery is located in Milton, Delaware. The 'Dogfish Head Brewery' is conveniently located just minutes from Rehoboth Beach and is less than 25 miles from Sundance Vacations 'Mallard Lakes'. The 'Dogfish Head Brewery' is a great brewery because they take you on a tour, encourage you to play a few games, and there's an art gallery and gift shop on site. The reason this is my second favorite brewery is, you guessed it, it's minutes from the beach!
---
Beach Relaxation
Maybe your dad needs a relaxing beach vacation. If that's the case, why not send him to beautiful Fort Lauderdale, Florida! Fort Lauderdale is famous for its beaches, arts, culture and events. Sundance Vacations 'Ft. Lauderdale Resort' will give you just that. This resort is located one block from the amazing Ft. Lauderdale beach! If you're there for Father's Day, you might want to check out fun things to do to celebrate your day. Did you know you can take a gondola ride with 'Riverfront Gondola Tours' up and down the canals? Well, now you do. They also take shopping very seriously here, you can visit 'The Galleria at Fort Lauderdale.' This mall represents the areas upscale style. You can also visit 'Sawgrass Mills' which is the largest outlet in the United States! Here you can shop at a variety of different outlets including Michael Kors, Giorgio Armani, Kate Spade and more! This Father's Day gift is sure to bring memories for years to come!
---
The Best is yet to Come
If everything you just read above sounds good, wait until you read about my favorite destination. Cresco, PA is right in my backyard and there's so much to do. Sundance Vacations has a peaceful property called 'Woodfield Manor'. Cresco, Pennsylvania is a nature lovers paradise! You can hike at a number of state parks nearby. Remember me talking about 'Hickory Run State Park'? Well, that's less than 30 miles away from 'Woodfield Manor'! You can spend the morning fishing and hiking there.
If you're looking for a unique way to spend the day with your dad, you really want to check out the 'Malibu Dude Ranch' located in Milford, PA. This dude ranch is the oldest running dude ranch on the East Coast and offers a number of different amenities. Here you can purchase a day pass to enjoy all the ranch has to offer. You get to go on two horseback rides through beautiful wooded trails. You can bring your own firearm and practice your aim at the shooting range on site. They have bonfires, an archery range, fishing, hayrides, an indoor heated pool, and they even have a mechanical bull in their saloon! They even offer lunch with the day pass. You have everything you will need to spend the day here.
The state parks are absolutely beautiful nearby. There's plenty of fishing in the area, so if your dad likes to fish, he will love this area. If it's hot, you can take a dip at 'Tobyhanna State Park'. This state park is located in Monroe and Wayne counties in Northeastern Pennsylvania. The park is 5,440 acres and has a 170-acre lake which is perfect to kayak on! While visiting, you may even come across unusual artifacts. Three types of artillery shells have been found here. It's important to know some might be unexploded artillery shells. The shells can range from 2.5 inches to 24 inches. If you come across one, do not touch it! Simply contact the ranger at the park office and point it out to him for proper disposal.
I talked about my favorite brewery earlier. The 'Yuengling Brewery', located in Pottsville, PA and is about 1.5 hours away from 'Woodfield Manor'. The Yuengling Brewery is "Americas oldest brewery" and has persevered for generation after generation. They have been in business for 185 years and has been family owned and operated since 1829! You can easily take a day trip to this awesome brewery.  If you can't make it for Father's Day, you might want to mark your calendar for their '190th Summer Celebration' being held on July 13th. The celebration invites the whole family to their free concert featuring 'Better than Ezra'. You can enjoy food, friends, live music and of course great beer!
While visiting Cresco, PA, your dad might want to enjoy a round of golf. Luckily, 'Mount Airy Casino' is conveniently located about 2 miles from 'Woodfield Manor'! This casino is also home to the 'Mount Airy Golf Club'. This club opened in 1980 and is like no other course you've ever played at. It has 6,500 yards of fairways and is designed after Sports Illustrated "Best 18 holes in Golf." Each hole is designed after golf's most legendary holes from Championship holes in America. Those holes include Pebble Beach, Oakland Hills, Merion, Agusta National to name just a few. After playing golf, he can enjoy the casino and hopefully win big! 'Mount Airy Casino' has over 70 different table games and 1,800 slots at the tip of your fingers!
Well, there you have it! A few ideas to surprise your father this Father's Day. No matter what you decide to do this Father's Day, just appreciate the time you get to spend with your father. It's nice to take time to celebrate the most important man in your life. After all, he has helped mold you into the person you are today. He deserves to be celebrated! You can take him on a unique getaway out of state, or you can stay close to home. You don't need to spend a fortune either, there are many parks and adventures waiting in your backyard too! The internet is a wonderful thing and with a few strokes of a mouse and a few taps at the keyboard, you can have access to several different possibilities. You can buy him gifts, but nothing is better than taking a vacation. A vacation isn't just a vacation, it's an opportunity to spend some one on one time together and laugh and create everlasting memories. If your dad is no longer with you, take time to remember the man he used to be, and think about the memories you were lucky enough to make with him. Happy Father's Day to all of the fathers out there!
---
As always, keep up with more from us on social media:
Summary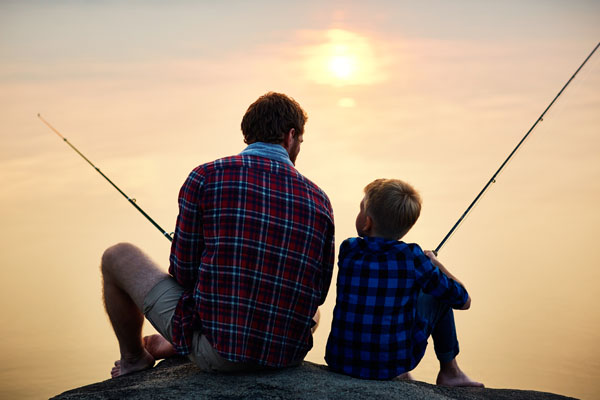 Article Name
Sundance Vacations Celebrates Father's Day
Description
Father's Day is just around the corner. This year the holiday falls on June 16th. Check out this list of awesome Father's Day trip destinations.
Author
Publisher Name
Publisher Logo