Never heard of Branson, Missouri? Don't let the unassuming nature of this city fool you, this picturesque place is bursting with adventures waiting to be had! Branson is a bustling city filled with excitement and was chosen as the #2 town with best lakefront views in America in a 2020 issue of Forbes Magazine. With average highs of 75°, 84°, and 89° in May, June, and July, the weather is perfect for a summer vacation. Whether you like to escape the heat with indoor activities, or bask in the sun with outdoor ones, there's something in Branson that every member of the family will love! Here are some of our favorite places to visit while in Branson, Missouri.
---
Titanic Museum
Ever wondered what it would be like to explore the legendary RMS Titanic? Well, you don't have to wonder when visiting the Titanic Museum in Branson. Before beginning your excursion through the ship, you'll receive a boarding pass of a real-life passenger that was on the maiden voyage. At the end of your tour, you can discover the fate of your passenger, or in this case, yourself! Take a stroll up the replica grand staircase as first-class passengers would have to reach other decks and explore recreated cabins where first, second, and third-class passengers would have stayed. Learn about the history of the tragic sinking while examining artifacts worth millions of dollars. You can even sit in a life-sized lifeboat and listen to true, tragic stories of survivors and what they witnessed on that fateful night. One of the most shocking parts of the tour is dipping your hand into the 28-degree water that many passengers had to endure as the ship slowly sank into the depths. Talk about freezing! This is an exhilarating experience for children, history buffs, or those looking to learn more about the April 14, 1912 sinking of the Titanic. This museum only has one other location, which is located in Pigeon Forge, Tennessee, so you're going to want to visit this attraction when you have the chance!
---
Branson Scenic Railway
Relaxing and serene… What else could you ask for in a vacation activity? Hop aboard The Branson Scenic Railway and sit back while this hour and forty-five-minute ride takes you through the foothills of the Ozark Mountains. Depending on your route prior to departure, your ride can carry you through southwest Missouri or northwest Arkansas. Observe the local wildlife, plant-life, and alluring natural scenery and you glide past landmarks and territories that are usually inaccessible by other means of transportation. Carved mountainsides, lush greenery, and rolling rivers and lakes are only some of the wonders you'll see on your ride. From April until October, if taking the tour on a Saturday, you can request a dinner car to truly experience all that the Branson Scenic Railway has to offer. During the dinner experience, guests can expect a full four-course meal in the style that passengers would have received it in the days of frequent rail transportation. It is highly recommended that you make reservations for your railway ride. Tickets are around $30 for adults to travel on a regular excursion and $70 for the dinner train. Near the holiday season, you can also board the Polar Express, a ride that takes you through the North Pole—a favorite among children!
---
World's Largest Toy Museum Complex
Okay, so we might be biased when it comes to this one… it's just so marvelous! The World's Largest Toy Museum Complex was founded by the married duo Tom and Wendy Beck. The couple combed through flea markets, auctions, and sales for over three years to complete their ever-growing collection. Over one million different types of toys are house in the complex from Barbie dolls and action figures to tin and cast-iron toys. If you're a kid at heart, or you like unusual collections and displays, you'll fall in love with this museum from the moment you step through the door. Take a nostalgic trip down memory lane and view toys, gizmos, and gadgets from your childhood—some are even 100+ years old! Children can also interact with some hands-on exhibits like a Hot Wheels track and coin-operated rides. There's not one other heart-warming, vibrant environment that brings its guests pure joy that can compete with this toy museum. Ticket prices are $22.62 for adults, $14.68 for children, and $67.79 for family pass tickets. Photos and video recordings are not only allowed but encouraged! Wristbands are also allowed for the entire day, so you can come and go as you please throughout your fun-filled day. This memorable attraction is a must-add to your Branson bucket list. Don't forget to visit the gift shop and bring home a toy to commemorate your time at the World's Largest Toy Museum!
---
Marvel Cave
Marvel Cave is a wet limestone cave located within Silver Dollar City theme park. There's plenty of fun to be had at Silver Dollar City with rides, dining, and shopping galore! While the typical theme park attractions will keep you busy for hours, Marvel Cave is unlike anything else you'll encounter at your average amusement park. Silver Dollar City was literally built around Marvel Cave, which was once surrounded by a small 1800s mining town. The best part about Marvel Cave is that the tour is included with every ticket and doesn't cost an extra fee to traverse! The Cathedral Room in Marvel Cave is a sight to behold. Adorned with twinkling lights and lined with natural rock formations, the Cathedral Room is the largest cave entrance in the United States. Did we mention that it's also 300 feet below ground? Trust us when we say that you'll work up a sweat when exploring this cave. An expert cave guide will lead you on your journey and teach you about the importance of cave systems and the history behind Marvel Cave. It's both fun and informative—the best of both worlds! After travelling 500 feet below the surface, how do you return to the land of the living? You hop aboard a sleek red cable train that was build for miners in 1957. Overall, Marvel Cave is an extremely unique theme park experience that all visitors of Silver Dollar City should check out!
Other amusement parks like Silver Dollar City include: Branson Mountain Adventure Park, Shepherd's Adventure Park, and Shepherd's Historic Farm and Playland.
---
Aquarium at the Boardwalk
What's more enticing than a giant glittering octopus on top of a building? We'd argue nothing! Branson's Aquarium at the Boardwalk is a popular tourist destination for marine animal lovers young and old. This aquarium is not like any other aquarium you've been to, though. Step into the Ocean Kaleidoscope and experience a world of vivid color where butterfly fish and angelfish dance to the rhythm of the heart-pounding music. Or, you can stop by the Jelly Infinity Room and watch moon jellies as they float around and light up the area with their bioluminescence. Children will have a blast in the Kelp Forest play area where they can climb on kelp vines that soar high above. Whichever you choose, you're sure to have an unforgettable experience. Watch sharks swish their tails and the octopuses glide by with their tendrils. Five'r tickets cost $44.99-$64.99 for ages 12+, $19.99-$24.99 for children aged 4-11, and children 3 and younger are free! The Five'r package includes entry to Aquarium at the Boardwalk, the Hollywood Wax Museum, Castle of Chaos, Hannah's Maze of Mirrors, and Shoot for the Stars Mini-Golf—an unbeatable deal! Regular admission prices just for Aquarium at the Boardwalk are $29.99-$35.99 for ages 12+, $15.99 for children aged 4-11, and children 3 and younger are free!
---
Extra Branson Fun!
There's something new to try in Branson around every corner. If you're looking for more family fun, check out some of these other attractions and places:
---
Photo Credit
Featured photo courtesy of the Branson Convention and Visitors Bureau
Branson CVB Photo
Photo: ExploreBranson.com
---
For more information, updates, travel tips and news from Sundance Vacations, be sure to follow us on the following social media outlets:
Summary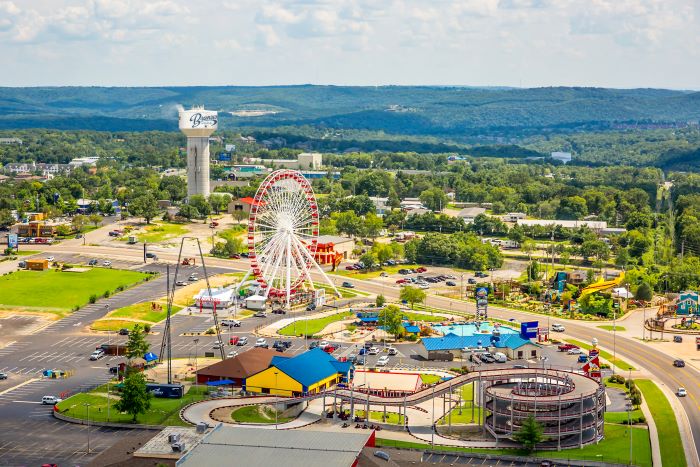 Article Name
Plan a Family Trip to Branson, Missouri
Description
Branson, Missouri is a city filled with exciting adventures waiting to be had! Here are some must-see places to check out when visiting.
Author
Publisher Name
Publisher Logo