With travel steadily returning to normal, we understand wanting to start your long-awaited vacation off with a "bang!" If you're looking to add a little spice to your Sundance Vacations beach trip, then you're going to want to visit a beach that's unlike any you've ever visited before. Well, don't worry, we've got you covered! There's no shortage of quirky and unbelievable beaches in the United States, so here's a small list of some of the few that really blew our minds! From green sand to a shore that sings when you step on it's squeaky sand, here are 5 unique beaches you can visit in the U.S. on your next fantastical getaway!
---

Bowling Ball Beach — Point Arena, CA
Bowling Ball Beach is located on the northern end of Schooner Gulch State Beach in Point Arena, California. During seasons of low tide, small round boulders that resemble bowling balls can be seen in lined rows poking out of the misty water. Though the bowling ball shaped rocks are the main attraction, there's a variety of distinctive rock formations to be seen at this fascinating beach. Plop down on one of these smooth circular stones and whip our your camera to take the perfect picture of your family with the misty ocean breezing being the backdrop!
---

Glass Beach — Fort Bragg, CA
Here's another beach that can be found in California, but this time in Fort Bragg. You won't find much sand at this beach, instead you'll find varying sizes of sea glass that formed over time from garbage buildup along the coastline. What was once a trash dumping site is now a beloved tourist attraction. Along with spectacular views, you can sometimes spot seals lounging on the rocks that jut out of the water. Admire the beauty of the multicolored glass while visiting though, because taking the stones as souvenirs is illegal! If you're looking for a truly unique experience, Glass Beach is it!
---

Papakolea Beach — Big Island, HI
Papakolea Beach, also known as Green Sand Beach, can be found in Big Island, Hawaii. It's known for—you've guessed it—its green sand! There are only two known green sand beaches in the United States, the other being Talofofo Beach in Guam. According to Big Island's website, the beach "is carved in a 49,000-year-old cinder cone belonging to the Mauna Loa volcano" which contains a green crystalline material called olivines. An easily navigable hiking trail can be used to traverse the sandy terrain, or you can take a ride on a 4×4 along the beach path, which is usually an option offered by locals.
---

Assateague Island National Seashore — Accomack County, Virginia
Assateague Island National Seashore is located in Accomack County, Virginia and this 37.28-mile-long beach is truly a sight to behold. So, what makes this beach so popular? The herds of graceful, wild horses you'll see roaming the shore! A substantial part of the ecosystem remains unaltered by humans, so the flora and fauna are natural and untamed. Walk and bike on the trails or relax on the beach and maybe observe a horse or two. Stop by the visitor center to explore exhibits like aquariums and touch tanks, or watch a film about the horses that roam the island.
---

Singing Beach — Manchester-by-the-Sea, MA
Singing Beach in Manchester-by-the-Sea, Massachusetts is the smallest beach on our list. About a half-mile wide, Singing Beach may be tiny, but it's packed with charm! When the dry sand is stepped on, it emits a melodic squeaking sound, hence its namesake. The "singing" doesn't just refer to the sand, though. When the sun starts to sink into the sea, the shore turns a pretty pinkish hue, and the sight is nothing short of magical! Like Bowling Ball Beach–and ALL of the beaches on this list–Singing Beach is a great family spot, especially if you have little ones so you can see their excited reaction when they step on the squeaky sand!
---
For more information, updates, travel tips and news from Sundance Vacations, be sure to follow us on the following social media outlets:
Summary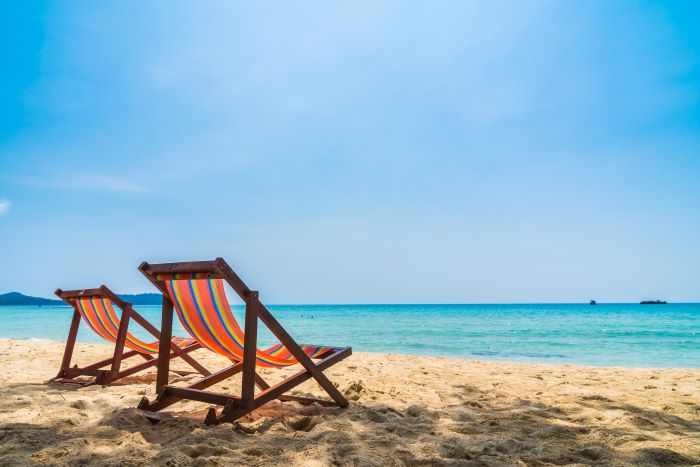 Article Name
5 Unique Beaches You Can Visit in the U.S.
Description
From green sand to a shore that sings when you step on it's squeaky sand, here are 5 unique beaches you can visit in the U.S. on your next fantastical getaway!
Author
Publisher Name
Publisher Logo