Who doesn't love Harry Potter! Universal Studios Orlando has brought the magical world of Harry Potter to life! Travel with Sundance Vacations to Orlando, Florida and experience The Wizarding World of Harry Potter. I'm a huge Harry Potter fan and would lose my mind if Hogwarts was a real place! Being a Gryffindor house member, would be a dream come true! The Sorting Hat is a total brat, but I think he would make the right decision! Unfortunately Hogwarts isn't real… but this is the next best thing! The Wizarding World of Harry Potter spans over two parks, Universal's Islands of Adventure and Universal Studios Orlando. The attractions here are straight out of the books and movies! If you love Harry Potter, this place is most definitely for you! So grab a butterbeer and check out my 5 reasons to love The Wizarding World of Harry Potter!
If your dream is to step foot into the doors of Hogwarts, Harry Potter and the Forbidden Journey™ is the ride for you! Enter the enormous castle and take a journey through all of the iconic rooms inside. See places like Dumbledore's office and the Defence Against the Dark Arts classroom! Fly above the castle and meet some familiar faces along the way! Harry Potter and the Forbidden Journey™ is the ultimate Harry Potter fan experience! Learn the history of Hogwarts and feel like a wizard!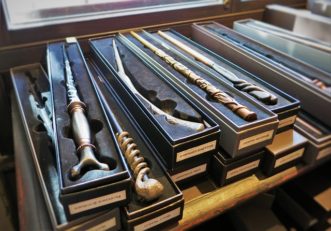 Now we all remember when Harry picked out his wand… well when the wand picked him! Visit Ollivanders™ wand shop, their slogan is "Makers of Fine Wands Since 382 BC." Every witch and wizard needs a trusty wand! Enter this unique shop, that's filled up to the brim with wands waiting to choose their new owner! Purchase your very own wand or character replica wand. When my family visited Ollivanders™ my little brother decided to get a character replica wand. I was expecting him to choose Harry Potter's or Professor Snape's wand, but no. Who does he pick out of all the characters? Ginny Weasley… who is probably the most boring character out of the entire series! No offense to any Ginny Weasley fans out there, but come on! No matter who your favorite character is, Ollivanders™ has a wand for you!
This is the sweetest place in all of Hogsmeade! Honeydukes™ is the candy store for Harry Potter fanatics! They have every candy and treat featured in the Harry Potter series. Enjoy Bertie Bott's Every Flavour Beans, Chocolate Frogs, Cauldron Cakes, and Exploding Bonbons. You better believe I still have my box of Bertie Bott's Every Flavour Beans still in the packaging! Every treat sold at Honeydukes™ looks exactly like it did in the movies! Everything is so accurate and spot on! If you are looking for butterbeer, there are stands all over the two parks that sell frozen and non frozen butterbeer. This summer The Wizarding World of Harry Potter will feature butterbeer ice cream! I can't wait!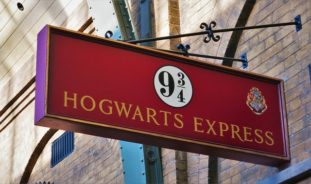 All aboard! Step onto platform nine and three-quarters and take a ride on the Hogwarts™ Express! This train is iconic in the world of Harry Potter! It's the only way you can make it to Hogwarts School of Witchcraft and Wizardry… well unless you are Ron Weasley and "borrow" your dad's flying car! With a Park-to-Park admission ticket, you can ride to both parks! Start at the Hogwarts™ Express from King's Cross Station at Universal Studios Orlando, and travel to Hogsmeade Station in Universal's Islands of Adventure or vice versa! While aboard the train you will see a variety of characters and creatures featured in the beloved books and movies!
Remember Buckbeak the Hippogriff? Visit Hagrid's pumpkin patch and take a ride on this mythical creature. Flight of the Hippogriff™ is a roller coaster great for the whole family! Spiral and dive your way around the pumpkin patch and see Hagrid's hut up close. You will even hear Fang barking as you fly around! When you see Buckbeak, remember to approach him with proper etiquette to avoid danger. You don't want to end up like Draco Malfoy! So take flight and feel the magic on this thrilling roller coaster!
---
For more information, updates, travel tips and news from Sundance Vacations, be sure to follow us on the following social media outlets:
Harry Potter fans, where you at? Universal Studios Orlando, is home to the unique attraction Harry Potter and the Escape from Gringotts! Take a journey deep underground as you climb aboard this mind-blowing thrill ride! https://t.co/kcmhlobwO1 pic.twitter.com/Hg7RVcPURg

— Sundance Vacations (@travelsundance) June 11, 2018
Summary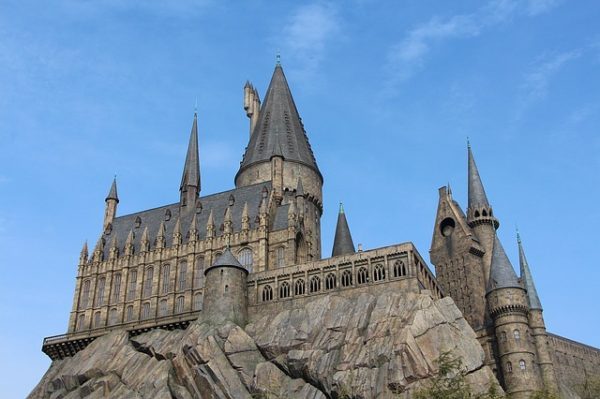 Article Name
5 Reasons to Love The Wizarding World of Harry Potter
Description
Who doesn't love Harry Potter! Travel with Sundance Vacations to Orlando, Florida and check out 5 reasons to love The Wizarding World of Harry Potter!
Author
Publisher Name
Publisher Logo