Do you love food? Do you like trying new and different things? If you're very daring and adventurous, you might have possibly already tried something from our list while traveling with Sundance Vacations. If not, and you are traveling to one of these areas, we dare you to give some a try! You never know what you'll like until you try it at least once.
Kool-Aid Pickles aka Koolickles
Yep! Just as it sounds, Kool-Aid pickles are pickles soaked in a jar of Kool-Aid. This is a thing around the Alabama and Mississippi area. Want to try koolickles at home? All you need is a gallon of dill pickles, a pound of sugar and two packets of Kool-Aid (the flavor is up to you). Cut the pickles in half, add them to a jar with their brine, sugar, and Kool-Aid. Mix it all together and let it sit in your fridge for a week.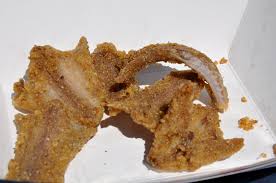 Fried Rattlesnake Skin
Surprisingly, this wasn't scary to try at all, and was pretty tasty! If you are in Texas, Arizona. or Oklahoma, try to find it and take a bite. You never know, you may like it too!
Peanuts and Coke or Goobers and Coke
For this, all you need are peanuts and coke! Want to try this now? Just travel to the closest grocery or maybe your works vending machines, pick up Coca-Cola and some peanuts. Sip a little soda out of the bottle and add some salted peanuts in. Give it a taste and tell us what you think! This is something that you may find people sipping' on if you're traveling in the Southern States. Surprisingly, this has been around since the 1920's!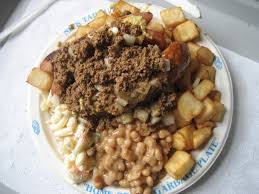 Garbage Plate
If you find yourself in Upstate New York, why not take a drive over to Nick Tahou Hots in Rochester NY. Nick Tahou's is actually the home of the garbage plate too! This layered dish concoction consists of, home fries, macaroni salad, with baked beans or fries as the base. For the next layer, you add your meats and finish it up to your liking, adding spicy mustard, chopped onions or Nick Tahou's signature hot sauce. You also get 2 thick slices of Italian bread and butter. You better come hungry to eat this up!
Burgoo AKA Roadkill Soup
This spicy stew is from Kentucky. Traditionally, you use whatever meats and vegetables that are available. So, you might be asking if it's chicken, squirrel, raccoon or possum? After all the ingredients and spices are added, they say a good burgoo is said to be able to have a spoon stand up in it.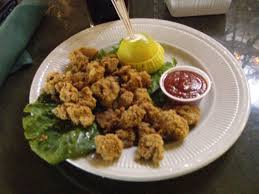 Rocky Mountain Oysters
You might be thinking, what is this? Well, if you find yourself in Canada or anywhere with this on the menu, beware. Although it may look pretty good, looks can be deceiving! These are fried cattle, sheep, or pig testicles. There's actually a festival celebrating this in Clinton, MT held annually called TESTY FESTY!
Chitlins / Chitterlings
This dish contains pig or cattle intestines. Yes, these are smelly when cooked but if you can get passed that, you may like it or hate it. This dish is part of Southern history, which may not be too popular today, but had been in the past.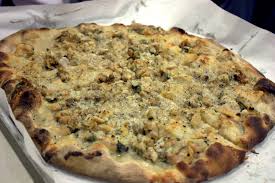 Clam Pie Pizza
Just as it sounds, clam pie pizza is a meat pie prepared using clams as a primary ingredient. Although you can have it as a traditional pie, a lot of places actually have it prepared as a type of pizza pie! If you find yourself in Connecticut, take a drive into New Haven and try a slice. In my opinion, you have two things that should be eaten separately. I love pizza, but this is a no-go for me!
Brain Sandwich
This sandwich is usually fried calve or pig brain, ON A BUN! If you see this on the menu while in Indiana, Missouri, Ohio, or anywhere else, maybe you'll pass and get a grilled cheese instead.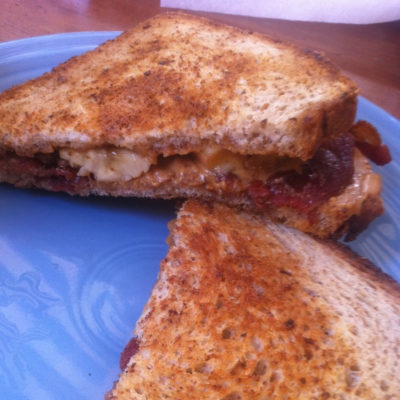 The Fat Elvis
This combo I don't like, but maybe you will. The Fat Elvis is a peanut butter, banana and bacon sandwich. In my opinion, it's an acquired taste. I'm sure a lot of people love this, or it wouldn't still be around.
Scrapple or Panhaas
This is basically leftover animal parts mixed with flour, spices and lard shaped into a brick, and is then sliced up and fried. It's kind of like a homemade spam. This is something in Pennsylvania or in the Northeast you'll find on menus.  It is a very divisive food.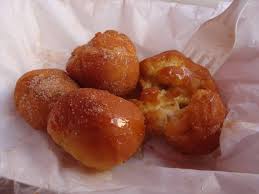 Fried Butter
Just thinking about this bothers me! I don't mind butter in or on things, but this is something else. If this intrigues you, you can try it if you travel to Texas or Iowa! Deep-fried butter is a snack food made of butter coated with a batter or breading and then deep-fried.
Do you have any weird or gross food you tried or heard of that we missed? Comment and let us know!
---
For more information, updates, travel tips and news from Sundance Vacations, be sure to follow us on the following social media outlets:
Summary
Article Name
Weird and Unusual Foods around the United States
Description
Do you love food? Do you like trying new and different things? Possibly you already eaten something from our list while traveling with Sundance Vacations!
Author
Publisher Name
Publisher Logo