When I go on vacation to Florida with Sundance Vacations, I like to use found objects and create something with them that reminds me of my trip when I'm back home. Just like the starfish, (okay, so this one and only this one, I purchased.) For me, creating is my escape from reality. It takes me to a different place, a place of peace. I would like to add I am self-taught, I collect my treasures and create as I go, LOL. In other words, if I can, you can too! If you need some help or ideas, Pinterest is a great help too. Don't think of yourself as a crafty person? They do say it's good for the brain to pick up a new hobby or something, don't they?! Okay, so here we go, and I hope you enjoy.
Don't forget to share a picture for us to see your "RELAX SIGN!"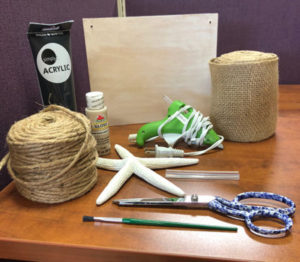 Step 1: Gather your Supplies
What you're going to need to get started will be some sort of canvas, burlap, string/rope, a starfish, paint, scissors, something to drill a hole, glue sticks and a glue gun.
After you find your object at the beach, gather your supplies at your local Michael's or AC Moore, you're ready to start putting your souvenir!
---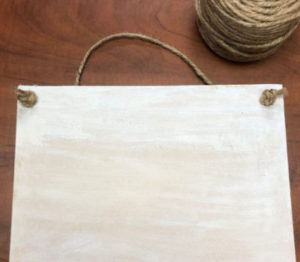 Step 2: Canvas and String
For this, you'll need to drill two small holes, one on each side to run the string through. For mine, I asked my husband to drill the holes.
After the holes, pull the string through and tie knots on the font to make them stay. After the knots I cut the excess string to make the knot tight.
---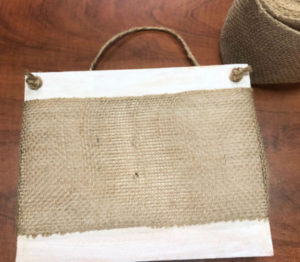 Step 3: Burlap
When adding the burlap, I only hot glued the edges on the back of the canvas so the glue couldn't be seen on the front!
I also figured the Starfish will help hold the Burlap in place better once glued.
---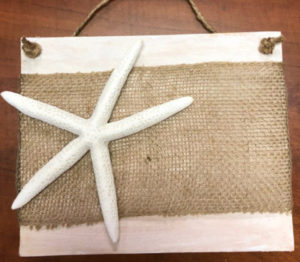 Step 4: The star of the show, The Starfish
Next, you'll glue the starfish to the burlap!
For this, I used a generous amount of glue to keep it attached. I also put the star fish an angle to make it's look like its dancing!
---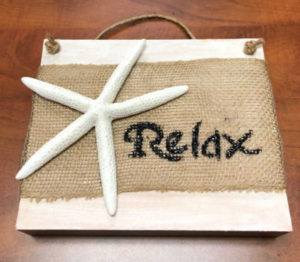 Step 5: Wording
Finally, paint the word or phrase you want to use. I free handed the text, but feel free to use a stencil to give it the look and feel you want!
Once you're done, RELAX!
---
For more information, updates, travel tips and news from Sundance Vacations, be sure to follow us on the following social media outlets:
Summary
Article Name
Description
Do you like to collect souvenirs when you go on vacations? Check out these four easy steps to create a memory that will last forever!
Author
Publisher Name
Publisher Logo