The world is full of gorgeous travel destinations, but no type of vacation is more popular than a beach getaway. Something about the water lapping against the sand puts us in relaxation mode as soon as we arrive. While the world holds countless beaches for your enjoyment, some of the most unique and spectacular are located right here in the US! If your next Sundance Vacations trip will take you to the ocean, check out some of these amazing destinations!
Red Sands Beach, Hana, HI
Located right in the town of Hana, on the Island of Maui, HI, Kaihalulu Beach (Red Sand Beach) boasts rocky, brick-red sands and some of the best snorkeling and birdwatching around! Situated in a protected cove in what used to be a volcanic cinder-cone (where the beach gets its color), this beach is not easy to get to, but well worth the trek if you are able to traverse it.
Start your journey at the Hana Community Center. To the right side of the building is a large, open field and in the back of the field you will find a narrow path that leads you to the left. As you follow the path, you will have to shimmy along the cliff to reach the beach, so you won't want to attempt it with children, or if you have trouble with your balance. (You can still visit the beach, but you will have to rent a kayak in town to get there!)
Don't forget your snorkeling gear! Because it's protected from the surf by a wall of lava rock, Red Sands Beach is one of the best places to snorkel on Maui!
It's also worthwhile to note that this beach is considered "clothing optional." You will very likely encounter a nudist or two if you visit the beach!
If Kaihalulu Beach seems a bit too adventurous for your taste, try visiting the black sands beach at Wainapanapa State Park, just a few miles before the town of Hana on the Hana Highway! The beach is formed from pulverized black lava rock, and the park itself boasts several attractions, including sea caves and even a lava tube, right on the beach! If you're staying at Sundance Vacations 'Kuleana Club' you can get to this amazing beach by simply taking a day trip!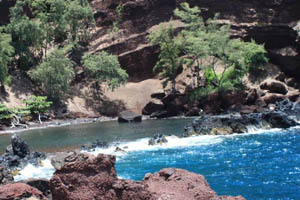 ---
Green Sands Beach, South Point, HI
While you're in Hawaii, hop on over to the Big Island to visit Papakolea Beach (Green Sands Beach) to see one of the most unique beaches in the world. Situated in the remnants of a tuff ring, on the southern coast of Hawaii, the sands of this beach are tinted green because of the presence of citrine in the surrounding rock. It's one of only two green sands beaches in the world!
My husband and I have differing opinions on whether or not the beach is worth the many-miles trek across what is essentially a coastal desert, but it is true that you won't find a beach like this anywhere else in the United States. To get there, drive US-11 between Kona and Volcano Village. Between mile 69 and 70, follow the road to South Point. At the end of this road, you will find a small harbor and a parking lot. Many locals will offer to drive you to the beach in their 4 x 4s (for a fee) but if you prefer to hike, keep the ocean on your right-hand side for about 2.5 miles and you will find yourself on the cliffs looking down onto Green Sands Beach.
Make sure to stop at South Point while you are in the area, so you can say you have been to the southernmost point in the US!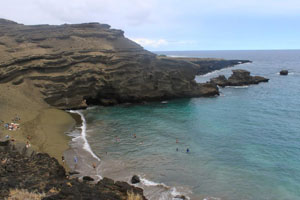 ---
Glass Beach- Fort Bragg, CA
Glass Beach is a well-known beach in MacKerricher State park in Fort Bragg, 120 miles from San Francisco. When visiting this beach, you will get to stroll along the shoreline and collect many different types of colored glass. I'm not talking about finding a piece here and there, the beach is littered with sea glass! Obviously, the main beach won't have as much glass as the other less traveled coves.
Some like to think the sea glass pieces are "Mermaid Tears." The rumor is that every time a sailor is lost at sea, the mermaids are sad and the "tears" wash up onto the beach. You might be surprised to learn that the glass is remnants of the eras past. The beautiful glass pieces were once broken bottles and garbage, but today they are known as tiny treasures thanks to time and the ocean waves. The surf beat the glass pieces and turned a man-made dump site into a beautiful place to visit. It's believed to have the highest amount of sea glass in the world.
In 1906, this area became a dumpsite after an earthquake.  The locals decided they needed to dump the debris and rubble from the earthquake into the ocean. They also burned a lot of garbage here too. They believed the ocean would carry the debris away, but everything stayed on the beach. In 1967, the 'North Coast Water Quality Board" created a new dumpsite away from the ocean. Now, many years later, Mother Nature reclaimed her beach, and you can take your family there to enjoy the sights. Take as many pictures as you want, but please don't remove any of the stones, leave it for others to enjoy.  It actually is illegal to remove any glass from Glass Beach.
The sapphires, known as the "sapphire of the beach" are rare. They are believed to be from apothecary items such as Milk of Magnesia, Vick's Vapo Rub, Noxema and prescription bottles. The Rubies, known as the "rubies of the beach" are extremely rare. They might be from perfume bottles, taillights of old cars, traffic lights and even old beer bottles made for 'Schlitz Beer' in the 1950's. "Gem Glass" are the pinks, lavender, limes. They are from shampoo bottles. The lavender and pink were clear bottles that were clarified with magnesium. Common sea glass are the greens, browns and aqua, which are made from beer and soda bottles, Clorox bleach jugs and other common items. The "Fire Glass" is a unique glass because they have been put through fire. These pieces of glass may even have precious gems trapped inside. To get to Glass Beach, take Highway 1 to Fort Bragg, and Turn West on Elm. Park in the parking Lot and walk to the ocean. Turn left at the bluffs edge, and you'll find a path down to coves of glass! Glass beach is less than 60 miles from Sundance Vacations 'GEVC at Lighthouse Pointe' property! Make sure you take the extra time to visit this amazing beach!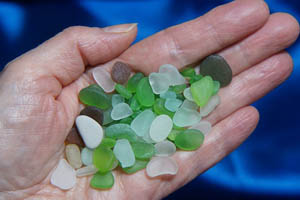 ---
Little Hunter Beach- Acadia National Park, ME
This secluded beach is on the southeast side of Mt. Desert Island in Acadia National Park. The park has an abundance of different trails and activities. This little beach can be difficult to find, so this can be a good thing if you're looking to get away. This beach is a favorite for painters and artists because there is serenity and seclusion to get lost in the painting.
This beach is not full of sand, but it is filled with small rocks and stones. The rocks rolling through the waves, crashing up onto the beach make a unique and relaxing sound, unlike the beaches I visit on the East Coast. The water is brisk and stays at about 55 degrees during the summer, which means it's a bit too cold to swim. The strong tides make this private cove dangerous for swimming. Keep in mind, there is almost no cell phone service here, you will actually have to simply enjoy nature.
Access to the beach is provided via the Park Loop Road, but its view is hidden from the road itself. A stairway on the left takes you down to beach level, but the beach is hidden behind stonework and trees.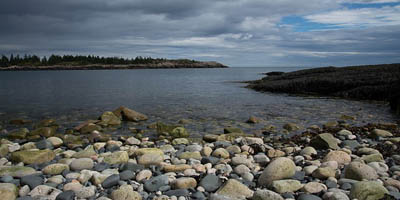 ---
Boneyard Beach- Bulls Island, SC
Boneyard Beach is often described as "hauntingly beautiful." It might sound like a beach from a horror movie, but it's not. It gets its name from the pieces of driftwood strewn around. The sun and saltwater age and color the driftwood and the white color tend to look a lot like bones.
Bulls Island is not for everyone, but if you like beach combing, bird watching, hiking, bald eagles, alligators, dolphins and the chance to get away from the mainland, this might be for you. There are 66,000 acres included in the 'Cape Romain National Wildlife Refuge.' Boneyard Beach could possibly be the best top-secret beach in South Carolina. If you like discovering new places, this is a place to explore for sure!
There are remnants of what used to be a forest, and you can come across more driftwood than you could possibly imagine! The beach is just that, a beach. There are no fancy condominiums or restaurants nearby, this beach is untouched! It's home to many different forms of wildlife and endangered species. There is simply a seven-mile beach for you to discover. The beach is left to itself most of the time, which means not many people are here to collect the shells! You can find some perfectly intact shells to add to your collection! You can take the 'Bulls Island Ferry' to explore 16 miles of trails and 7 miles of undeveloped shoreline to surround yourself with nature. Sundance Vacations 'Myrtle Beach Resort' is conveniently located about an hour and a half away from the 'Bulls Island Ferry!'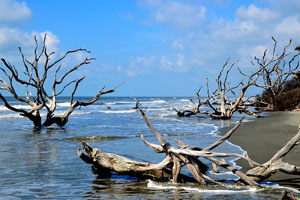 Next time you're planning a getaway with Sundance Vacations, make sure to check the area for hidden Gems nearby. You can easily go to a well-known beach that you have been to before, but wouldn't it be more exciting to visit a beach you have never been to? Imagine stepping onto a beach and experiencing a destination for the first time. Remember when you went to the beach for the first time, how breathtaking it was? Well, there is a world of 'firsts' out there! Just do a little research and you can experience many new and exciting destinations right here in the United States.
Taking a vacation is fun and relaxing, but did you know travel actually matters to our health? Check out this Sundance Vacations blog to learn more!
---
For more information, updates, travel tips and news from Sundance Vacations, be sure to follow us on the following social media outlets:
Summary
Article Name
Unique beaches you can visit without a passport!
Description
The world is full of gorgeous travel destinations. Some of the most unique and spectacular beaches are located right here in the US, no passport required!
Author
Publisher Name
Publisher Logo