Renting a Car or Using Ride Hailers like Uber: Prices, Safety and Convenience
"Just call an Uber!"
It's the new go-to solution for more than just a ride home from the bar.
With the growing popularity of "ride hailing" services like Uber and Lyft, many Sundance Vacations travelers are opting to use these convenient apps rather than dealing with the hassle of flagging down a taxi or renting a car.
According to Certify, one of the largest providers of business travel data in North America, ride hailing services accounted for nearly 49% of ground transportation options in the second quarter of 2016.
That means that almost half of travelers used Uber or Lyft to get around!
This statistic surpassed rental cars numbers, which only accounted for 37% of ground transportation, and it looks like the number of ride hailers is continuing to overthrow the rental car industry. Hence the Uber vs rental car debate.
Comparatively, taxis seem to be turning into a thing of the past, steadily declining by a whopping 51% in the past two years.
But just because the numbers are changing, it doesn't mean that renting a car isn't a smarter option for an active traveler.
People might ask, "Is Uber cheaper than a taxi or getting a rental car?"
But maybe cost isn't the only factor to weigh in.
Let's take a moment to consider the pros and cons of Uber vs rental cars or ride hailing versus renting a car:
1.) COST: Would you save money if you rented?
One of the first determining factors for weighing your cost savings for using Uber vs rental cars is considering the length of your stay.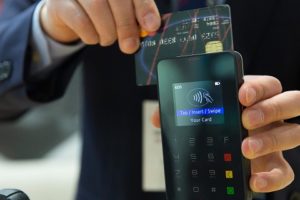 If you're traveling for a full week, most people would say renting a car proves to be the cheapest option. Let's look at the math…
Economy rental cars will typically cost between $45-65 per day and should fit two adults and two children. With these numbers in mind, you can expect to drop between $315-450 for a seven day trip.
Uber's rates are going to be calculated by your mileage in motion, meaning if you just need a quick lift over a short distance, it's a cost-efficient choice.
To put it into perspective, a 30 minute drive might not seem like much, but that 20 mile each way could end up costing you $40-50 there and back with a ride hailing service. If you times that by the number of days you're staying to get your "per day Uber cost," you might be better off just signing up for the rental.
Then there's considering those extra charges. Do you have to tip your Uber driver?
That's like asking if you have to tip a waitress. Technically, no, but it's always a nice gesture as a thank you if your driver was accommodating and friendly.
Consider that when renting you still need to pay for gas as well as parking fees as well for wherever you visit. If the place you're staying has free parking, that's a plus, but you could always have to pay to park in a garage or have to deal with the fuss of going back to the car to feed a meter if you are parking in the city on your trip.
If you're on vacation with your family too, consider how many passengers a ride hailer's vehicle could hold verses a rental car.
"Does Uber charge per person?"
The answer is no, however, depending on the kind of car service you go with, the number of passengers varies. For example UberBLACK cars have a four person passenger limit.
If you have a full squad, renting a minivan might be the most convenient.
Keep an eye out for hidden rental car fees though as well, such as extra for returning the car to a different location, adding an additional driver, being under the age of 25, or going over your allotted miles.
2.) SAFETY: Do you feel safest using Uber, public transport, a taxi or renting?
Safety when renting a car isn't usually the issue, but it's something to think about when using transportation with strangers.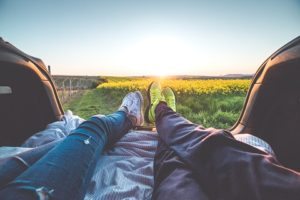 Public transport systems like a bus or train are often packed with people and some travelers are hesitant to grab a taxi or call an Uber ride for fear of their safety.
Just like taxis each have their own license plate and confirmed driver, Uber drivers must be validated and screened.
The app also makes it easy to see your driver's name, license plate number, a picture and their rating, so you know who exactly will be picking you up.
All Uber ride requests are blindly matched, meaning it just picks the closest available driver to you, therefore, avoiding any worries of discrimination of race or gender.
Some of our Sundance Vacations travelers have shared that although Uber has made great strides in driver and rider safety, they still prefer renting their own car because they just feel safer.
Being in your own rental might be the most comfortable option for you and your family and that's fine.
Check out these 10 Tips for Saving Money on Rental Cars if this is what you decide to do!
In the end, it comes down to your personal preference when deciding between Uber vs rental car options.
3.) AVAILABILITY: Can you even get an Uber where you're going?
Consider what options you have for getting around at your destination.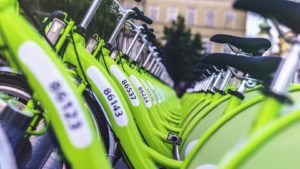 If you plan on visiting a city that has easy access to public transportation, such as Las Vegas where you can cheaply purchase day passes to the monorail, it might be better to neither rent nor pay for individual pick-ups. If there's a place a little further off the path to visit such as Red Rock Canyon, it might make the most sense to Uber there if that's your one outlier.
Be sure to download the Uber or Lyft app and check typical availability in the area you're visiting too. Again, around major cities you might have access to dozens of drivers ready to pick you up, but in a more urban area maybe there aren't even any available.
Check Uber's find a city option on their site to see the options for ride hailing there.
Depending on the area you're in, Uber drivers will typically be ready to pick you up within 20 minutes as well.
If you're staying close enough that you could walk or even rent a simple road bike, it could be beautiful to enjoy your destination outside of a car. This is of course ideal of city visits where you can walk from shop to shop.
Regardless, be sure to research your options before your trip to determine what method of transportation works best.
Should you rent a car or Uber?
In the end, it's up to you to decide if it make more sense for you to try a ride hailing service on your vacation or to secure your own vehicle for the trip.
Do what works best for you and your family! It's nice to have the ability to choose between getting an Uber vs rental car options.
Looking for more statistics on the number of people using ride hailing services? Check out this awesome infographic from Certify about how the ride hailing market is growing!
Learn more about other rental car industry options on our Blog.
As always, keep up with more from us on social media:
ABOUT THE AUTHOR


Jennifer Villa




Digital Marketing Coordinator

at

Sundance Vacations


Jennifer is the Digital Marketing Coordinator for Sundance Vacations. She creates the fun videos you see on our YouTube channel, writes for our Blog, News, and Charities websites, and posts for our social media outlets here at Sundance.