Rental cars have long been a way of getting around for many a Sundance Vacation traveler.  Often times, a necessary beast.
While a rental allows you extra space you may not have in your own personal vehicle and the ability to prevent wear and tear on it, many have dealt with the high prices, hidden fees and outrageous overage charges associated with them.
For many people, including business travelers, rental cars can be a lifeline.  Especially to those that are from large cities and are used to using public transportation.  When in a rural area, or taking a vacation that requires a lot of commuting, a rental car can be a great way to accomplish that for a short period of time.
Pros and Cons:
There are pros and cons to each side of the rental car debate, but now, thanks in part to the sharing economy, a few new ways to rent a vehicle and get around are available.
Aside from the typical places, like Hertz, Enterprise, Avis and National, travelers can now choose from a service called Sivercar.  This new "rental car experience" as they call it, is designed for the business traveler who is well in-tune with technology.
The service uses a smartphone app to allow the users to sign-up, book a rental and unlock the car.  This means less time spent checking in and signing paperwork and more spare time for you to take advantage of.  In an effort to streamline the process, Silvercar uses a single premium car model, the Audi A4.  Each one of these rentals comes with free Global Positioning System (GPS), free satellite radio, free in-car Wi-Fi and fuel and toll plans designed to save the traveler as much money as possible.
Silvercar, which was started in 2012, makes sure that customers will always have the same experience.  There is no waiting in lines at the counter, no getting used to how the car works as you will always have the same kind of car and no worries about hidden fees.
"It's a customer-experience design that has the customer really focusing on getting to their car," said Luke Schneider, CEO and Founder of Silvercar.  "Accessing their car, making sure they know how it works and then getting on with the travel.  So for us that means less time dealing with counters and lines, people and paperwork and more time helping customers get into their cars."
Dollars and cents:
The cost to rent a Silvercar is between $59 and $99 a day.  Basically the rate always starts at $59, but according to Silvercar's website, "As car availability becomes limited, the price will change up to $99, but never more."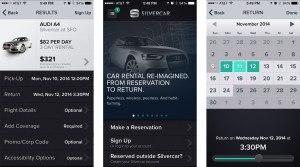 Despite the fact that this new company is ultimately helping to accomplish the same goal that the other rental car companies would, Silvercar has really been the first to innovate changes in the market in the last 30 to 40 years.  Customers book through the Silvercar app on their smartphone (Links to the app can be found here: iPhone (Apple) | Android (Google Play)) and avoid all the other annoying details of renting a car at the airport.
Currently, Silvercar has 11 locations around the United States and continues to expand.  Locations include: Austin, Texas (AUS), Dallas-Fort Worth, Texas (DFW), Dallas-Love Field, Texas (DAL), Denver, Colorado (DEN), Chicago, Illinois (ORD), Ft. Lauderdale, Florida (FLL), Los Angeles, California (LAX), Miami, Florida (MIA), Phoenix, Arizona (PHX), San Francisco, California (SFO) and soon to be in Brooklyn, New York.
According to a recent report from CNBC, rental car companies aren't quite doing as well as they'd like to be on the stock exchange.  While major airlines and other travel related industries are seeing gains as high as 66 percent, rental car companies like Avis, up just four percent, and Hertz, actually down 25 percent from last year, are feeling a pinch.  Four major factors contributed to these results.
1.2.3. Why?
Firstly, most locations of rental car businesses have too many days where cars sit on the lot and go un-rented.  Cars are a tremendous overhead expense that depreciate quickly, meaning the less time they are road, the more money each company is losing.
Second, the outdated processes that come with renting a car.  Travelers must have a credit card in most cases, wait in a line, fill out a tremendous amount of paperwork and be tirelessly up-sold by the salesman behind the counter.  Society today wants everything streamlined.  From the plane to the car and onto their destination, with as little waiting and human contact as possible.  This is enough to deter people from renting, causing more days where cars are just sitting on the lot.
Third, the rental car industry has been largely unchanged for nearly 40 years.  With the rate that technology is advancing each and every day, rental car companies have been very slow to adapt and utilize this to their advantage.  Travelers want to be able to book a car and have it ready upon their arrival, and although most companies have made changes, they are still not where they want to be in terms of technology.
Finally, with the up rise of the sharing economy has come services like Lyft and Uber.  Similar to a taxi service, these companies allow travelers to book through an app and be on their way in no time.  Drivers go through a pretty rigorous background check and their cars must meet certain requirements, meaning you won't end up with some crazy driving you around in a Yugo.  Available in most major cities, these services are certainly cutting into the profits of the classic rental car companies.
Silvercar is able to avoid many of those pitfalls and is certainly blazing a new frontier for the car rental industry.  Technology has always been the thing driving the evolution of our society and currently, Silvercar uses it beautifully.  For more information about Silvercar, visit their website: "Silvercar Website"
Read more great travel articles, tips and advice on the Sundance Vacations Travel Blog.
For more information, updates, travel tips and news from Sundance Vacations, be sure to follow us on the following social media outlets:
Silvercar Seeks to Change the Rental Car Industry
Summary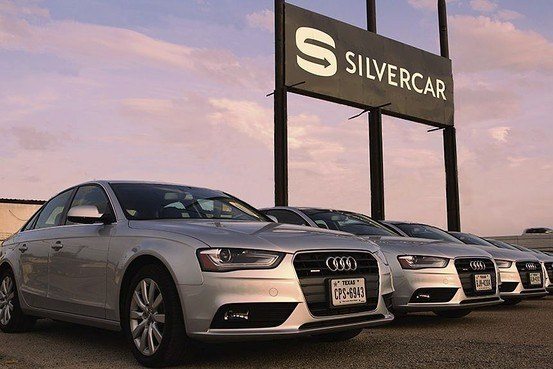 Article Name
Silvercar Seeks to Change the Rental Car Industry
Description
Sundance Vacations takes a look at how Silvercar is changing the Rental Car Industry for the first time in over 30 years.
Author