So, you want to go to New Orleans, but what are you going to do when you get there? There's so much to see, do, and experience while you're there. New Orleans is a unique place to visit, and it has something that will entertain everyone in the family. The history that surrounds they city is amazing and worth seeing. They have beautiful architecture, jazz music, Creole cuisine, annual celebrations and festivals. You've picked a fantastic place to visit with Sundance Vacations!
New Orleans is partially known for their food and jazz music, but it's most known for Mardi Gras. Mardi Gras begins on Fat Tuesday in February and is a Carnival celebration, which reflects the practice of the last night of eating fatty foods before the Lenten sacrifices and fasting of the Lenten season. Sounds boring, right? Well, it's actually a celebration filled with tons of excitement! The streets are littered with people celebrating this event. There are costumes, parades with beautiful floats, marching bands, and lots of beads and souvenirs to catch during the parade. If you're visiting during Mardi Gras, you're in for a treat.
---
Things To Do
If you're traveling to New Orleans with Sundance Vacations and it's not during the famous Mardi Gras celebration, you can still get a glimpse of what the celebration is all about. Mardi Gras World has been around since 1984 and it gives you a behind the scenes sneak peek of the amazing Mardi Gras festivities. This attraction draws in thousands of tourists from around the world every year. You can buy tickets for the self-guided tour which lasts just about one hour. Mardi Gras World is located at the foot of Henderson Street, in the Central Business District. It's on the south end of the Convention Center. You can even take advantage of their free shuttle service!
---
Take the Streetcar
The streetcars in New Orleans have been around since the early 1800's starting with the St. Charles Avenue line. The New Orleans streetcars are one of the first passenger railroads in the United States and one of the oldest operating street railways in the entire world! Hop on and sit back to enjoy looking at huge creole style mansions, ancient oak trees, beautiful views of the city, and the history New Orleans has to offer. They run 24-hours a day and the fare is under $2.00 per person. You can view a map here.
---
Visit New Orleans' #1 Attraction
The World War II Museum tells the stories of the American soldiers and their experiences during the war that changed the entire world. It explains why the war was fought, how the soldiers won the war, and what the war means to each of us today. It's home to nearly 250,000 artifacts so that future generations can understand the price of freedom. World War II began on September 1, 1939 and continued until September 2, 1945. It's estimated that about 75 million people died in World War II, including military personnel and civilians. This tour will take 2-3 hours depending on how much you want to learn and read. I highly recommend stopping by to visit this museum. It's truly a humbling experience.
---
The French Quarter
The French Quarter is the heart of this historic city. While you're here, make sure you try their gumbo, jambalaya, a Po' Boy, and their famous crawfish etouffee. If this is your first time in the city, you won't want to miss out on visiting The French Quarter. It has so much to offer in a small area. If you like to shop, be sure to take stroll down Royal Street, which is a shopper's paradise. It's lined with antique shops, fine art galleries, delicious dining options, and so much more.
The St. Louis Cathedral is one of New Orleans' most notable landmarks. It was founded as a Catholic parish in 1720. The beauty and architecture in this building is breathtaking. You can walk inside to get a brochure for a $1.00 donation and walk around to take in its beauty. Did you know people were buried under the church before it was built? How interesting!
---
Bourbon Street
Bourbon Street consists of thirteen blocks and stretches from Canal Street to Esplanade Ave. It's loaded with bars, clubs, and restaurants. This is the most popular street in the French Quarter and is home to some of the oldest bars in New Orleans.
The Lasitte's Blacksmith Shop Bar is the oldest structure used as a bar in the United States. How cool is that? They have been serving beer and frozen drinks there since the 1700s! This bar is a popular place for the locals and visitors too. If you're feeling brave, try their signature drink called "purple drank." It's a frozen daiquiri concoction.
If you only have time to visit one restaurant on Bourbon Street, make it Galatoire's Restaurant. This place should be a must try for everyone visiting New Orleans. It's been around since 1905. They're most famous for their Friday lunch with a Sazerac and shrimp remoulade.
---
City Park in New Orleans
City Park has been around for decades and is a nature lovers dream! Take a relaxing stroll through the botanical gardens, train yourself on their different athletic fields, spend time on the large lake, play a game of golf or tennis, and enjoy all the park has to offer. If you're traveling with kids, they will love the Storyland storybook sculptures that are throughout the park. If that all sounds great, there's even more excitement that awaits! Located in the center of the Carousel Gardens Amusement Park (that's right, I said amusement park) you will find the famous antique carousel which is a fan-favorite for everyone in the family. You can also hop on a mini train and explore the front of the park. This is a great spot to visit for those of you who are still young at heart.
---
Need Fantastic Accommodations? We Have Just That!
A stay at Hotel Vinache in New Orleans will give you everything you're looking for. Located right on Canal Street, this resort is in the center of all the action New Orleans has to offer. It's located just steps from The French Quarter, Bourbon Street, and the theater and business districts. Our newly renovated hotel showcases a contemporary and chic outlook on one of the most vibrant cities in the United States.
Interesting Tidbit!
New Orleans harbor welcomes several cruise lines, including Carnival, Norwegian, Royal Caribbean, Disney, American Cruise, and the American Queen Steamboat Company.
Amtrak's "Crescent" trainline runs from New Orleans through Washington D.C, to Philadelphia, and to New York.
---
For more information, updates, travel tips and news from Sundance Vacations, be sure to follow us on the following social media outlets:
Summary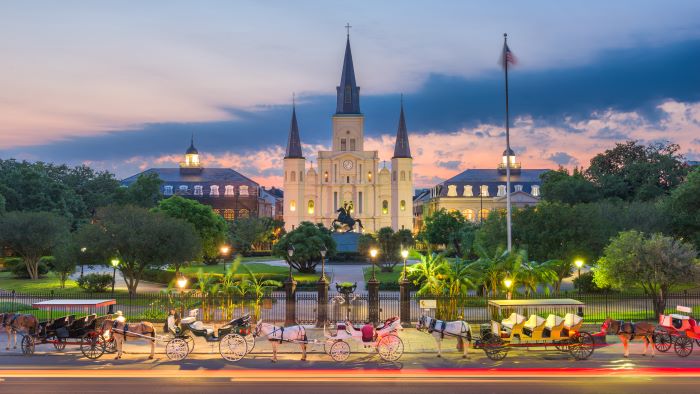 Article Name
Travel to New Orleans with Sundance Vacations
Description
So, you want to go to New Orleans, but what are you going to do when you get there? There's so much to see, do, and experience while you're there. New Orleans is a unique place to visit, and it has something that will entertain everyone in the family.
Author
Publisher Name
Publisher Logo