Disney Events during your Sundance Vacations' trip!
Here we go again! New Year, new Disney!
Kick start off 2017 right with an early trip with Sundance Vacations and some exciting things to do in Disney World January 2017!
Although January is known for its low-key park days, our dedicated Disney travelers insist that there's no bad time to visit the most magical place on earth. In fact, many of our travelers love visiting Disney in January, we we've got some of their top reasons why!
Not only is park occupancy down, but there's some NEW and exciting attractions coming to Disney this year.
Check out all the exciting things to do in Disney World January 2017:
Enjoy the post-New Year's Emptiness!
Not surprisingly, the park is still pretty busy right in the VERY beginning of January as Christmas and New Year's celebrations wind to an end.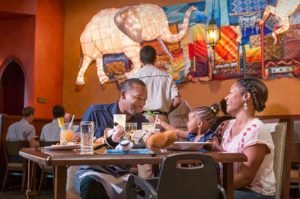 Sure, the first day of January is going to be packed, but it seems that there's often a lull in attendance between January 3rd and the second week of the month when Disney hosts its marathon weekend.
Oftentimes, visiting Disney in the beginning of the New Year is seen in two ways: either travelers love the calmness in the parks or they would rather visit when it's livelier.
Some travelers have shared with us that the first two weeks of January are their favorite time of the year to visit Disney World because they aren't competing over attractions with other guests.
Early birds experience the parks at some of their lowest occupancies. This means short lines, easier reservations and sometimes more experiences in a day.
Travelers can wake up and be at the park by opening, get to enjoy all the rides they love, can easily park-hop to visit more than one park in a day, and have the chance to visit more experiences overall with the extra time not wasted waiting in lines.
Being able to ride the best rides multiple times or get seats to their favorite Disney restaurant are just some perks of visiting the parks this time of the year and one of the many things to do in Disney World January 2017.
Another perk is most of the parks will leave their Christmas decorations up and still be playing holiday tunes often until the second week of January, the 15th to be exact. For those who love the holiday season, it's the perfect time to visit the park without experiencing holiday crowds.
Run during Walt Disney World Marathon Weekend
Walt Disney World Marathon Weekend was expertly placed in the beginning of January to bring in crowds during their slow time of the year.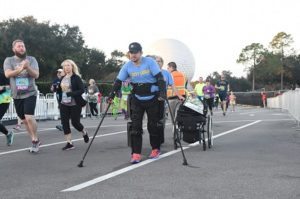 Although it does bring in some die-hard runners for sure, it's still not your summer madness at Disney.
This year, the marathon was held on January 4-8th and featured its usual marathon, half marathon, 10K, 5K, Goofy Run, Dopey Challenge, kids runs, and expo.
The next upcoming Marathon Weekend in 2018 will be Walt Disney World's 25th Year Anniversary and they are promising on their runDisney site that it will be the "biggest weekend celebration ever!"
This past year there were lots of participants, including Adam from Charleston, SC (depicted), who is paralyzed but still walked in four races!
There are races for people of all ages and skill level, so consider joining in on the fun!
Create at Epcot's International Festival of the Arts
This is what you've been waiting for…something NEW! The Epcot International Festival of the Arts is debuting this January 13th and going on through February 20th, 2017.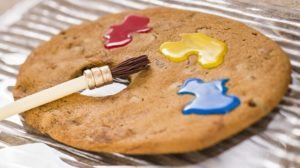 What is it?
It's an extravaganza of amazing artists! It features gallery exhibits, culinary delights, workshops and seminars, performances, and more.
The Epcot International Festival of the Arts takes place Fridays through Mondays from park open to close and comes with your park admission.
They'll be stage performances at the America Gardens Theatre such as the Disney on Broadway Concert Series with songs from Aladdin, Newsies, the Lion King and others. What's really cool is that marching bands and ensembles from colleges and schools in Central Florida will be performing too.
There will be chalk artists drawing on park sidewalks and reproducing classic masterpieces, guest artist performances, and so many ways to get involved.
This is not something to miss and perhaps could be one of your new favorite things to do in Disney World January 2017!
Make note of Martin Luther King Day
The weekend before Martin Luther King Day will show a rise in travelers at Disney as well as the US holiday this Monday, January 16th, 2017.
While there's not really anything special happening at the Disney parks for the holiday, any day that companies and schools give off is a time for people to visit the place where dreams come true.
Celebrate Pro Bowl Week at Walt Disney World Resort
So this isn't a "formal event" happening at Disney World per say, but usually around the last week of the month, a ton of NFL superstars are in Orlando for their big game. During this time, the Pro Bowl players love stopping by Disney.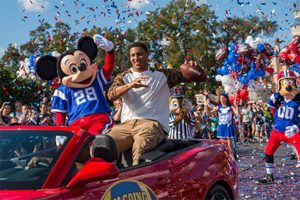 Last year in 2016, some players actually joined in on a Magic Kingdom parade with NFL cheerleaders.
This year, they'll be parading down Main Street, U.S.A. in Magic Kingdom on January 27th.
There will be other people coming to Florida for the game and having the same idea as the superstars to visit Disney, so expect a slight elevation in crowds a few days before and probably the weekend of January 28-29th!
Be Mindful of Closures and Refurbishments
January at Disney is also an infamous month of ride closures and park refurbishments.
While there's still tons to do in the parks during this time, please be aware of the following construction closures courtesy of Build a Better Mouse Trip.
The list on their site includes closures in Magic Kingdom, Disney's Animal Kingdom, and information on water rides or outdoor eateries.
There's so many things to do in Disney World January 2017!
Even though the month of January in Disney isn't one of the busiest times for the park, there's still tons of things to do!
Mainly, enjoy short lines, great reservations, and a more relaxed atmosphere when visiting in the beginning of the year.
No one's judging you for skipping the madness of screaming children and sweltering hot summer sun!
What's your favorite thing to do in Disney World in January? We'd love to hear about your adventures in the comments below.
Also be sure to check out last year's Sundance Vacations Disney article for events in January through March to see if there's any overlap in things to do to do in Disney World January 2017.
For more information, updates, travel tips and news from Sundance Vacations, be sure to follow us on the following social media outlets: