Travel with Sundance Vacations to the Finger Lakes!
The Finger Lakes has a rich tradition and history and draws countless visitors each year with its natural scenic beauty, wineries, shopping, dining and outdoor attractions.
Check out what you can do when you travel to the Finger Lakes!
Wine Trails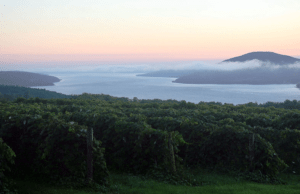 There are more than 100 wineries and vineyards in the Finger Lakes Region with wine tours and tastings offered all-year round we'll have to start there! Cayuga and Seneca Lakes boast the oldest wine trails in the country, with an abundance of dining options. Other trails include the: Keuka Lake Wine Trail and the Canandaigua Lake Wine Trail.
Breweries
Not a wine person? Well you'll have no shortage of breweries to check out! Finger Lakes Beer Trail has a list of all breweries, and created itineraries/trails to follow!
Enjoy the scenery
For those who love the outdoors, visit the beautiful state parks in the Finger Lakes. Take a history tour or hike one of over 100 waterfalls located within 10 miles of downtown Ithaca, just a 20-minute drive away. The Finger Lakes are home to some of the most incredible scenic hiking trails in the northeastern United States. From waterfalls to dramatic gorges hikers and outdoor enthusiasts are drawn to the area. Some favorite trails include: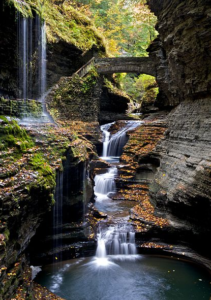 The most famous of the Finger Lakes State Parks, and leaves visitors spellbound. Within two miles, the glen's stream descends 400 feet past 200-foot cliffs, generating 19 waterfalls along its course with paths going under and over waterfalls.
Taughannock has falls that plunges 215 feet past rocky cliffs that tower nearly 400 feet above the gorge. The trail is a multi-use trail- for hiking and cross-country skiing.
Mitchellsville Gorge consist of a nice walk along the rim of a scenic small gorge, through a vineyard, along an old railroad track and a nice footbridge with a scenic location. This 2.2 mile section of trail is one of "The Best of the North Country Trail in New York".
Long Point juts peninsula-like into Lake Chautauqua and was one of the moraines left long ago by a retreating glacier. During winter visitors can cross-country ski, snowmobile or fish here.
The Seneca Lake State Park is on the eastern shore of Seneca Lake and is just over 2000 acres. The park offers a beautiful view of the lake at its center, and offers picturesque sunsets! The marina has just over 100 boat slips with a large launch site. There is a scenic lake trail and other popular activities include fishing, hunting, biking, hiking, local golf, geocaching, and wildlife viewing and photography.
Virgil is one of the more popular loop hikes in Central New York.  It is a 4.7-mile loop that takes you past the Greek Peak Ski Resort and to the highest point in Cortland County on Virgil Mountain (2,132 ft).  There are many views along the way, so make sure to bring your camera!
Hangout in the water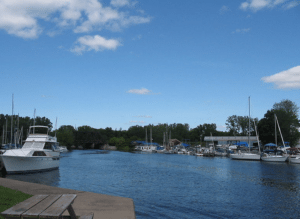 With a chain of 11 lakes and hundreds of miles of shoreline, one great paddling place practically flows into the next. If kayaking is your focus, include a couple of weekdays in your trip so you can enjoy a few more peaceful outings.
Boat Cruises
Experience two of the Finger Lakes aboard daily cruises on Canandaigua and Skaneateles lakes.
On the Canandaigua Lady, guests can enjoy a relaxing ride and listen to the history of Canandaigua Lake, the steamboat era and the Seneca Indians during narrated afternoon excursions.
Guests can add a meal to their journey during lunch and dinner tours. The Mid-Lakes Navigation Co. offers daily sightseeing cruises and lunch and dinner cruises on Skaneateles Lake.
Explore the lakes
Get a paddleboard, kayak, or boat rentals from Canandaigua Sailboarding, Morgan Marine in Penn Yan and Reagan's Canoe & Kayak Livery.
The Strong National Museum of Play
Bringing the kids? The Strong National Museum of Play in downtown Rochester has something for kids of any age. From "Sesame Street," board games, dolls and books to the latest electronic games, the museum is home to the world's most comprehensive toy collection. The Strong National Museum of Play is considered a "gem" by local residents and visitors! To find out more, visit the museum's website.
Winter Activities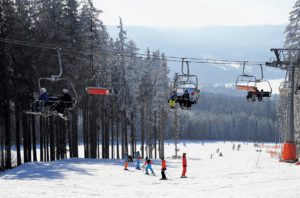 Greek Peak Mountain Resort is a ski resort, with a vertical drop of 952 feet, located near Cortland, New York. Greek Peak offers 33 trails of varied terrain with day and night skiing seven days a week from late December until mid-March. Greek Peak also offers cross country and snowshoe trails as well as the new Fat Bikes.
Go for a wine tour on ice! Wine on Ice in Elmira where the hockey arena is transformed into a wine tasting festival. Entertainment fills the air as local restaurants filled tummies and local craft businesses filled the shopping bags of this year's attendees.
Ice Fishing- Ice fishing is a popular activity at the Finger Lakes, especially on Canandaigua, Canadice and Honeoye lakes.
View Winter Wildlife- Montezuma National Wildlife Refuge is a great place to view native wildlife year round.  Winter is an excellent opportunity to see white-tailed deer, fox, small mammals and resident birds such as woodpeckers and nuthatches.
Cross Country Skiing & Snowshoeing- Sterling Nature Center in northern Cayuga County has snowshoes that you can use for just a donation! All of the Center's trails are open for cross- country skiing and snowshoeing all winter long, sunrise to sunset.
---
Interesting in going to the Finger Lakes? Check out Sundance Vacations Property: Greek Peak
Greek Peak is a year-round, family destination located in the Upstate New York. Conveniently located in the picturesque Finger Lakes Region, Greek Peak offers fun adventures for the entire family. To learn more about this great destination, including cool things to do, places to eat and more, head over to its page: "Sundance Vacations Properties in the Finger Lakes, New York"
Get ready for your Finger Lakes Trip with Chicken in White Wine Sauce, or to see more of what to expect, check out this album!
For more information, updates, travel tips and news from Sundance Vacations, be sure to follow us on the following social media outlets:
With rich tradition and history, plus a lot of wine, the Finger Lakes makes for a great getaway! https://t.co/lSiDtdZWJd pic.twitter.com/LANdJqKJCR

— Sundance Vacations (@travelsundance) October 5, 2017
Summary
Article Name
Things to do at the Finger Lakes!
Description
Travel to the Finger Lakes With Sundance Vacations! Natural scenic beauty, wineries, shopping, dining and outdoor attractions.
Author
Publisher Name
Publisher Logo