Did you know there are over 400 theme parks and attractions in the United State alone? There's just something about screaming at the top of your lungs while going 128 miles an hour down a 270 degree drop that people can't get enough of! If you're looking for some of the best rides and theme parks in the United States that are in driving distance of Sundance Vacations properties, then these are some you'll want to check out!
(Address: 1 Busch Gardens Blvd, Williamsburg, VA 23185)
Opened in 1975, Busch Gardens Williamsburg is located on 383 acres in James City County, Virginia. Themed around various European countries, it was originally called Busch Gardens: The Old Country.
It has also been voted as the world's most beautiful theme park since 1990! The park has 8 roller coasters and more than 100 attractions!
Here are some of our favorite rides!
Battle for Eire
One of the newest attractions it has is a virtual reality ride, Battle for Erie! On this ride you'll have to hang on tight as you soar above the lush landscapes and mystifying powers of the "Otherworld." Prepare to battle the dark forces on this motion simulator, virtual reality ride.
Alpengeist
Named after the legendary snow beast, Alpengeist travels at 67 miles per hour while hurtling you through 6 inversions!
Apollo's Chariot
At speeds up to 73 miles per hour, 4,882-foot-long, 170-foot tall purple roller coaster is a guest-favorite! Sitting in an elevates seat, riders get a "free-flight" feeling!
(Address: 1 Six Flags Blvd, Jackson, NJ 08527)
In 2012, Six Flags combined its Great Adventure Park with its Wild Safari animal park to form the 510-acre Six Flags Great Adventure & Safari park, making it the second-largest theme park in the world, after Disney's Animal Kingdom! With over 11 themed areas, and 50 attractions, Six Flags Great Adventure will have something for everyone!
Here are some of our favorite rides!
Kingda Ka
The nickname of "King," is due to the fact that it's the tallest coaster in the world and fastest roller coaster in North America! Once you leave the station, you'll go from 0 to 128 miles per hour in just 3.5 seconds! After going up a 90-degree angle, you'll drop straight down a 270-degree spiral!
El Toro
Opened in 2006, El Toro (The Bull) is a wooden-style roller coaster with speeds of 70 miles an hour! With a 76-degree angle, El Toro would be the steepest drop of any wooden-style roller coaster in the country. El Toro was voted the #1 Wooden Coaster in the World by the 2011 Internet Coaster Poll, and again in 2017 by Amusement Today's Golden Ticket Awards!
Nitro
With no shoulder restraints and no sides on the cars, you'll really feel the speed of 80 miles an hour after the 215 ft drop. This lightning fast track takes you to a pair of gut-munching horizontal loops, a crazy 540-degree helix spiral, and then a series of camelback hills to finish you off.
(Address: 100 Hersheypark Dr, Hershey, PA 17033)
Originally opened in 1906 as a leisure park for the employees of the Hershey Chocolate Company, the park is privately owned by Hershey Entertainment & Resorts Company as of 2016. Situated on 121 acres, Hersheypark has 14 roller coasters, and a total of 79 rides!
Here are some of our favorite rides!
Skyrush
After a 200-feet climb, the downhill speed reaches 75 miles per hour, making it the tallest and fastest roller coaster at Hersheypark!
Storm Runner
Launching you from 0 to 72 miles per hour in 2 seconds, Storm Runner is the first hydraulic launch coaster to feature inversions. With a 135-foot cobra loop, barrel rolls, and a dramatic flying snake dive, this is a ride you'll want to check out!
Great Bear
Ride below the track as you're lifted 90 feet off the ground at speeds up to 61 miles per hour!
(Address: 1 Cedar Point Dr, Sandusky, OH 44870)
Known as "America's Roller Coaster," Cedar Point was opened in 1870, and is the second oldest operating amusement park in the United States! Cedar Point has 17 roller coasters, and a total of 72 rides! In 2018, Cedar Point introduced Steel Vengeance; the tallest, fastest and longest hybrid roller coaster in the world.
Here are some of our favorite rides!
Maverick
Described as a bucking bronco, Maverick involves many twists, corkscrews, launches, tunnels, and plenty of airtime! After being in a pitch-black tunnel, you'll get launched 400 feet at 70 miles per hour! Maverick received the Golden Ticket Award for "Best New Ride in 2007".
Millennium Force
At a top speed of 93 miles per hour, this steel roller coaster had the record of the tallest roller coaster and the first to top 300 feet when it opened in 2000. Millennium Force has ranked as one of the world's best steel coasters year after year since its opening!
Top Thrill Dragster
In 3.8 seconds, Top Thrill Dragster will take you for 0 to 120 miles per hour straight up a 90-degree incline! After you reach the top you'll head down a 270-degree twist!
(Address: 10165 McKinley Dr, Tampa, FL 33612)
Busch Gardens Tampa is a 335-acre African-themed animal theme park with more than 12,000 animals and 18 rides!
Here are some of our favorite rides!
Cheetah Hunt
Cheetah Hunt is a 60 mile per hour steel launched roller coaster that opened in 2011. Located alongside a new cheetah exhibit, at a length of 4,400 feet!
Sheikra
After climbing 200 feet, the 90-degree drop will send you straight down at 70 miles per hour! With an Immelmann loop, a second dive into an underground tunnel and a splashdown finale that drenches SheiKra® fans!
Cobra's Curse
Cobra's Curse is a steel roller coaster that gives you're a different experience every time you go on! The spins are random, with frequency and direction determined by the rider weight distribution.
(Address: 275 Riverside Parkway Southwest, Austell, GA 30168)
Opened in 1967, as Six Flags second of the three theme parks, Six Flags Over Georgia is located on 290 acres, and has 12 roller coasters, and more than 40 total rides!
Here are some of our favorite rides!
Twisted Cyclone
Formally known as Georgia Cyclone, the Twisted Cyclone gives the ultimate combination of wood and steel! It doesn't just have the word twisted in its name, during the ride you'll go upside down through three wicked inversions and up to 50 miles per hour giving you that cyclone feeling!
Great American Scream Machine
If you're looking for a classic wooden roller coaster, the Great American Scream Machine is the ride for you! After you reach the top of the 105-foot ride, you'll be sure to scream on your way down!
Mind Bender
Marked as "the world's first triple-loop roller coaster" when it opened in 1978, the Mind Bender is still just as popular as it was when it first opened!
(Address: 16000 Theme Park Way, Doswell, VA 23047)
Opened in 1975, Kings Dominion is derived from the name of its sister park, Kings Island, and the nickname for the state of Virginia, "Old Dominion". Featuring over 60 rides and 13 roller coasters, its Virginia's destination for summertime fun!
Here are some of our favorite rides!
Intimidator 305
The Intimidator 305 isn't just its name, 305 is the height this steal coaster takes you before sending you 90 miles per hour! After the drop, the ride mostly hugs the ground, but Its incredible pent-up energy is instead used to intimidate riders by sending you tearing!
Dominator
Originally opened as Batman: Knight Flight, Dorminator through five inversions at speeds up to 67 miles per hour on the longest floorless steel roller coaster in the world. Dominator is also one of the largest vertical loops in the world!
Racer 75
Racer 75 is a wooden roller coaster which features a racing roller coaster layout with two individual tracks that are mirror images of one another. Riders fill up both sides as they race to the finish line!
(Address: 1 Great America Parkway, Gurnee, IL 60031)
Six Flags Great America was first opened in 1976, and now has 15 roller coasters, a 20-acre water park, shows and four children's themed areas with more than 30 rides!
Here are some of our favorite rides!
Raging Bull
This steel roller coaster is the world's first hyper-twister roller coaster, and at 202 feet tall, 5,057 feet long, and 73 miles per hour, it's the tallest, longest, and fastest coaster at the park. With all the turns, twist, and speed, it will feel like a bull is trying to shake you off!
Goliath
Goliath is the world's tallest, fastest, and steepest wooden roller coaster! Climb up to 180 feet before you reach speeds of 72 miles per hour down the 85-degree vertical!
Batman: The Ride
This steel inverted roller coaster based thematically on the 1989 film Batman. There are a bunch of identical coasters at other parks, most of which are also called Batman: The Ride. But the first one debuted at Six Flags Great America in 1992. It is also the world's first inverted coaster in which the trains hang beneath the track.
(Address: 700 Dollywood Parks Blvd., Pigeon Forge, TN 37863)
Located in the Knoxville-Smoky Mountains metroplex in Pigeon Forge, Tennessee, Dollywood is jointly owned by entertainer Dolly Parton and Herschend Family Entertainment.  Dollywood opened in 1961, and now has 8 roller coasters and a total of 40 rides and attractions!
Here are some of our favorite rides!
Wild Eagle
The Wild Eagle is America's First Wing Coaster which takes riders on a unique experience that feels as if they are actually soaring high above the Smoky Mountains at up to 61 miles per hour!
Tennessee Tornado
Debuted in 1999, Tennessee Tornado is a triple spiral-looping coaster that makes you feel like you've landed inside a funnel cloud as you drop 128 feet through an actual mountain at speeds nearing 70 miles per hour!
Mystery Mine
After a raising 95-degree, 85-foot vertical drop, riders will be plunged into darkness as they enter the abandoned coal mine! Find out what's at the end of the tunnel!
Originally opened in 1971, Disney world now has four theme parks, and two water parks!
Read all about our favorite rides, attractions, and shows that the parks have in our blog post: Sundance Vacations Orlando Family Vacation!
---
For more information, updates, travel tips and news from Sundance Vacations, be sure to follow us on the following social media outlets:
Summary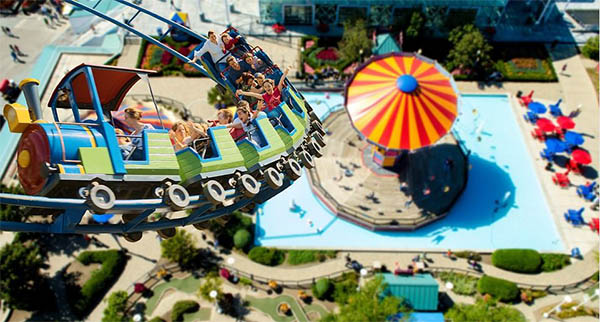 Article Name
Description
With over 400 theme parks and attraction in the US alone, Sundance Vacations put together a list with the best ones around Sundance Vacations destinations!
Author
Publisher Name
Publisher Logo