If you're planning on traveling to Cancun, you definitely want to check out Sundance Vacations 'Sunset Royal Beach Resort'. One of the most famous tourist destinations on Mexico's Caribbean coast is Cancun, a city with excellent tourism infrastructure, shopping malls, diverse cuisine from around the world, and vibrant nightclubs that cater to all tastes. It also offers stunning beaches with white sand and clear, turquoise water. This resort has an all-inclusive option which gives you the opportunity to enjoy endless food choices, premium beverages and activities for one low price. Cancun offers a beautiful getaway that you will never want to leave. The white beaches and turquoise seas provide breathtaking scenery and amazing photo opportunities. You can stay on the resort if you want to, but this prime location has shopping, entertainment, restaurants and more, close by. The best part is the airport is less than 20 miles away!  Here's a list of the areas interesting attractions.
Snorkeling
Total Snorkel offers exclusive snorkeling tours in unique and untouched places in Cancun. You will make memories that will last a lifetime, and have the opportunity to swim with many different species of fish, coral reefs and even a shipwreck. The best part of this company is the marina is just a short boat ride away, which means you get more time in the water. I bet you didn't know snorkeling has health benefits. It's actually one of the most rewarding ways to improve your cardiovascular system. As you snorkel and take in the beautiful scenery, your heart rate increases and your heart then pumps faster and grows stronger.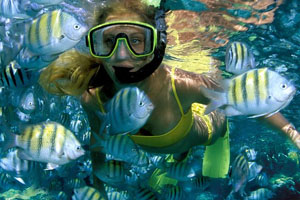 Swimming in Cenotes
If you don't know what a cenote is, you're not alone. I had no idea what it was prior to doing research for this blog! A cenote is a cave or sometimes a sinkhole filled with crystal clear water and a world of beauty. The Yucatan Peninsula is littered with cenotes. If you have been to one, you most certainly have not been to all. They are all different in many ways and will not disappoint. Now that I know what they are, I really want to go check them out. There are some that are maintained to make it easy for us tourists, but there are also ones for those with a little more experience. Some might have fish and critters swimming around, and some might even have geysers like those at Yellowstone National Park. Some are very dark, and others are completely open and bright. Be prepared for that! You do need snorkeling gear so, make sure you bring your own or you need to pay to rent them. You can also pay for a guided tour too. Two of the most popular cenotes of the area are;
Ik Kil, AKA the sacred cenote is one of the best for getting the perfect cenote picture. There are waterfalls and vines like in the Tarzan movies. This cenote is close to the Chichen Itza ruins. This sinkhole is more than 130 feet deep and is thought to be a sacred Mayan sacrificial site. You need to walk down about 85 feet of old stone steps, then you can take a short swim to the platform or if your brave enough, there is a platform to dive off of farther up the steps. I didn't know this, but you need to take a quick outdoor shower before you can enjoy yourself in the cenote. This is so you rinse off all of the chemicals or dirt before jumping into the water's ecosystem.
Cenote Dos Ojos, AKA 'two eyes' has more than 1600 feet of underwater caverns and caves perfect for scuba diving. You do have to pay for this one, it's less than $25.00 per person. You can easily spend a few hours here exploring the flooded cave's crystal clear water. They have cool rock formations, wildlife, butterflies and you will get to experience a once-in-a-lifetime swim through one of the world's longest underwater caves! This cenote is about 230 feet wide with a 1300-mile long passageway.
Chichen Itza Maya Ruins
Chichen Itza is the largest and more impressive of the Mayan Ruins. If you had to choose one day trip to take, this is hands down the one you should pick. It's located about 2.5 hours from Sundance Vacations resort. You can explore the almost six miles of fascinating buildings and the two sections of ruins. One is from the classic period and was built in the 7th and 10th centuries A.D.. the second section is from later in the 10th century to the 13th century. This section has the most outstanding ruins to see and also has the Sacred Well which is 160 feet wide and 60 feet deep. This place is absolutely fascinating. The well was a place of sacrifice. It's thought that the rain God Chaahk lives at the bottom of the well. You will also get to see Kukulkan's Pyramid which stands 75 feet tall. There are many different tours you can take to visit the famous Chichen Itza ruins.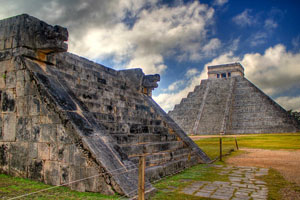 Isla Mujeres Day Trip
Just a short distance from Cancun, you will find the 10.5-mile island called Isla Mujeres. You need to get there by a 20-minute ferry ride and rent a golf cart to scoot around the island. Garrrafon National Reef Park is located at the Southern tip of the island. The park offers a few exciting packages to purchase which will give you a VIP experience. If you want to swim with dolphins, you want to add this to your list of places to visit! A Short walk from Garrafon, you can make a pit stop to check out the 247 acres of Punta Sur which provides you with a beautiful sculpture garden and crazy cliffs. You do need to pay a few bucks for this as well. There's also plenty of shopping, dining, beaches and more here!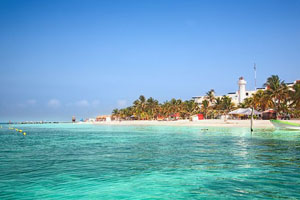 Selfie w/ the Cancun sign
The famous Cancun sign is located at Playa Delfines beach. Here you can shop at several local vendors, get your hair braided, sample delicious food, rent jet skis or boats, watch dolphins and take a selfie with the famous Cancun sign. You can find it at Boulevard Kukulkan, Punta Nizic, Cancun.
El Meco Ruins
El Meco is a small Mayan Archaeological site home to the highest Mayan pyramid in Cancun. It stands an impressive 41 feet tall. It was recently opened to the public, so not many people have heard of it. You can see serpent heads similar to those on Chichen Itza on the Castillo staircase. From the top of the pyramid, you can see the Caribbean Sea, Isla Mujeres and many of Cancun's lagoons, but don't try to climb it, that's prohibited to keep them preserved. This is believed to be the lighthouse for the area. There's not many signs indicating where the pyramid is which is great because it gives you the chance to explore the wonders off the beaten path. El Maco is located north of Cancun. To get there, you drive north out of Cancun on Avenida Lopez Portillo AKA Cancun-Puerto Juarez Road. The ruins are located at Km .27 off the road to the left. You will see a small parking lot and sign. You can also easily take a taxi here. Don't be alarmed if you see a few iguanas running around here, they will keep their distance from you, but you will most likely see them.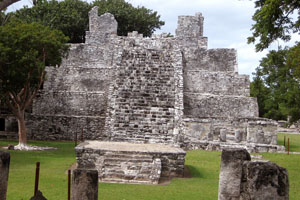 Coco Bongo
Coco Bongo is less than one mile away from the resort and you absolutely must visit this night club. The Coco Bongo experience is unlike any other place on earth. You will be mesmerized by the excitement, flying acrobats above you and dancing queens all around, shows, dancing, music and more! This place stands out from the rest of the nightclubs and bars in the area and you will see why. There's a continuous party atmosphere that is addicting and exhilarating. The best part about this is, your admission covers your drinks and shows too!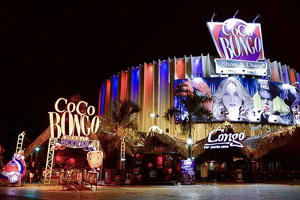 The high season in Cancun is obviously when it's cold and miserable in the winter months from January to March. This is the perfect destination to escape the fridge winter temperatures. This is also when the weather is best here, the least amount of rain is falling. Keep in mind, March is typically when the Spring Break craziness is happening. I hope you find this blog to be helpful when you're exploring Cancun with Sundance Vacations!
---
For more information, updates, travel tips and news from Sundance Vacations, be sure to follow us on the following social media outlets:
Summary
Article Name
Sunset Royal Beach Resort with Sundance Vacations
Description
If you're planning on traveling to Cancun, you definitely want to check out this article to help you find fun and exciting things to do while on vacation.
Author
Publisher Name
Publisher Logo