Travel to Las Vegas with Sundance Vacations
Las Vegas has been a popular vacation destination for years! When people think of Vegas, the Las Vegas Strip and casinos are normally the first things that come to mind. The big neon signs, shimmering lights, gambling and spectacular shows are definitely things to check out, but there's much more to a Las Vegas vacation than that. Plus if you're like me and gambling isn't your thing, you're in luck because there is so much more to do! Have you ever heard the saying "scared money never wins"? Well, my money is scared, so that's why I never win!
With Sundance Vacations having multiple properties, let us help you experience Las Vegas like never before!
---
Things to do in and around Las Vegas
Explore Vegas
If you're looking for a unique way to explore Vegas, look no further! The Pink Jeep Adventure Tours offers 13 guided tours to local attractions. You can cruise around in a pink Jeep and drive to the Grand Canyon West Rim, check out the Hoover Dam, take an off-road tour through Red Rock Canyon, or for even more adventure, you can book the Grand Canyon West- Drive, Fly, Float combo. This 10.5-hour tour will have you traveling by air, river and road!
Red Rock Canyon
Another attraction you'll want to see, are the gorgeous rock formations at Red Rock! Located just outside of Las Vegas, the Red Rock Canyon National Conservation Area offers countless adventures! Red Rock offers enticements of a different nature including a 13-mile scenic drive, miles of hiking trails, rock climbing, horseback riding, mountain biking, road biking, picnic areas, nature observing and visitor center with indoor and outdoor exhibits as well as a book store.
The Fountains of Bellagio
Another attraction you'll want to see, are the Fountains of Bellagio. These stunning fountains perform choreographed water shows to music from the great Frank Sinatra, the iconic Elvis Presley, and so many more. There are over 1,000 illuminated fountains that span over 1,000 feet and travel up to 460 feet in the air! The Fountains of Bellagio perform daily, every 30 minutes, from 3:00 PM to 8:00 PM Monday through Friday and every 15 minutes from 8:00 PM to 12:00 am. The best part is it won't cost you anything!
Fremont Street
The Fremont Street Experience is another must see attraction. It's located a few miles from the infamous strip and is in Old Las Vegas, the oldest part of the city. Here you can zipline at the famous SlotZilla Zipline which barrels through the barrel vault canopy in Viva Vision. You can see live performances, bars, shops, restaurants and so much more! You can easily spend a few hours of your day here and never get bored.
---
Thrill seeking fun
For those of you seeking adrenaline styled adventures, Las Vegas has attractions for you too!
Big Apple Coaster
The New York, New York Las Vegas Hotel & Casino is home to the famous Big Apple Coaster. This steel coaster is packed with heart-stopping excitement! This coaster glides through the track going 67 mph and features a 180-degree "heartline" dive and twist maneuver with a 203-foot drop! Its sure to send chills down your spine!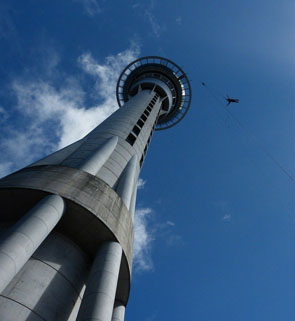 The SkyJump
Previously known as the Stratosphere, the SkyJump is located at on the 108th floor of The STRAT Hotel, Casino & SkyPod in Las Vegas. This jump will test your nerves and earn you some bragging rights. You can be sure that your heart will be pumping as you leap down 829 feet into the neon lights of the Vegas strip below. This ride is the only one of its kind in North America and is the highest in the world. It also holds a Guinness World Record for being the highest commercial decelerator descent facility. You will hit speeds up to 40 mph as the crowd below watches in amazement!
The Adventuredome
The Adventuredome at Circus Circus, Las Vegas is a family-friendly 5 acre Indoor theme park featuring 25 rides and attractions. The most exciting ride here is the Canyon Blaster! It's the world's only indoor double loop, double corkscrew roller coaster and it travels at 55 mph. A close second would be the El Loco which is a unique coaster too. On the El Loco you'll ascend 90-feet before tipping over and over to experience a 1.5 vertical-G. Its sure to get your adrenalin pumping.
---
Day trips within driving distance
As if Las Vegas doesn't have enough attractions, there are so many things to check out in the surrounding areas!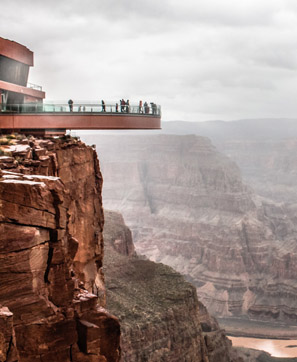 The Grand Canyon
If you haven't been to the Grand Canyon before, you'll definitely want to visit it while on vacation! The Grand Canyon is a mile deep and up to 18 miles wide. The most famous attraction at Grand Canyon West is the Skywalk. The Skywalk is managed by the Hualapai Tribe and is located on actual tribal lands. It's a horseshoe shaped steel walkway with glass floors and sides that protrude about 70 feet from the canyon edge! Just imagine the pictures you can get there! You can also spend the day whitewater rafting down 40 miles of the Colorado river, or soaring 500 feet from the canyons floor on a 3,200 foot zipline! This truly is a unique way to experience the Grand Canyon. The Grand Canyon is about 4.5 hours from Vegas.
The Hoover Dam
The Hoover Dam is just a 45-minute drive from Las Vegas and you'll definitely want to make a pit stop to see this monstrosity! This architectural marvel was named one of the top 10 Construction Achievements of the 20th century, and continues to draw large crowds 80 years after being created. You can choose from three different tours of the dam and learn about the history of this marvel!
Death Valley National Park
Known as the "hottest, driest and lowest National Park", Death Valley is a land of extremes. This park has over 3 million acres of wilderness and dirt roads. Wherever you look, you will see ancient formations, salt flats and even the lowest point in USA, Badwater at 282 feet below sea level. You can also spot the magnificent mountains peaking at over 11,000 feet. Did you know Death Valley National Park is named the largest Dark Sky National Park in the country and offers some of the best stargazing on the entire planet? This place is so magical at night, the stars seem so unbelievably close that you want to reach out and pluck them from the night sky. The best place to stargaze is at Furnace Creek, located 120 miles NW of Las Vegas.  Death Valley National Park is about 2 hours away from the Vegas strip.
---
Looking for great accommodations? We have them for you! 
Club Wyndham Grand Desert, is located less than 1.5 miles from the strip and will ensure you're close to all the action! This resort offers outstanding accommodations, great amenities and much more. They also offer shuttle transportation to Harrah's Casino on the strip. The McCarran International Airport is located about 2 miles from the resort.
Shell Vacations Club at Desert Rose Resort is a great choice for accommodations if you'd like a more relaxing, family-friendly destination. This resort is located 1.5 blocks from the strip and has easy access to the excitement the city has to offer. The onsite concierge service can help you book day trips and activities. The McCarran International Airport is located about 3 miles from this resort.
If you want a resort that's located on the strip, the Tahiti Village is a Sundance Vacations favorite. This 27-acre Tahitian island-inspired resort is located on Las Vegas Boulevard. There are multiple pools, a lazy river, a sandy beach, a cascading waterfall, and even in-room massages, just to name a few luxuries. The McCarran International Airport is about 5 miles from this resort.
---
How to get there
You will be flying into McCarran International Airport-LAS.
Newark Liberty International Airport, Newark, NJ
Are you looking for some fun and excitement? Sin City is a perfect go-to destination for just that! The best part is, you can book a round-trip from the Newark Liberty International Airport through JetBlue starting at only $270 per person
Arnold Palmer Regional Airport, Latrobe, PA
Live near the Pittsburgh area? The Arnold Palmer Regional Airport will give you deals you almost can't believe! Escape your everyday routine, and head to Las Vegas! The Arnold Palmer Regional Airport Can take you to Las Vegas with round-trips starting at only $218 per person through Spirit!
Philadelphia International Airport, Philadelphia, PA
If you live near the Philadelphia area, the Philadelphia International Airport can get you round-trip tickets starting at $117 per person through Spirit!
---
For more information, updates, travel tips and news from Sundance Vacations, be sure to follow us on the following social media outlets: