Sometimes, road trips can be smooth travels, but other times they can be bumpy rides. To try to have the trip be as fun and painless as possible, it's important to be prepared.
The first thing you need to do is make sure your car is safe to drive!
Make sure your car's oil, fluid levels, brakes, tires, wipers and anything else that can cause a problem or become dangerous for the trip are checked and ready for the trip! Make sure your spare tire is fully inflated and that you have jumper cables and extra wiper fluid on hand. It's smart to have a small roadside assistance kit that comes with a Hand Charged LED Flashlight, Reflective Safety Vest, Jumper Cable, First Aid Kit and other road trip tools.
Make sure you also have all the documents you need for yourself and your car! If you are traveling without current documentation of license, registration or insurance, it will cause nothing but problems.
Plan out the route
When going on a road trip you'll have a final destination, but when you're looking up to route ahead of time you'll be able to see what kind of attraction are on the way or a little off the path if you have some extra time. The cool thing about road trip compared to other way of traveling like planes, is you can experience much more, and a lot of it is stuff you couldn't normally experience or see. You know you'll most likely have delays from roadwork, so why not check out some scenery instead of just the bumper of the car in front of you. It's also smart to get an overview of your trip so you know where gas stations are and restrooms.
Pack Smart
When on a road trip you don't need to pack all your clothes, especially if you plan on stopping at hotels or motels overnight. Most towns have laundromat, so if you need to wash some clothes you should have no problem finding some. Other road trip essential items to bring include a basic first-aid kit, wet wipes to clean up any messes, and a charger for your cellphone. It's also smart to have a GPS, other than on your phone. With dead spots and phones overheating, if your phone does die, did you memorize the map before it did? No road trip will work without food either! Bring a small cooler or a car cooler that plugs into a power outlet. Some even last a couple hours after being unplugged.
It's also smart to pack a couple CDs. Imagine driving through the 13,000-square-mile area that covers the eastern half of West Virginia where there is no cellphone service or radio stations. You might think CDs are in the past, but they could keep you sane for the road ahead.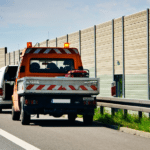 Get Roadside Assistance
If you take enough road trips, you'll most likely end up in a situation where your car knowledge or tools you bring with you won't be enough. Having that 800-number that immediately gets you a local tow services and mechanics is going to save you a lot of hassle, and also shield you from some of the dangers of the road.
Carry cash for tolls
Toll roads can be in the most bizarre of places, and their fares might be higher than you expect or the strangest amount. Stock your center console with dollars and coin rolls so you don't have to hassle digging through your car looking for change or trying to get it from the toll worker.
Get Driveway-to-Driveway Protection
Driveway-to-driveway insurance starts the minute you leave your driveway, until you get back home, not the day you check-in to your hotel. Most travel insurance companies are only concerned with how much your trip costs, not how many stops you're making, or how many days you'll be gone.
Traveling with kids
If you're traveling with kids, most of the tips above will stay the same, but the trip will be different.
Make sure everything you pack for them is easily accessible. You don't want to pull over every ten minutes to get them something. You'll most likely have to add on planned pit stops for restrooms.
Make sure to pack more snacks. Keep plenty of drinks and snacks on hand. Food such as pretzels, bagels, granola bars, and O-shaped cereal.
Keep your children busy with entertainment as well! Depending on their age and what they are into what you use will vary. You know how to keep them entertained so use your best judgement!
---
The biggest thing to remember, is to try to be patient! With people in the car with you, to the other drivers you share the road with. Even the driver that doesn't know how to use a blinker… The more stressed you are, the longer and harder the road trip will be.
We hope these tips will help make your road trip a smooth drive!
For other road trip trends and tips check out these stories: The Perfect Summer Road Trip Playlists; The Great American Baseball Road Trip; 10 Tips for a Holiday Road Trip; The 10 Best Travel Apps
For more information, updates, travel tips and news from Sundance Vacations, be sure to follow us on the following social media outlets:
---
No matter the season, people are always going on road trips. Sometimes they can be smooth travels, but other times they can be bumpy rides. To try to make your travels as smooth as possible check out our Road Trip Travel Tips #PlanForVacation https://t.co/8OSofIQsfP pic.twitter.com/paXWekBcOe

— Sundance Vacations (@travelsundance) January 19, 2018
Summary
Article Name
Sundance Vacations Road Trip Travel Tips
Description
No matter the season, people are always going on road trips. Sometimes they can be smooth travels, but other times they can be bumpy rides. To try to make your travels as smooth as possible, check out our Road Trip Travel Tips!
Author
Publisher Name
Publisher Logo