Travel has become another one of the areas of life where technology has blossomed.  Especially in the App store.
With smartphones having successfully integrated into just about everything we do during our everyday lives and a seemingly endless catalog of apps out there that will help you get the most of your smartphone, it's no wonder why.
Just last year, 72 percent of adults in the United States reported that they owned a smartphone.  That's nearly 3/4 of the adult population, or around 174,578,990 people according to the 2013 estimate from the U.S. Census Bureau.
With so many people using apps for everything from being social to traveling, Sundance Vacations wanted to take a look at which apps were essential for travelers this year.  Keep in mind that these are in no particular order, but here are the 10 Best Travel Apps for 2016 as well as some honorable mentions.
1.  Snapchat
Snapchat has quickly expanded its reach in terms of popularity.  So much so that even major brands are using it to advertise their products.  While Instagram made a huge impact on travelers last year — and are again trying to with their version of "Snaps" — Snapchat has taken strides to make themselves number one in 2016.
While the apps main function is an aspect of social media and staying connected, it works perfectly for travelers as well.  Snaps are almost like a mini post card that can be sent to your friends and family from anywhere you are, without having to lick the postage stamp.
Plus with a slew of geographic-specific filters — such as raining money for Las Vegas and even glittering lights on Broadway in New York City — travelers can add a special flair to their photos and videos just by visiting a new place.
Snapchat is also offering voice and video calls now in addition to the ability to send photos and videos to the people you have stuck back at home.  While most phones have apps already built in for this, Snapchat makes it easy for you to connect.
So think about it, would you rather a piece of paper in the mail?  Or would you rather receive a cool photo or video where you can see and hear what your friend or loved one is doing while traveling.
The app is available for both iPhones and Android phones.
You can download the iPhone app from the iTunes Store here: "Snapchat for iPhone"
Or you can grab the Android version on the Google Play Store here: "Snapchat for Android"
2.  LoungeBuddy
If you've ever been stuck at an airport for a long layover, delay or cancellation then you know how boring and annoying it can be.  It's times like these that we wish we had access to some of those super-swanky airport lounges where the WiFi is free, there are places to charge your devices and the drinks are cold.  Well, now with the use of LoungeBuddy, travelers will be able to see which lounges they can score access to without having to worry about jumping through hoops and dealing with fine print.
Once opened, travelers will enter their elite statuses, already existing lounge memberships and premium credit card accounts and LoungeBuddy will take it from there.  The app will auto sort, based on the previous mentioned criteria and your itinerary and find lounges that you can get into for free or for a small, one-time fee.
Most of these lounges offer some pretty sweet amenities which can really help to recharge your batteries before jumping on another flight and heading somewhere else.  Getting away from the noise of the airport as well as the lines and crowds can be a well-needed relaxing experience as we all know that sometimes travel can be slightly stressful.
LoungeBuddy is available on both iPhone and Android.
Click here to download the iPhone version: "LoungeBuddy for iPhone"
Click this link to get the Android version: "LoungeBuddy for Android"
3.  Expensify
If you are a business traveler you are going to love this app.
It will handle all of the work associated with keeping track of what money you spend on what items while on a business trip.  With every company out there today having different rules for submitting expenses, no matter who you work for, this app should make your life much easier and organized.
Travelers can log onto the app and begin an expense report right from their phone, plus, even if you are offline, you'll still be able to access all of the features that the app has to offer.  Users can log mileage, hours of work and even snap photos of paper receipts that will generate an expense on your report without even having to do any manual entry.
I'm sure every business traveler has also run into those dreaded times where they either lost a receipt or didn't remember to get one from the businesses they dealt with.  With the Expensify app, travelers can upload their credit card and bank transactions to the app and it will generate an IRS Guaranteed E-receipt.
Once you are done filling in all of your expenses, you can also generate an expense report in a PDF format that can easily be emailed over to your manager.  With all these tools bundled together in one place, this app makes for the perfect way to keep track of your expenses while on the road.
The Expensify app is available for both iPhone and Android.
Travelers can grab the iPhone version here: "Expensify for iPhone"
Or pull down the Android version here: "Expensify for Android"
4.  ItsEasy Passport Renewal App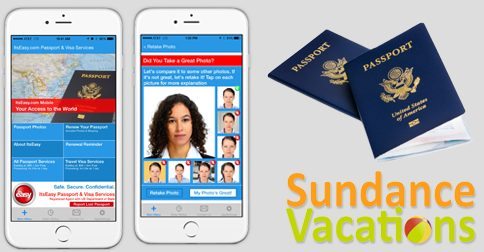 As reported on earlier in the year here on the Sundance Vacations Travel Blog, the new ItsEasy Passport Renewal App is helping to save travelers a lot of time in the lengthy and in-depth process that is renewing a passport.
Giving travelers all the tools that they need to handle the majority of the process right in the palm of their hands — which includes being able to take multiple passport photos yourself in a selfie-cam format — takes a lot of the running around out of passport renewal.
"These days, when everything is touch-a-button and instant gratification all that extra stuff is old, and extensive," said David Alwadish, Founder and CEO of ItsEasy.  "So the convenience of this app, that is set up for travelers that will benefit from great customer service and from time savings thanks to what I've learned over the years about passport renewal, is what makes this new app so valuable."
ItsEasy charges a flat fee of $29.95 for doing its part to help in the process, but that fee gets you your passport photos, trackable postage and professional experience that totals over 40 years.
Although the app was only originally available on iPhone, the company has since expanded to Android as well.
To get the app for iPhone on the iTunes store click this link: "ItsEasy Passport Renewal for iPhone"
Or download the Android version on the Google Play store: "ItsEasy Passport Renewal for Android"
5.  Pokémon Go
Alright, you might think I'm crazy here, but hear me out.  Pokémon Go is a perfect travel app and there are plenty of reasons why it belongs in this article.
Regardless of the fact that it's just plain fun and a very nostalgic experience for anyone that grew up playing the original game, the app has stimulated people to get up and be active.  This is a benefit to users of the smartphone-Pokémon game and can be for travelers as well.
Not only will you be up and getting some exercise, but you'll be able to take a walk through your destination and see some things that you may have missed if you'd have been in a car.  Plus, the game is based off of Google Maps, and features PokéStops and Gyms that are located on landmarks and attractions.  Yes, it's true.  Pokémon will guide you on a sort of tour in your destination city!
Another major reason why this is such a great travel app is for the simple fact that it gets you out in the world and being social.  While some people may not be as outgoing as others, it seems that this game gets your mind off of being socially awkward and makes you more likely to strike up a conversation with others.  Crazy, I know.
Furthermore, travelers often times have some spare time when waiting for flights, during delays or a few hours here and there between attractions or events once at their destination.  You can fill your extra time with some Pokémon and ensure that you won't be bored during these off-vacation hours.
In any event, it's a fun way to pass the time and keep you a little active while on your vacation.  For more tips on how to stay active on your vacation as well as tips to get you back on track for meeting your fitness goals after a lazy vacation, check out this article: "10 Tips to Get you Back on Track for Fitness"
The Pokémon Go app is available on both iPhone and Android.
If you are using an iPhone you can grab it here: "Pokémon Go for iPhone"
Get the Android version of the app on Google Play: "Pokémon Go for Android"
6.  XE Currency
One thing that sort of surprises me as an iPhone user is that Apple doesn't have any sort of built-in currency exchange in the iOS.  Similarly, Android users feel the same pain.  Thankfully the XE Currency app will fill that role for you.
Travelers can boot this app up and use it to get real-time currency-exchange rates.  Even if the internet fails you, XE Currency won't.  It is built to store the latest updated rates so that you can still use the app even if you are an area with no service or internet.
The app has been featured on the BBC, CNN and the Travel Channel and currently has over 40 million active downloads.  It also garners a 4.5-star rating over 13,675 reviews on the iTunes store, not bad at all!  This app does it all when it comes to currency exchange and it's even compatible with the Apple Watch.
To get the Apple version of the app, click this link: "XE Currency for iPhone / Apple Watch"
If you are using an Android phone, follow this link: "XE Currency Exchange for Android"
7.  Bravolol
For those travelers that will be heading to a different country or land where English may not be the first spoken dialect, Bravolol is a perfect tool.
The app covers 18 languages, some of which include: Spanish, French, Chinese, Italian and German.  Once downloaded in the language that you desire, users can pick through a choice of many scenarios like greetings, emergencies, eating and more, or they can select a search mode and type in a common phrase to find it.  Once clicked, Bravolol will authentically pronounce the chosen phrase in the specified language for you.  For those travelers that want to learn, the app even has a feature for you to speak the phrase into the phone and it will tell you if your pronunciation is correct.
It can be a solid learning tool for those that use it that way, but if you ever find yourself in a pinch, you can always let the app do the talking for you.
One of the best features about this app is its ability to be used without an internet connection.  Once it is downloaded to your smartphone you can access everything in the app, which can come in handy in a small remote town where there is no internet or cell towers.
While Google Translate still has a great feature using the camera to translate signs and writing, the application does not work offline, meaning it could leave you stranded.  Check out Bravolol in addition to Google Translate as a solution to the offline problem, travelers can download a separate app for each language or get the all-in-one app that covers all of them.  It's available on both iPhone and Android.
To get the iPhone version follow this link: "Bravolol for iPhone"
For the Android version click on this link: "Bravolol for Android"
8.  Packpoint
Are you one of those people who are constantly forgetting the essentials for your travels?  Be sure you are prepared for your next trip with the Packpoint app.
Arriving at a destination and realizing that you've forgotten an important item or certain clothes can be a real bummer.  Often times you'll have a diminished experience on your vacation or you'll end up cutting into your budget purchasing items you already have at home.  Travelers can avoid this common vacation pitfall by taking just a little bit of time to make a checklist and ensure they have everything they need before they leave the house.
While creating a paper checklist can be a long and boring process — which you can always use the handy, printable Sundance Vacations Travel Checklists found right here on our Travel Blog — in today's day and age, travelers can harness the power of their smartphones to easily make one for themselves.  Packpoint, which is free, even when upgraded to the "pro" version, is a perfect resource for making a list that is tailored towards your destination, length of stay and even hobbies and planed activities.  While many say that Packing Pro is the superior app in this category, you'll have to foot $2.99 before being able to use it, making Packpoint a cheaper alternative that is just as good.
All you need to do is type in your destination, select the amount of days you will be there and choose some of the things you will be doing while on vacation there.  Once the base checklist is created, users can then make changes or even add custom activities or items that need to be brought along on their vacation.  Then, use the checklist while packing to ensure that you have everything you need BEFORE you leave the house.  Your vacation will go much smoother when you have everything you need!
Packpoint is available for both Android and iPhones in their respective app stores and can be upgraded to work with the TripIt app too.
Get the iPhone version of Packpoint here: "Packpoint for iPhone"
Or download the Android version here: "Packpoint for Android"
9.  Postagram
Although we talked above about how Snapchat is becoming the new, digital-version of a postcard, there are still some travelers that have friends or loved ones that may not be as tech savvy.  Whether it's your parents or grandparents, we all have someone in our lives that isn't using a smartphone or, if they are using one, they just doesn't quite understand them all that well.
The solution for this is Postagram, an app service that blends together both the new digital age and the ways of the snail-mail post cards.  The idea is simple.  Download the app to your device and select pictures from your image library, Instagram or Facebook and use them to create a cool postcard that you can send to your friends or family in the mail for just $0.99 ($1.99 for shipping outside of the United States).  The designs are pretty simple to edit and can take just under a minute to create something that will brighten a parent or grandparent's day.
Postagram was launched in 2013, but is still going strong three years later.  They have also picked up a few sponsorships along the way that have allowed some users to score free postcards too, a nice perk.  The app is available for both iPhone and Android.
Get Postagram from the iTunes store here: "Postagram for iPhone"
Or download the Android version from the Google Play store: "Postagram for Android"
10.  TripIt
Have you ever booked a hotel, two separate flights from two different airlines, a rental car and a bunch of restaurant reservations and thought, "wow, I wish there was a way to keep track of all this easily!"? Well, TripIt will be the answer to your prayers on that front.
The app will take care of making up your itinerary, organizing it and putting it all in one easy to find place.  All you need to do is simply forward all of your confirmation emails to their specified address and they will be added to your trip plans.  The app can even sync with your calendar so that your plans will be placed in Outlook, Google or even on your Apple Calendar.
There are two versions of the app, one that is free and a pro version that costs around $49 a year.  The free version still allows travelers to do the majority of the functions that the app has, with the exception of getting real-time flight alerts, tracking reward points and locating alternate flights in the app.  Travelers can also check past trips that were logged and find out what hotels they liked if they wanted to re-book or avoid ones they disliked.
TripIt is available on iPhone and Android.
Get TripIt for iPhone on the iTunes store: "TripIt for iPhone"
You can acquire it from the Google Play store here: "TripIt for Android"
Honorable Mentions
Sit or Squat
This app, which is now sponsored by Charmin, shows users some pretty important spots.
Where all the free toilets are in the area.
Plus, it features a rating system that allows users to rate the restroom they used — thus the name sit (good) or squat (eww) — so that other travelers will know what they are getting themselves into when they decide to use a free, public potty.  Users can also upload photos of the bathroom, see the hours that it is open and find more features that the restroom may have.
Keep in mind however, that this apps data is based solely from user input, so the hours, features and photos may not be filled out in some areas or could possibly be incorrect.
Get Sit or Squat for iPhone here: "Sit or Squat for iPhone"
Or you can get it for Android here: "Sit or Squat for Android"
Sun Exposure
Released in 2014, this Sun Exposure app allows travelers to calculate how long they can be out in the sun before they begin to get a sunburn.
Perfect for families that are going on a beach vacation this year — to help avoid painful showers and whining children due to sunburns — this app will not only cut down on the complaining and pain, but it will also keep your skin healthy by preventing over exposure to UV rays.
Unfortunately, the app is only available for iPhone, so Android users are out of luck on using this app.  Plus, for the limited amount travelers may use the app, as well as its basic controls, it's hard to justify spending $0.99 on it.
You can find the app on the iTunes store: "Sun Exposure for iPhone"
Jetset: A game for Airports
If you are looking for a game that can help you kill some additional time while hanging out at the airport during a delay or layover, check out the Jetset: A Game for Airports app.
Your job is screening passengers that come through the checkpoint line and ensuring that they are safe to pass.  As long as you can keep up with the line you're fine, but once some curveballs get thrown in — like passengers can't wear hats or pants — it can get a little more hectic.  When the line fills up and passengers are turned away, you'll lose.
At the very least, it will pass some time at the airport and perhaps even give you a new appreciation for those TSA screeners.  The app is currently only available for iPhones.
Get the game from Apple here: "Jetset for iPhone"
You can check out more awesome apps that you should be using while traveling on last year's must-have app list: Read the "10 Best Travel Apps for 2015" article right here on the Sundance Vacations Travel Blog!
For more information, updates, travel tips and news from Sundance Vacations, be sure to follow us on the following social media outlets:
The 10 Best Travel Apps for 2016
Summary
Article Name
The 10 Best Travel Apps for 2016
Description
Travel has become another one of the areas of life where technology has blossomed. Especially in the App store. With smartphones having successfully integrated into just about everything we do during our everyday lives and a seemingly endless catalog of apps out there that will help you get the most of your smartphone, it's no wonder why.
Author