It's the beginning of summer.
The colder temperatures and storms of winter have no doubt beaten and battered your outdoor spirit, forcing you indoors, save the few that enjoy a skiing trip.
But what if you are one of the many who love the sun, the sand and the surf?  Wearing flip-flops and shorts while sipping a refreshing beverage or taking in some rays while you read a good book on the beach?
Well my friends, that's why places like Nevis in the Caribbean exist!
A place where you can hit the beach, where crystal clear waters surround you and where you can enjoy being outdoors and soaking up the sun.
Sundance Vacations wants to make travelers aware of what a Caribbean getaway to our property, Monkey Rock on the Island of Nevis, can be like, as well as the many amazing things you can do there while you are not recharging and re-energizing yourself from everyday life and the winter months.
Hit the Beach
With consistent temperatures in the 80's year round, Nevis is a perfect place for you to unwind on the sand.  The mix of both coral white and brown and black sand, thanks to eroded volcanic rocks, gives way to crystal clear Caribbean waters.  Does the phrase, "island paradise," come to mind for anyone yet?
Over 14 beach areas dot the coastline of Nevis, which is a 36-square-mile island, roughly 33 times smaller than the state of Rhode Island. Although small, the island that is paired with Saint Kitts to make a single country, Nevis provides a real opportunity to have a far-less crowded Caribbean vacation than places like Jamaica and Puerto Rico offer.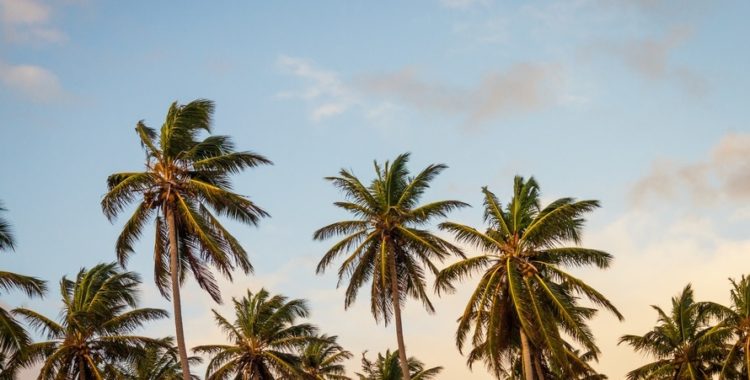 Pinney's Beach, which is the most famous and well-known beach on the island of Nevis, is tucked in on the western side of the island and is just about 20 minutes away from our Monkey Rock property.  This three-and-a-half-mile beach is flanked by gorgeous coconut palm trees on one side and the Caribbean Sea on the other.  Travelers will also noticed that this beach is home to the Four Seasons Resort that also resides on the island.
Travelers can kick back and enjoy all their favorite beach activities like sunbathing, swimming, building sandcastles, tossing a football or even reading a book.  As we all know, laying in the sun, or playing in the sun, can certainly leave you parched.  The best way to solve this problem is by acquiring a delicious and cool drink from one of the nearby beach-side bars.
Sunshine's Beach Bar as well as the Lime Beach Bar are both located right on Pinney's Beach and offer refreshing drinks and a delicious selection of food.  The Lime Beach Bar has a 4.5-star rating on over 250 reviews on TripAdvisor and offers a few local favorites as well as some great dishes you may find anywhere, but it will include fresh local ingredients.  Lisa Weidknecht, of the Planet Weidknecht Travel Blog, reviewed the Lime Beach Bar this past year and said she had Pumpkin Puffs, similar to Hush Puppies, and a plate of Shrimp Wraps that were, "incredibly fresh and delicious."  Read her full review of the Lime Beach Bar on her blog here: "Lime Beach Bar Review on Planet Weidknecht"
Dive In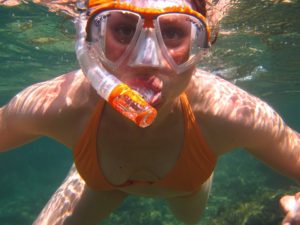 Obviously, being an island, Nevis is surrounded by water.  This allows travelers a number of options like boating, fishing, swimming, kayaking and more.  It would be a shame to travel to such a beautiful destination and go without at least a day on the crystal clear waters of the Caribbean.
There are a number of charter services off of the island that offer fishing for Barracuda, Wahoo and more.  If that's not your thing, you can always just take a cruise for the day or half of the day through one of the various boat tour companies.  Leeward Island Charters offers sail and snorkel cruises on their 47-foot catamarans that set sail twice a day from Nevis.  Rated a five-star attraction for the last five years by TripAdvisor, the company offers much more affordable services than most other charter services.  Cruises start at $66 per adult, which includes snorkel gear and an open bar, and each cruise lasts three hours.  The company also offers private cruise options, at an increased price obviously, and even has wedding services.  If you'd like to learn more about taking a cruise through Leeward, check out their website: "Leeward Island Charters"
If you'd rather paddle your way around Nevis, there are a few places around the island that allow you to rent kayaks.  Bike, Kayak 'n' Windsurf Nevis is a company that offers guided kayak tours that include the tour as well as a break for snorkeling and a picnic lunch.  Opened in 1991 by Englishman Winston Crooke, the company also offers bike tours or hike and bike tours of the island.  For more information about their services, visit their website at: "Bike, Kayak 'n' Windsurf Nevis"
Stop and Smell the Roses, Literally
Rated as the number one thing to do in Nevis, the Botanical Gardens of Nevis is one of the most beautiful things on an island full of beauty, and hey, that's saying something.
Travelers can visit the Gardens and see a wide array of tropical plants, trees, flowers and animals as well.  With an assortment of different areas that incorporate local culture and tropical plants, your toughest decision will be where to begin your time at the Gardens.
With over five acres of land devoted to plants, travelers can check out the shaded Orchid Terraces with over 100 species of plants, take in the Tropical Vine Garden and see some exotic flowers and even explore the Rainforest Conservatory that features temple ruins and waterfalls.  There are also numerous geocaches hidden throughout the area, which can make for an exciting treasure hunt.
For art enthusiasts, there are a number of Asian Stone, Pre-Columbian and Contemporary sculptures that are throughout the Gardens.  You can experience all the beauty of nature while checking out some amazing artworks too!
Along with the flowers and art, visitors will be able to see some unique wildlife at the Gardens.  You'll see numerous parrots around the gardens and you can always pay a visit to the Butterfly Garden.  In another area of the gardens, the staff are active in the art of beekeeping.  The bees work to help keep the garden flowers flourishing and the garden staff also harvests the honey produced by the bees, which is sold onsite at garden's gift shop.
Should you decided you want to tie the knot on the island, many say that this is the best and most popular place on the island to do so.  The gardens also host other private events as well as feature tables for travelers to picnic on during their visits.  There is also an onsite restaurant that serves up local and fresh dishes.
With a price of admission at just $13, the Botanical Gardens of Nevis can be a perfect place to spend the good portion of the day.  For more information about the area and what it has to offer, visit their website: "The Botanical Gardens of Nevis"
Immerse Yourself in Nevis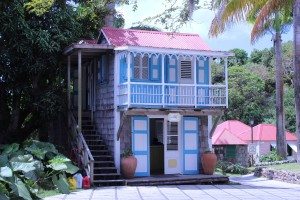 Whether it's a hike in the mountains or a trip to the capital city of Charlestown, Nevis is not short on character.  Travelers will find a plethora of things to do that will have them experiencing all the natural and cultural resources that Nevis has to offer.
If it's nature that you are into, consider taking a sunrise hike through the tropical rainforest or on the side of Nevis Peak, which is an active volcano! If the weather is clear and you make it to the top, you'll be able to see not only for miles out over the Caribbean, but a beautiful sunrise or sunset as well.  There are a few guides in the area that will guide you on this hike, which is recommended, but just keep in mind to pack some good hiking shoes or boots as the terrain can be both rocky and muddy on the slope.
If you're more of a city slicker, check out downtown Charlestown, the capital of Nevis, to find some very interesting cultural sights and activities.  Much like in Molokai, Hawaii, no building on the island is allowed to be taller than the surrounding palm trees.  This means that there is a distinct small-town, small-island feel to Nevis.
With plenty of local shops and restaurants inside of the area's colonial-era buildings, travelers can find a perfect souvenir to take home with them or grab a bite to eat.   The local market, where you will find even more vendors than usual, occurs on Saturdays and will be a perfect place to find interesting food and other items for purchase.
Become a Historian
It's hard to imagine that there can be so much history packed on to such a small island, but Nevis has plenty of chances to take a look at the past.
One of the major historical attractions for Americans is that of the Alexander Hamilton House.  Known as the, "father of modern banking," Hamilton was actually born on Nevis, but later went on to be a part of the Continental Congress and served as the Secretary of the United States Treasury before he was famously killed in a pistol duel with Aaron Burr in 1804.  Popularity for the Founding Father who appears on the $10 bill is at an all-time high, a new musical on Broadway entitled "Hamilton" is one of the hottest tickets in New York City right now.
While the house is small, it offers a look at Hamilton's life on the island and his escapades in America.  The building also houses the Museum of Nevis History, which offers travelers a look at the history of the island itself.  You'll see a timeline of people who were associated with the history of Nevis, including British Admiral Horatio Nelson.  The experience is short, but still quite interesting according to most travelers.
You'll also find a number of old churches of various faiths that offer a look at some amazing architecture from the past.  There is also a Jewish cemetery in town that has a very informative plaque outside and offers a look at graves that are over 400-years old.  You can still make out most of the information and names on the stones, which can make for quite the interesting read as you wonder about who these people may have been during the 1600's.
Travelers should also consider visiting the Montpelier House for a look at a historical building while dining at the onsite restaurant.  Aside from the food, the Montpelier House is also a hotel that's main claim to fame is that Princess Diana and her young children stayed at to get away from the stresses of royal life.
See the Monkeys
One of the most-asked questions about our Monkey Rock accommodations on Nevis is, "Are there really monkeys there?"
Well, the answer is yes!
Vervet monkeys, which came to Nevis by way of slave ships some 300 years ago, have quickly become one of the attractions of the island, despite being loathed by most of the locals due to the monkeys eating just about everything in sight.  There are thousands of monkeys on the island and the two-foot tall creatures travel in groups of 20 to 70, each group being known as a troop.
While Vervets can be found all over the island of Nevis, at really any time of the day, travelers can see some right from our Monkey Rock property!  One of our Sundance Vacations travelers, Michelle M., recently sent in a bunch of photos from her trip to Nevis that featured a number of pictures of the local monkeys!  Check them out below!
Travelers can also seek out tours and hikes that will get you out in the wild in search of the monkeys, so, if you are interested, be sure to seek them out.
Nevis is an island that may be small in size, but is huge when it comes to the possibilities of attractions and prospect of leisure.  If you are interested in learning more about things to do, weather conditions, what to pack and more, visit the Sundance Vacations things to do page for our Monkey Rock property on the island of Nevis in the Caribbean: "Things to do on Nevis in the Caribbean"
For more information, updates, travel tips and news from Sundance Vacations, be sure to follow us on the following social media outlets:
Summary
Article Name
Sundance Vacations Destinations: Nevis (Monkey Rock) in the Caribbean
Description
Nevis (Monkey Rock) is a small, but gorgeous island that has plenty to do and plenty of ways to relax. Learn more about the Sundance Vacations Destination in the Caribbean!
Author