When to Travel to Disney in 2016 with Sundance Vacations
Sundance Vacations knows that there is something undeniably special about Walt Disney World in Orlando, Florida.
Families flock all year long to Epcot, The Magic Kingdom, Hollywood Studios, Animal Kingdom and all over Disney World to experience the legendary destination.
So, if you have ever been to the place where dreams come true, you know that the most important thing you can do is plan your Disney World vacation before you go.
We have already helped you with Planning Your Walt Disney World Package in January, February or March 2016 and we are back to help travelers tackle the next three months of the year.
Discover which month is best for you and your family to visit the most magical place on earth!
April – For the Celebrator
Much like Sundance Vacations ranked January 2016 in Disney as the ideal time for the "No Crowds Traveler," April is also a great month to find lighter crowd volumes.
Although crowds are generally down this month, there are a few events that bring in some guests for exciting celebrations at Walt Disney World.
Travelers will be coming in April to run in the Star Wars marathon, dive through Nemo's Sea on Earth Day and get all dolled up for Dapper Day.
Pack your party pants and prepare to celebrate on your April 2016 Disney World vacation!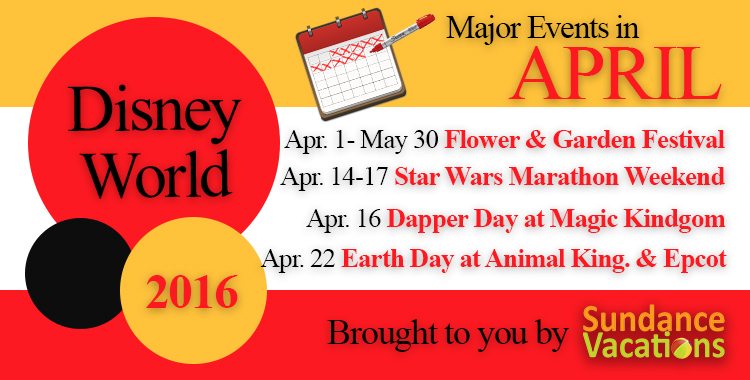 Star Wars Half Marathon – The Dark Side
Who is your favorite character from Star Wars?
Some of us admire the dark red light saber while others the heroic green or blue.
Disney loves them all, but for their Star Wars Race Weekend the events are curtailed by Mickey and Minnie to revolve around the Dark Side of the force.
Participants will be running on Darth Vader's turf, but don't worry, the Emperor's stormtroopers are only there to cheer you on!
From April 14-17, runners can feel the force with runs for all ages, including the Star Wars 5K, Star Wars 10K , Star Wars Half Marathon, the Dark Side Challenge (10k plus Half Marathon) and the runDisney Kids Races.
Catch the Star Wars 5K or a runDisney Kids Race on Friday, April 15, 2016, the Star Wars 10K on Saturday or the half marathon on Sunday.
Travelers will most likely begin arriving Thursday, April 14, so prepare for a packed park. Most of the races start in Epcot and end at the ESPN Wide World of Sports, with the exception of the runDisney Kids Races that both start and end on the New Balance Track and Field Complex.
For travelers returning from 2015, Disney has announced they are not hosting Star Wars Weekends all of May and June like they had previously. What gives? Disney is constructing an entire "Star Wars Land" at Hollywood Studios this year and is focusing its efforts there.
Dapper Day
Who isn't looking for an excuse to get all dressed up? Come to Walt Disney World for Dapper Day on April 16, 2016!
Dapper, by definition, means to look neat and trim and that is exactly what this special day in April is all about! Guests dress to the nines for a day in style at Magic Kingdom for this non-Disney sponsored event.
Travelers come wearing decorative dresses, pearls, pocket squares and delightful top hats for a vintage-inspired dress-off.
Each year people gather for informal in-and-out-of-the-park meetups for Dapper Day outings.
Some guests say it is their favorite day of the year to visit Disney to see others dressed all suave around the park.
Head on over to the Boathouse at Lake Buena Vista, Florida, on Friday, April 15 for Dapper Day's Eve. Guests enjoy dockside drinks from 9 p.m. until 1 a.m. and gaze at the retro boats and water taxis.
People dress for the main day on April 16 at Magic Kingdom and attend scheduled events such as an afternoon riverboat ride in Liberty Square or a sunset ride on Prince Charming's Regal Carrousel. For the full details on when people are meeting, follow Dapper Day on social media and check out the website!
Plan out what you should wear by seeing others' chic looks on Disney Style.
Traveling to California? Dapper Day events are grander at Disneyland in California where they have a two-day expo to purchase men and women's fashions, grooming products and more for the vintage lover! Be sure to see what they have planned for 2016.
Earth Day
Earth Day is celebrated throughout the world and is a dedicated day to bring awareness to environmental conditions by educating people about ways to maintain a healthy environment.
Walt Disney World has been hosting Earth Day celebrations each year since Animal Kingdom opened its gates in 1998 on Earth Day, April 22.
This year, Earth Day will be celebrated on Friday, April 22, 2016 and promises a special day at both Disney's Animal Kingdom and Epcot theme parks.
Fun happenings will be taking place on the days around Earth Day! Animal Kingdom's Party for the Planet events can be found throughout the park and at the Conservation Station at Rafiki's Planet Watch.
Besides the usual attractions at Rafiki's Planet Watch, such as its petting zoo and an outdoor discovery trail to see tamarin monkeys, there are sure to be special Earth Day celebrations at the park.
Some magical experiences during past Earth Day celebrations included a meet and greet with Rafiki and Jiminy Cricket on April 19-25, special displays by Cast Members to tell guests about conservation projects and inform them on ways to help the environment, caricature and face painters to make your child into their favorite animal and more!
*Fun fact! April 22, 2016 marks the 18th birthday of Disney's Animal Kingdom. Buy a unique Earth Day cupcake and celebrate. It's the perfect excuse for a delightful treat you can only get once a year!
There are also Disney World Earth Day 2016 celebrations at Epcot's The Seas with Nemo & Friends.
In addition to rides on the "clamobile" and other always present attractions to clown(fish) around, Nemo and his fishy friends teach guests about conservation efforts to protect coral reefs, manatees and other ocean creatures each Earth Day at Disney.
But, there is still more!
Every year around this time in April, Disney releases an educational Disneynature film about a different cause to protect animals.
Past videos have been about African Cats, Swimming Penguins and last year's Monkey Kingdom focused on the jungles of South Africa.
This year's Disneynature film is titled Born in China and stars cute animals and their babies such as pandas, big cats and fuzzy monkeys who inhabit different regions in China. Be sure to check out the movie trailer!
The 2015 film was released on April 17 to Disney theaters, however, the exact date is not announced yet for Born in China.  Check back in with Sundance Vacations for details on its 2016 release date.
Flower & Garden Festival
Epcot International Flower & Garden Festival, discussed in our previous Disney March 2016 article, is still in full bloom during April. It is another great April stop for nature lovers and features interactive displays, garden activities and more for children.
The 2016 main entrance displays will be of Donald and Daisy Duck and their nephews, Huey, Dewey and Louie!
Guests can snack at Disney's Outdoor Kitchens as they walk through the gardens and enjoy dishes from Mexico, China, Germany, Italy, Japan, France and more.
There are also Garden Rock Concerts taking place through the end of May featuring entertainment during your topiary stroll.
Check out the Garden Rock Concert weekend lineup for April 2016 Disney World:
April 1-3: Herman's Hermits starring Peter Noone
April 8-10: The Guess Who
April 15-17: Blood, Sweat & Tears featuring Bo Bice
April 22-24: Brian Howe, former lead singer of Bad Company
April 29- May 1: Georgia Satellites
For a complete list of 2016 Flower & Garden Festival events, visit the DIS website.
Not into huge bashes? That's okay, May is much better for our travelers who like to celebrate, but prefer a slower park.
May – For the Early Bird
Are you the kind of traveler who would rather hit the Disney parks before all the crazy crowds flood in during June and July?
If you are the type of person who likes to come early to the party, consider visiting Orlando, Florida, right before the summer months.
The family will love dancing merengue on Cinco de Mayo, exploring the park with mom on Mother's Day, and cheering on the races during the Invictus Games!
Here is why May 2016 might be the ideal time for you to visit Walt Disney World!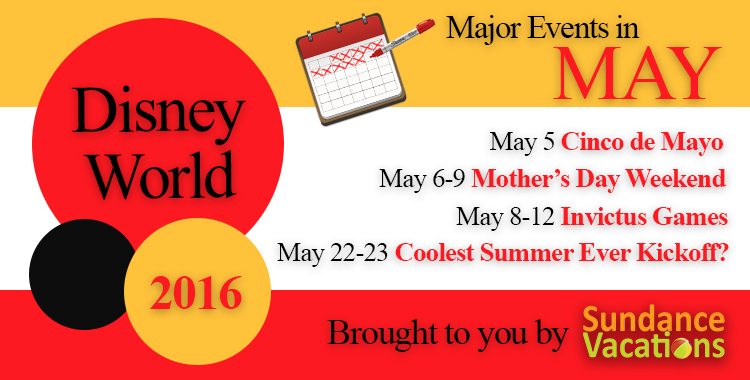 Cinco de Mayo
Arriba! Celebrate Cinco de Mayo 2016 at Walt Disney World!
Epcot's Mexico Pavilion has small activities to honor Mexican heritage on this special day. So grab a Cinco de Mayo Mickey ear hat in the shop at the Mexico Pavilion and get ready for dancing, delicious chipotle sauces and some fun with Disney amigos!
Guests can tour the inside of the pavilion for a twilight exploration of Mexican art and learn about their heritage with the family.
See Donald Duck sporting a sombrero and his colorful Latin American "serape" shawl, as he waddles around the Mexico Pavilion for pictures.
But Donald doesn't stay out in the open for long!
Where is Donald Duck? Or should we ask, "¿Dónde Está Donald Duck?"
Donald's friends Panchito, the Mexican charro rooster, and Jose Carioca, the Brazilian parrot, need Disney guest's help finding their feathered companion.
These energetic birds will bring you on a Gran Fiesta Tour inside the Mexico Pavilion on a slow boat tour to Mexico City in search of Donald Duck!
On the tour, guests will see live-action footage of people and places in Mexico with humorous banter from the characters of the 1944 Disney film The Three Caballeros. Pick up the movie to watch with the kids before your Walt Disney World Cinco de Mayo adventure!
While there, grab some maracas to salsa with the Mariachi Cobre, Epcot's Mariachi band, and sing along to folk music from Mexico.
Cinco de Mayo at Walt Disney World is the perfect excuse to brush up on the Spanish that you learned all those years ago and treat the family to a day of festivities on May 5, 2016!
Mother's Day
Sundance Vacations mentions Mother's Day on May 8, 2016 in Walt Disney World simply due to the higher crowd volume during this weekend.
Some travelers enjoy coming in for Cinco de Mayo and staying until Mother's Day for a double celebration.
Guests can purchase Disney World flower or chocolate arrangements and other unique merchandise to spoil mom on her special day.
There are not many planned activities in the park for the holiday, however, travelers who plan on visiting this weekend should be sure to arrange dinner plans at least six months in advance to avoid booked reservations.
What a better way for momma to enjoy herself than with a fun day in Disney with her loved ones!
Invictus Games
You may have never heard of the Invictus Games! That is probably because the games are not an internal Walt Disney World activity and because it is the first time the games are being held in the United States.
The Invictus Games were the idea of Prince Harry, who began the games in London in 2014 to help injured military soldiers. Now, they are coming to Orlando, Florida!
The games are hosted this year at the ESPN Wide World of Sports Complex for physically-handicapped athletes to shine on the field.
The 500 military athletes who participate in the Orlando 2016 Invictus Games all suffered from life-changing injuries and participate in the challenges to prove they are not defeated by their wounds.
The athletes represent the tens of thousands of service members who face daily limitations from their physical and psychological scars. Participants take on 10 sporting events in five days to honor their fellow soldiers.
The games will be held May 8-12, 2016 and bring in thousands of spectators. Visit their site for ticket information.
Coolest Summer Ever Kickoff
Did somebody say slumber party at Disney? That's right; we are all hoping that Disney announces an all-night party for the Coolest Summer Ever Kickoff again in May 2016!
In 2015, Disney World welcomed guests for a 24 hour event in Magic Kingdom starting in the wee hours of the morning at 6 a.m. on May 22 into 6 a.m. on May 23.
The Coolest Summer Ever 2015 events were hosted by Olaf from Disney's Frozen and featured a night of action with firework shows, parades, sing-alongs and more!
No announcements have been made as of yet if Disney will throw the all-night bash again in 2016, but like Sundance Vacations on Facebook for future updates about the Coolest Summer Ever Kickoff for 2016.
Past events have included dance parties in Tomorrowland, Cinderella's Castle hub and more, a Fantasy parade, dozens of character meet and greets and tons of plans all over the parks.
Disney XD celebrity guests have been known to join the festivities including past appearances from the stars of the hit TV shows and movies Jessie, Teen Beach 2, Austin and Ally, Mighty Med and more.
We will be sure to update our information for 2016 as soon as it becomes available through Disney! Keep your fingers crossed that Disney will make this an annual event!
To check out some exciting events from the 2015 Coolest Summer Ever, visit WDWMagic.
Memorial Day weekend falls during the 27-30 of May 2016 and will promise high crowd density in parks.
The Garden Rock series is still going on throughout May. Catch one of these shows on your trip:
April 29-May 1 – Georgia Satellites
May 6-8 – Gin Blossoms
May 13-15 – Darlene Love
May 20-22 – Night Ranger
May 27-30 – The Spinners
Ready to really party in park? Visit in June, one of the busiest times of the year for Disney World!
June – For the Stage Junkie
June 2016 will be packed with activities and events for fans who love cheering their favorite stars on stage!
Walt Disney World will be hosting a variety of concerts, sing-alongs and performances to kick-off the 2016 summer months.
From beauty pageants and rock 'n' roll to theatrical shows, Disney explodes with music, dancing and fun this month!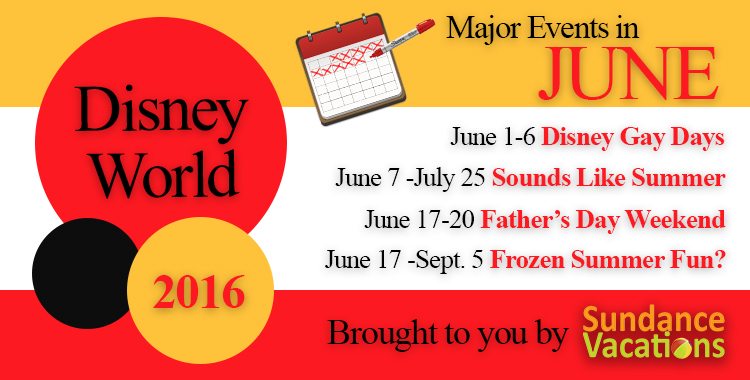 Disney Gay Days
It is the 26th anniversary celebration of Gay Days Orlando in 2016!
Although these events are not sponsored by Walt Disney World, Gay Days' events have active participation both inside, and out, of the park.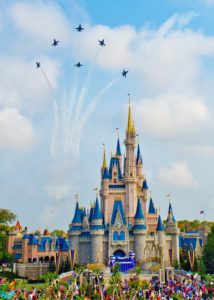 Starting May 31 until June 6, 2016, these week long festivities celebrate Lesbian, Gay, Bi and Transgender (LGBT) pride.
This year's theme is Superheroes, so many participants will be sporting their epic attire and tagging the hashtag #BeMarvelous in tribute to the figures who empower strength and confidence.
There will be numerous scheduled events such as the Taste of Gay Days and the 2016 Miss Gay Days Pageant.
The Taste of Gay Days is taking place on June 2, 2016 at DoubleTree by Hilton Orlando at SeaWorld and includes samples of the best tasting wine, beer and food around Orlando, Fla.
Pageant contestants will be strutting the stage on June 3, 2016 for the crown, cash prizes and to represent Gay Days at other festivities during the year.
These are only two of the celebrations!
Gay Days plans include group visits to the parks, pool parties, expos and more.
For more information on the calendar of events, visit Gay Days.
Sounds like Summer Concert Series
Spray on some hair spray and throw on a pair of ripped jean shorts for some rockin' summer jams!
This live concert series is an annual collection of rock 'n' roll hits by authentic tribute bands and is a great place to bring the kids to dance at Disney.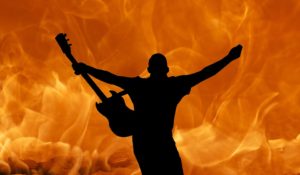 Sounds like Summer concert series is held at Epcot's American Gardens Theatre with three nightly performances of classic hits from your favorite rock bands.
Admission is included in your Epcot park entry fee, so be sure to catch either the 5:30, 6:45 or 8 p.m. performance. However, the schedule for July 4, 2016 in Disney is a little different, with shows at 5:15, 6:30, 7:45, and 9:00 p.m.
Last year's performances included tribute bands of Journey, U2, the Eagles, Pat Benatar, Boston and more! See last year's lineup on The Mouse for Less.
The Sounds like Summer 2016 line-up is as follows:
June 5 – June 11- Don't Look Back – Boston Tribute Band
June 12 – June 18- Hotel California – A Salute to the Eagles
June 19 – June 24- Rumours – A Fleetwood Mac Tribute Band
June 25 – July 1- Simply Tina – A Tribute to Tina Turner
July 2 – July 9- Stayin' Alive – A Tribute to the Bee Gees
July 10 – July 16- Bruce in the USA – A Tribute to Bruce Springsteen
July 17 – July 23- DSB – A Tribute to Journey
Father's Day
Much like Mother's Day at Disney World 2016, celebrating Father's Day at Disney on June 19, 2016 is also a great treat for papa!
Take him to Hollywood Studios, where he can check out the Star Wars attractions, a stunt show with flying cars and motorcycles or ride a rollercoaster.
Maybe you will pass on getting dad flowers, but he would probably love a Pirates of the Caribbean themed bucket of beer delivered to his room! See what other gifts you could get him at Disney Floral and Gifts.
Expect some elevated crowds in the park on Friday, June 17 until Monday, June 20 for Father's Day weekend.
As mentioned above for Mother's Day, be sure to book your dining reservations months in advance to treat your daddio to a meal fit for a king.
Frozen Summer Fun LIVE
Are your children obsessed with the stars of Disney's Frozen?
We are hoping that guest have another chance to get up close to Anna, Elsa and Kristoff again for more Frozen Summer Fun in 2016!
Disney has not yet announced a 2016 celebration of Frozen Summer Fun, but stay tuned for updates!
In 2015, guest saw the stars come down Hollywood Boulevard during Anna and Elsa's Royal Welcome as the sisters ride along on a horse-drawn carriage and ice palace float. Kristoff and Olaf are joined by skiers and tag along for the ride as well before the procession sang "Let It Go" to welcome everyone to Hollywood.
There was also a sing-along performance held in the Hyperion Theater called "For the First Time in Forever: A Frozen Sing-Along Celebration." With the help of historians from Arendelle, Anna, Elsa and Kristoff took the stage to recount the history of their Kingdom.
In addition to the performance, there were viewing times to see Frozen Fever, the new animated short shown in the ABC Sound Studio twice an hour starting at 10 a.m.
Little girls were transformed into Anna or Elsa at the Ice Palace Boutique located across from the ABC Commissary. Packages included more than just make-up and nail polish; some also included seating at the Frozen events in the park that day.
Other daily festivities included Olaf's Summer Cool Down, the Coolest Summer Ever Dance Party and a Frozen Fireworks Spectacular.
We are hoping to see events like this again in 2016! Like Sundance Vacations on Facebook to see if Disney announces Frozen Summer Fun again this year.
School breaks vary from the end of May 2016 until mid-August, so be sure to remember that the parks will most likely be consistently crowded from the weekend of May 21, 2016 throughout all of June.
Conclusion – Which Month Would You Go?
When looks like the best time for you to visit Walt Disney World in 2016?
April is perfect for the traveler who likes to celebrate and learn, May is a nice time to visit before the summer crowds hit and June is an energetic month to sing and dance at the parks!
We want to know why you love Disney! Tell us in the comments below.
Discover our Sundance Vacations' properties in Orlando, Fla., to start planning your trip today. Never traveled with Sundance Vacations before? Learn more about this innovative travel program by visiting out website.
For more information, updates, travel tips and news from Sundance Vacations, be sure to follow us on the following social media outlets: