Sundance Vacations is committed to providing the most amazing destinations to our travelers.  With our ever growing and dynamic selection of locations, our travelers can be sure that no matter what sort of vacation they are looking for, they will be able to find it using our awesome, affordable travel options.
Recently Sundance Vacations has added a few new properties to our list and we wanted to take the time to share a little bit more about them.
New to our destinations list are: the Daytona Beach Resort in Daytona Beach, Florida, Callaway Gardens Resort located in Pine Mountain, Georgia and Condominium Pacifico in beautiful Costa Rica!
Sundance Vacations: Daytona Beach Resort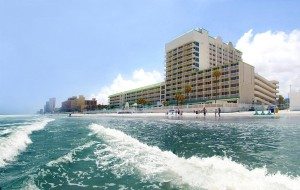 The Daytona Beach Resort offers something for everyone nearly all-year round.  For the golfers out there, this area offers a number of great choices to hit the links.  The Daytona Beach Golf Club offers two 18-hole courses, including one designed by the legendary Donald Ross.  Add in their on-site Pro Shop and restaurant and you can make it an all-day event!
For the travelers that have gasoline running through their veins, perhaps a visit to the Daytona International Speedway is in order.  With more than just NASCAR related events, the track offers chances at seeing Superbikes, Motocross, assorted Sports Car events and even Boat Racing on the infield lake.  Two-wheel enthusiasts can enjoy Daytona Bike Week in March and Biketoberfest later in the year (October).
Naturally this resort offers the chance at sun, sand and surf for all of the beach bums out there.  With miles of amazing Florida coastline, travelers can soak up some rays and then cool off in the Atlantic Ocean.  To be honest, travelers may not even need to leave the resort as it offers an on-site restaurant, steam sauna and pools (both indoor and outdoor).
Sundance Vacations: Callaway Gardens
Just about 400 miles to the northwest of Daytona Beach, Callaway Gardens is another one of Sundance Vacations' newest destinations.  The resort itself offers travelers a number of activities including: beaches, swimming, water sports and more on Robin Lake, golfing on two of the resorts own courses, geocaching, tennis, fishing and dining!
Callaway Gardens is also known for, yup, you guessed it.  Gardens! Visitors can check out the wildly colorful botanical gardens and all the events that go on there.  Workshops, fairs, sales and learning experiences are just a few of the ways that visitors can enjoy the gardens.  Other options include Butterfly watching and even a birds-of-prey show.
With so many amazing activities at the resort, one might question why anyone would ever want to leave, however the nearby Wild Animal Safari may be a good excuse.  Travelers can drive through this safari and check out all of the exotic animals, which makes for a great experience for the whole family.
Sundance Vacations: Costa Rica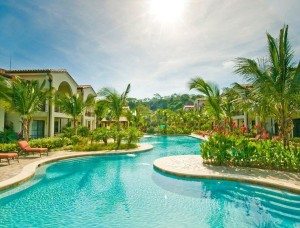 For travelers looking to get a little further south, Sundance Vacations' new destination in Costa Rica would be perfect!  Travelers can experience the delightfully warm weather, amazing tropical scenery and more!
The Condominium Pacifico is a gated community that overlooks the Pacific Ocean, which provides a beautiful waterfront view.  A wide array of on-site amenities, including a market for groceries, boutiques for clothes and collectables, a spa/wellness center and even beach cabanas create a perfect refuge for travelers that are worn down from everyday life.  This is another one of those properties where a visitor could stay all week and never have to actually leave the resort.
However, with Costa Rica offering more than 630 miles of shoreline, beaches, mountains and volcanoes to check out, travelers would be silly not to take advantage of such an amazing destination.  For exciting tours, the Guanacaste Viajes Company, is owned and operated by local families who know the area best.  They have a five-star rating from Tripadvisor and are listed as the number one thing to do in the area.
Offering all sorts of excursions, travelers can pick a combination of tours or one that they might like more than the other.  Services include: nature walks, zip lining adventures, rafting excursions, horseback riding and cultural tours.  They also offer transportation for you and your family or group, which can range in size from two to 20.
After a long day of adventuring and sightseeing, Sundance Vacations travelers can return to their Costa Rican oasis and enjoy the luxury accommodations at Condominium Pacifico.  Watch the sunset over the ocean or take a late dip in the pool, the choice is yours.
Sundance Vacations' inventory of destinations is entirely driven by the needs and wants of our travelers.  Which means we actively seek out and acquire resort-quality accommodations year-round.  The ultimate goal is to provide an amazing experience to our travelers and get them enjoying more relaxation and time to make memories while on vacation!
Whether you are already a Sundance Vacations Traveler or looking to become one, you can be sure that Sundance Vacations will always be on the cutting edge of the travel industry!
For more information, updates, travel tips and news from Sundance Vacations, be sure to follow us on the following social media outlets:
Sundance Vacations Announces New Destinations!
Summary
Article Name
Sundance Vacations Announces New Destinations!
Description
Sundance Vacations is happy to announce a three new destinations to add to their already large offerings of resort-quality accommodations. These destinations include the Daytona Beach Resort in Daytona Beach, Florida, Callaway Gardens in Pine Mountain, Georgia and Condominium Pacifico in Costa Rica.
Author