With Father's Day just around the corner, and in case you forgot, the holiday is celebrated on the third Sunday in June, which just so happens to be this Sunday, June 19, here at Sundance Vacations we wanted to make sure that everyone was prepared to honor their dad with a great gift.  Last month we explored some ideas for Mother's Day travel, so we think it only appropriate that we also do the same for Father's Day!
Although Mother's Day became a nationally recognized holiday in 1914, it took Dads a lot longer for the government to sign Father's Day into law.  Despite the fact that the holiday was celebrated by many across the county, it wasn't actually signed into law until 1972 by President Richard Nixon.  Nearly 60 years after Mother's Day became a national holiday.
Dads can sometimes be overlooked in the parenting department, however they are just as important as the mom to a child.  This Father's Day, perhaps you can treat your dad to a weekend getaway to do some of the things that he loves to do!
Fishing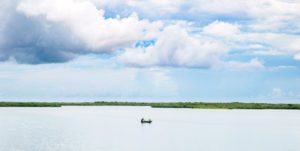 If your dad fancies himself an angler, maybe a fishing trip would be the perfect getaway.
Since we will already be into the third week of June, and Father's Day technically falls on the first official day of summer, no matter where you decide to travel to should have seasonably warm temperatures.  No need to worry about having to ice fish!
Sundance Vacations has destinations in a number of places that would make ideal locations for a fishing trip with dad.  From the north to the south and a few places in between, no matter what your dad wants to catch, our destinations should provide the ideal backdrop for it.
Port Clinton, Ohio is literally on the shoreline of Lake Erie.  Known as a great place to cast a line for both Bass and Walleye, travelers can also try to catch either Steelhead, Salmon or Lake Trout.  There are a number of great charter services in the area that can get you out on the lake and catching fish ASAP.  Fisherman's Wharf, a local charter service which is located in Port Clinton, is offering a Father's Day Special, but can get you out on the water almost any time of the week.  For more information about them and what they offer, check out their website here: "Fisherman's Wharf Charter Service"
Orlando, Florida is another destination that can be awesome for fishing.  With a number of small lakes nearby, the Atlantic Ocean and Gulf of Mexico an hour in either direction, as well as Lake Okeechobee just about an hour and a half away, travelers will be hard pressed to find a place where they CAN'T fish.
If Deep Sea Fishing is more your dad's style, or something he has always wanted to try, consider another Florida destination, Marco Island.  On the shore of the Gulf of Mexico, this destination is a great place for anglers to catch Snapper, King Mackeral, Shark or even the Goliath Grouper (which are known to weigh up to 800lbs!).  Six Chueter Charters, located in Marco Island, can get you out on the open water and enjoying sport fishing in no time.  They have a number of options for fishing that can range from a few hours to an all-day excursion.  For more information about them and what they do, check out their website at: "Six Chueter Charters"
Hiking and Kayaking
If your dad is into the outdoors, but is not an avid fisherman, consider a hiking/sightseeing or even a kayaking trip.
Lake Tahoe, California is an amazing destination that has a number of amazing things to do while on vacation.  It also happens to have a lot of great places to hike.  As mentioned in a previous article on the Sundance Vacations Travel Blog, EveryTrail.com has a great list of trails around Lake Tahoe.  You can sort the trails by rating, length or even difficulty, making it easy to choose one that's perfect for you and dad.  You can find the list here: "Hiking near Lake Tahoe, California"
Kayak Tahoe, a local business that offers Standup Paddleboards, Kayaks and more, is a perfect place to rent a vessel, or even take lessons if you never have used one before.  They have five locations across the southern part of the lake and are the only rental service that operates in the world famous Emerald Bay.  It can be a great way to spend a few hours, or even the day, just floating around and enjoying the amazing picturesque scenery.  For more information about Kayak Tahoe, check out their video below and visit their website here: "Kayak Tahoe Website"
Golfing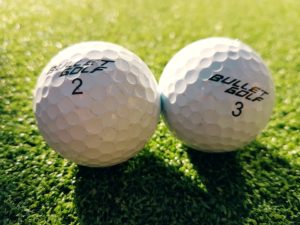 A lot of dads out there, and I do mean a lot, absolutely love to golf and Sundance Vacations has no shortage of amazing areas for the sport.  If your dad loves hitting the links, the places below are a perfect place to take him for a Father's Day getaway.
Hilton Head, South Carolina is a premiere destination for travelers and their dads to swing the clubs and enjoy a weekend or more of golfing.  With over 20 championship golf courses in the area to choose from, the hardest decision your dad will have to make is which one to start on.
Hilton Head National Golf Course, located just a mile outside of Hilton Head, was recently named as the Reader's Choice for the areas favorite golf course.  Designed by Hall of Famer Gary Player and a former PGA Tour Course Design Consultant, this course will challenge every golfer and provide gorgeous surroundings to do so.  You can also book tee times online or through the GolfNow app, which provides an added convenience for travelers on the go.  Check out their website to learn more about the course, including 3D course overviews of each hole, rates and more.  "Hilton Head National Golf Course"
In Southern Florida, in a place where the sun almost always shines, Naples provides travelers with amazing golf options.  With courses designed by former Pros like Jack Nicklaus, Arnold Palmer and, again, Gary Player, Naples is the self-professed "Golf Capital of the World."  The Tiburon Golf Club offers two 18-hole golf courses, each of which were designed by golf legend Greg Norman.  The course takes pride in its natural surroundings and according to their website, strives to protect and enhance them.  For more information about this club and the two great courses, visit their website at: "Tiburon Golf Club"
Brewery Tours
Growing up, beer was one of those things I always associated with being a man.  When I hit 21-years old, one of the first things that I wanted to do was sit down and have a beer with my dad.  It is quite a neat experience to realize you are an adult in that situation and even more interesting when you and your dad start trading stories.
I've heard that often times some of the best conversations could be had and the answers to all the world's problems could be solved while sitting around and drinking beer, however no one would ever remember them the next day.
In any event, if your dad is a beer lover, or is interested in how it's made, there are a number of pretty cool brewery tours around the United States.
Near Stowe, Vermont, the Magic Hat Brewery offers one of the most unique experiences when it comes to a brewery tour.  Free, all-day guided and self-guided tours allow you to learn more or discover things on your own.  They offer beer tastings, even on some experimental brews, and have a growler bar as well.  The tour was recently rated as number two on the list of 10 Best Brewery Tours by USA Today's Reader's Choice.  The town of Stowe, Vermont also offers up a lot of unique and cool things to do all-year round.  Recently, our own Jerry Kishbaugh covered those things in an article right here on the Sundance Vacations Travel Blog.  To learn more about the Magic Hat Brewery Tour, check out their website: "Magic Hat Brewing Company"
Coming in at five on the list of 10 Best Brewery Tours, the Samuel Adams Brewery, located in Boston, Massachusetts, offers a look at the American Dream.  Jim Koch left his Corporate-America job and decided to do what he loved, brew beer.  In 1985 he debuted his first beer, Samuel Adams Boston Lager in about 25 bars and the rest is history.  The tour at the brewery is free, but there is a suggested donation that goes directly towards benefiting local charities.  With different events, tastings, a gift shop and growler bar, this tour will certainly put a smile on the beer-loving dad's face.  Plus it is set in historic Boston and only a stone's throw away from Cape Cod, perfect places to spend more quality time with dad.  To find out more about the Samuel Adams Brewery, visit their website at: "Samuel Adams Brewing Company"
If you are looking for a brewery tour close to the beach, consider visiting the Dogfish Head Craft Brewery in Milton, Delaware.  Just about 30 minutes away from the towns of Rehoboth and Bethany Beach, you can take dad on a tour and then hit the beach to relax.  The brewery tour at Dogfish Head provides information, a chance to play some games, art gallery, gift shop and of course, a chance to sample some of their craft brews.  This destination can allow you to combine some of each of the ideas mentioned here.  Hitting the beach, fishing, kayaking and more are all available on the Delaware shore.  To read more about all the things you can do check out one of our previous articles here: "Delaware Beaches: Endless Possibilities."  If you want to check out the Dogfish Head Brewery, visit their website for more information, "Dogfish Head Craft Brewery"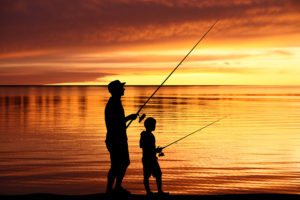 No matter what you decide to do for your father on Father's Day, just ensure you spend some time with him.  In today's technology-driven busy world, the most valuable asset that we have is our time, which makes it worth more than anything else.  So, this Sunday, take a little time out of your day and spend it with your dad.  Have a conversation, learn more about what he did and what's going on in his life. If your dad is no longer with you, take a minute to remember and raise a toast to his honor.  From all of us here to all of the dads out there, Happy Father's Day from Sundance Vacations!
For more information, updates, travel tips and news from Sundance Vacations, be sure to follow us on the following social media outlets:
Sundance Vacations: Father's Day Vacation Ideas
Summary
Article Name
Father's Day Vacation Ideas
Description
Sundance Vacations takes a look at some suggestions for a Father's Day Vacation with dad, send him on one or take the vacation with him! Read more.
Author