Plan your next nature-filled vacation with Sundance Vacations! Who doesn't want to travel to a setting straight out of a Bob Ross painting? We have several Sundance Vacations curated resorts set against the backdrop of woodland hiking trails, towering Rocky Mountains, and charming, still lakes—and open-air activities to match! Plan your next getaway to one of these four Sundance Vacations properties!
---
Gatlinburg, Tennessee
Bent Creek Resort
Tucked in the foothills of the Great Smoky Mountains, Bent Creek Resort provides a relaxing retreat just outside of Gatlinburg, Tennessee. Unwind amidst seemingly unending acres of natural beauty, soak in the warm summer sun poolside, enjoy the on-site fitness center, or play a round of golf on an exquisite 72-par golf course. Explore Great Smoky Mountains National Park on a day-long hike.
Things to do
Great Smoky Mountains National Park
There's so much to do at the Great Smoky Mountains National Park! Pack a tasty picnic and enjoy it by the lakeside while observing the local floral and fauna. Take a relaxing hike or enjoy an intense bike ride along the Cades Cove Loop Road. Fish in the various stream systems and follow the paths that lead to spectacular rushing waterfalls. Be sure to stay up to date on which trails are currently open and safety precautions being taken.
Ober Gatlinburg Wildlife Encounter
Experience the wild side of Gatlinburg! The Wildlife Encounter at Ober Gatlinburg is located 35-minutes away from our Bent Creek Resort. You can find several species of furry friends here, like raccoons, river otters, and bobcats—to name just a few! All the cute critters that can be found at the Wildlife Encounter are rescues. The animals are never ripped out of their natural environments. Ticket prices are $10 for ages 12 and over and $7 for children 5-11. Children 4 and under are free!
---
South Lake Tahoe, California
Lake Tahoe Vacation Resort
Tucked comfortably between Lake Tahoe's most majestic mountain range, Lake Tahoe Vacation Resort offers a welcoming retreat for year-round outdoor enthusiasts. Set among breathtaking woodland scenery and towering pines, the charming lodge creates a picturesque setting for your Lake Tahoe getaway. Enjoy the well-appointed amenities, including a pool, fitness center, and sauna; or step next door to the adjacent Ski Run Marina and Heavenly Mountain Resort Base Lodge. Lake Tahoe Vacation Resort is conveniently located just a mile from the casino district, and other area attractions.
Things to do
Heavenly Gondola
There's no better way to view Lake Tahoe than taking a picturesque 2.4-mile ride in the Heavenly Mountain Gondola. Take in the sights, visit the souvenir shop, and grab a refreshing lunch at Off the Hook Sushi or Sierra Subs. More activities include Ridge Rider Mountain Coaster, 49er Gem Panning, Granite Peak Climbing Wall, Red Tail Zip Line, and Tamarack Lodge. The Heavenly Gondola closes for the season in early September, so experience this sky-high trip while you can!
Valhalla at Lake Tahoe
Enjoy live entertainment while soaking in the gorgeous view of Lake Tahoe. As stated on their website, Valhalla at Lake Tahoe & The Heller Estate host and offer, "history, art, music, theatre and other cultural events." Special events are held during the summer, mostly consisting of original plays. Some 2022 events include The Jimbo Scott String band on August 24, Matt Donnelly – Mind Noodler on September 28, and Holiday Faire Friday on November 18. Kick back with the friends and soak up the sweet Californian sun while enjoying some homegrown entertainment.
---
Park City, Utah
Park Regency
Park Regency is the perfect family getaway. Take the complimentary ski shuttle to the slopes for a day of skiing. In warmer weather, the kids will enjoy a mountain bike ride in the great outdoors, and then the whole family can swim in the indoor, heated pool. Spend a few hours in the fitness center and relax those muscles in the whirlpool/spa tub. Enjoy a barbecue in the picnic area. The concierge will help arrange your day, whether on-site or off. The property includes high-speed wireless Internet access in public areas and movie rentals.
Things to do
Park City Mountain
The winter season is quickly approaching, so it's time to dust your sports gear! Park City, Utah is a popular area for skiing, snowboarding, and all different types of winter activities. Park City Mountain takes great pride it its perfectly manicured slopes and runs. All levels of experience are welcome to traverse this slippery terrain! If winter sports aren't for you, there's plenty of family friendly activities to partake in on the neighboring Main Street, like bike riding and a plethora of restaurants! There is great fun to be had during the off-season, too! One of the biggest attractions is the Alpine Slide, which features a 3,000ft luge-like track that carries rides down the mountain!
Boulder Mountain Ranch at Deer Valley
Take a horseback ride throughout all four seasons! Boulder Mountain Ranch at Deer Valley's options include a one-hour ride through Aspen Grove, a ride through Oakley Ranch, and a two-hour ride through Jordanelle Lookout; they even offer sleigh rides in the winter! Young children are allowed to take a trot, as well! Kiddos must be 6 or older for a one-hour ride and 8 or older for a two-hour ride. You can even plan your own unique do-it-yourself adventure which can include all day rides, overnight camping trips, and riding/pack horses with equipment available for rent. You can also read more on our "Five Must-Visit US Cities | Sundance Vacations" blog post!
---
Vail, Colorado
The Christie Lodge
The Christie Lodge offers a spacious one and three-bedroom suites with comfortable apartment-style accommodations and a welcoming ambiance in every season. In the winter, enjoy world-class snow sports at nearby Vail or Beaver Creek Mountain Resorts, snowmobiling, Nordic skiing, or snowshoeing in the White River National Forest. Summertime in Avon invites you to picnic and fish on the shores of pristine alpine lakes, golf on nearby courses, or hike, bike and horseback ride through the miles of paved and dirt trails that wind through lush meadows and rugged peaks.
Things to do
Cheyenne Mountain Zoo
Lions and tigers and bears…seriously! You can see all three of them at the Cheyenne Mountain Zoo! The Cheyenne Mountain Zoo was ranked as one of the top zoos in the country by USAToday 10Best and Trip Advisor and should be experience by animal lovers everywhere! Venture through Asian Highlands and into the rugged Rocky Mountain Wild. If you want to support the conservation efforts of the zoo, you can make a donation, or, better yet, you can visit when staying in Vail, Colorado with Sundance Vacations!
Betty Ford Alpine Gardens
The Betty Ford Alpine Gardens' conservation effort works towards protecting and preserving the alpine environment. Explore the three main areas—Taming the Mountain West, Alpine Plants of the World, and Rocky Mountain Ecosystems. Fun events are held throughout the year like Yoga in the Gardens, Volunteer Gardening, and Garden Tours. There is no admission fee required, but a $5 donation upon entrance is highly appreciated. The Betty Ford Alpine Gardens is also discussed on our "Five Must-Visit US Cities | Sundance Vacations" blog post!
---
For more information, updates, travel tips and news from Sundance Vacations, be sure to follow us on the following social media outlets:
Summary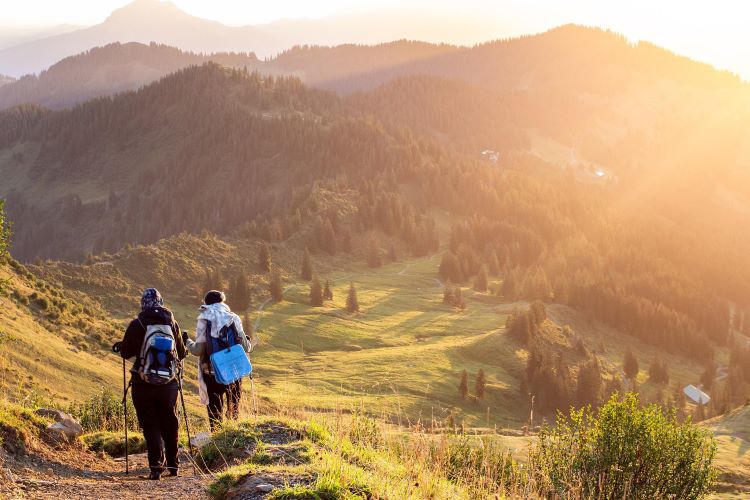 Article Name
Plan Your Nature-Filled Vacation
Description
Do you want to spend your next vacation in the great outdoors? We have several Sundance Vacations curated resorts set against the backdrop of woodland hiking trails, towering rocky mountains, and charming, still lakes—and open-air activities to match! Plan your next getaway to one of these four Sundance Vacations properties!
Author
Publisher Name
Publisher Logo