Sundance Vacations Has Your Las Vegas Getaway Covered
Las Vegas is located in a basin of the Mojave Desert, surrounded by mountains on all sides. While the city was officially incorporated in 1911, it wasn't until 1935 that the city really started to come around, seeing its population multiple nearly 5 fold to 25,000 residents. During this year, the State of Nevada legalized gambling and construction of the Hoover Dam commenced, bringing a large influx of people. Just after WWII is when Las Vegas became a center of the entertainment industry with its high-end hotels and gambling casinos. The iconic ''Welcome to Vegas'' sign was installed in 1959. In the late 1980s, the first of the casino resorts was built, the Mirage, on the Las Vegas Strip, setting the tone for what would become modern Las Vegas. Today, more than 41 million people, from all around the world, visit the city each year.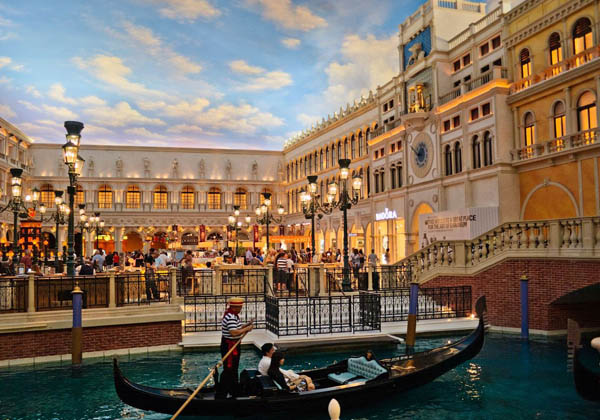 Being a place of interest and excitement, Las Vegas has had its share of fascinating events over its history. Legend has it that Howard Hughes, a famous American businessman, stayed at the Desert Inn for such a long time that management asked him to leave. In response to this request, he bought the hotel. Elvis Presley performed 837 sold out concerts in Vegas.  FedEx founder Frederick Smith saved the company when he took his last $5000 to Vegas and used blackjack winnings to fund the company. All of the excitement, entertainment, and history of Las Vegas is located just minutes away from either of two Sundance Vacations resorts.
Video Overview
Travel and Packing Tips
In Las Vegas, entertainment options are nearly limitless. With such a wide variety of things to do, it's best to keep this in mind when packing. Pack casual clothes for the day, including some comfortable walking shoes, as there is plenty of walking to be done along the Strip. With Vegas being located in the sunny Mojave Desert and enjoying nearly 320 days a year of sunshine, be sure to bring sunscreen, sunglasses, and a hat. The summer months, on average, experience a high temperature of just over 100?F (38?C).  If you are planning to visit during late autumn, winter, or early spring, be sure to bring warmer clothes. The average temperature in December, for example, is around 56?F (13?C). Sundance Vacations suggests bringing Pants, along with a sweater or a jacket, are for trips between October and April.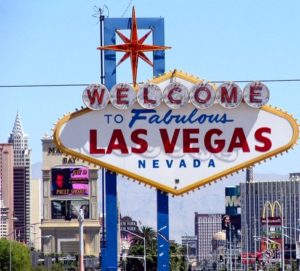 In addition to these basics, bring along dress apparel. With a wide assortment of entertainment, shows, concerts, and fine dining, you will want to look your best when spending the night out on the town. Despite being in the desert, Las Vegas sports some of the best swimming pools that you could imagine. Make sure to bring your swimsuit and enjoy some poolside fun. If golfing is your game, bring along your clubs and take some time to hit the links at the Sundance Vacations property of Westin Lake Las Vegas Resort and Spa. Of course, if you are visiting from outside the States, ensure you're able to make good use of your devices and bring your power adaptors along. Finally, though it should go without saying, bring your camera! Make sure to capture all of the memories, great scenery, and interesting architecture during your stay.
While in Las Vegas, consider taking a side trip to one of the many, nearby, points of interest. The Hoover Dam, for example, is a mere 45-minute drive away.  Here you can see one of the architectural marvels of the United States and can you even take a tour inside.  At just over 4 and half hours, the Grand Canyon is easily accessible from Las Vegas. Heading in the opposite direction, towards California, one can visit Death Valley National Park in just a short 2 hour drive.
Things To Do
Once packed and ready, it's time to consider what you will be doing in Las Vegas. The major draws to Vegas are the numerous casinos and resort-like hotels. Casinos such as the Bellagio, Caesars Palace and The Mirage are sights to be seen. Visitors to New York, New York Hotel and Casino or Paris Las Vegas will seemingly be whisked away to far and distant lands, yet all without leaving Vegas. A stay at the Grandview at Las Vegas, a Sundance Vacations property located just 6 miles from the Vegas Strip, will ensure you are close enough to enjoy the fun.
In addition to the casinos and the opportunity to test your luck, there is a plethora of shows and live entertainment located within the city. One of the most popular, Cirque de Soleil, offers 90-minute shows of stunning acrobatics and music. With 8 shows available, Cirque de Soleil has something for everyone. Legends in Concert is another great entertainment option, and a favorite of Sundance Vacations. Legends is a live concert tribute to legendary performers such as Adele, Aretha Franklin, Dean Martin, Elton John, Elvis Presley, among others.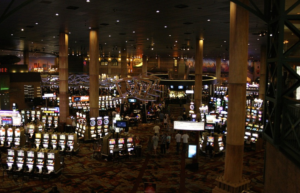 While there are plenty of shows to catch while in Las Vegas, one you won't want to miss is at the Bellagio Fountains. These spectacular fountains perform choreographed spectacles to Sinatra, Celine Dion, The Beatles, and Elvis. Performances can be seen every 30 minutes on weekdays between 3 pm and 8 pm and every 15 minutes for the remainder of the night until 12 am. On weekends and holidays, the fountains start a similar schedule at 12 pm.
If you are looking for something a bit more exhilarating, Las Vegas is home to plenty of thrilling amusement rides. New York, New York resort boasts the Big Apple Coaster with 180-degree twists, and dives, all while traveling at 67mph (108kmph). The Adventuredome Amusement park is home to the Canyon Blaster, the world's only indoor double loop, double corkscrew roller coaster. Another Sundance Vacation favorite is the Sky Jump at the Stratosphere.  Here you can test your resolve by jumping from the 108th floor in a bungee-like experience 829 feet (253m) above the streets of Las Vegas.
For a more relaxing approach, take advantage of a spa treatment instead. Canyon Ranch Spa Club can be found at both the Venetian and The Palazzo hotels.  At 134,000 square feet, and a wide variety of treatments, Canyon Ranch is the largest spa in Vegas. Also, located nearby in Henderson, is the Westin Lake Las Vegas Resort and Spa, a Sundance Vacations property.
Now that you know what to pack and where to go to get the most out of your trip, check out the folks at Sundance Vacations to see what they have on offer. With two properties and a variety of accommodations in the Las Vegas area, Sundance Vacations has something for everyone.