Looking to impress your followers with the photos from your Instagrammable Sundance Vacations getaway? We have the best places to take that picture perfect snapshot to make your Instagram feed look impressive.
---
Wildwood, New Jersey
When Visiting our Esplanade Suites property in Wildwood, New Jersey there is a perfect Instagrammable spot located just 2 blocks away!
The famous Wildwood Beach Ball sign is located at the entrance to the boardwalk and it a great place to take that annual family photo or a photo with your friends visiting for the first time.
---
Lake Harmony, Pennsylvania
When visiting our Snow Ridge Village property in the Poconos, there are Instagrammable spots located close to the property. There are Instagrammable spots in both the winter and summer months.
When visiting Snow Ridge Village in the summer make sure to check out Boulder Field located at Hickory Run State Park. Hickory Run is located 18 miles from the property and offers hiking trails and a lake with a beach!
Another awesome site to see and take pictures at, located just 9 miles from Snow Ridge Village, is the Francis E. Walter Dam. This picturesque location is beautiful during the summer. The water and trees make for that perfect background for your photo!
When visiting during the winter months, take a short walk up the road from Snow Ridge Village and capture moments of fun while on the ski slopes at the Jack Frost Ski Resort.
---
Fenwick Island, Delaware
When visiting our Mallard Lakes Property in Fenwick/Selbyville, DE there is a historic site near by that makes a great background for photos.
The Fenwick Island Lighthouse is located just 2 miles away from Mallard Lakes. This historic lighthouse is a wonderful site for you, your family, and friends to see. When you're there, snap a photo or two for your Instagram!
Another spot that is great for photos is the Fenwick Island State Park located 2.3 miles away from Mallard Lakes. The state park is a 3 mile stretch of sand and sun and makes for a great background for photos!
---
Virginia Beach, Virginia
When visiting any of our Virginia Beach, Virginia properties, there is a beautiful site nearby that makes a great scene for taking photos with friends and family.
The Norfolk Botanical Garden is located just 18 miles from all four properties we offer in Virginia Beach! This botanical garden is 175 acres of beautiful sites to discover, including 7 miles of paved paths and another 7 miles of unpaved paths just waiting to be seen. Not to mention, they have a very popular butterfly house and a 3-acre children's garden.
---
Kitty Hawk, North Carolina
When visiting our Beachwoods property, located in Kitty Hawk, North Carolina, make sure to stop by the number one spot for taking photos!
The Town of Duck Boardwalk has perfect scenery for taking photos. Whether it be early it the morning or later in the day, this location does not disappoint! The natural beauty that this area offers is great for a night walk full of peace and relaxation, or even a quick photoshoot with your family!
Just when you think it couldn't get any better, this boardwalk is located just 6.5 miles from our Beachwoods property!
---
Myrtle Beach, South Carolina
When visiting our Myrtle Beach Resort in Myrtle Beach, South Carolina, make sure to take some photos in front of the Myrtle Beach SkyWheel!
The Myrtle Beach SkyWheel is the ultimate scenic experience when visiting Myrtle Beach. This SkyWheel is the second largest in the country, so it makes for a large tourist attraction and a must see when in the area.
---
Cancun, Mexico
When visiting either our Sunset Royal Beach Resort or our Sunset Marina Resort & Yacht Club located in Cancun, Mexico, make sure to check out the following spots to take your vacation photos!
The best spot to take photos at is the Chichen Itza. This is truly an amazing site to see. This pyramid is located roughly 3 hours from Cancun. This location makes for an awesome day trip with friends and family! Check out more information about it in our blog dedicated to this wonder!
Another great spot for photos is Playa Delfines. This is the most popular beach in the hotel zone, specifically for its beauty! It offers white sand, clear turquoise water, and shaded palapas. Not only is it great for photos, but if you're looking to relax in the sun or go surfing, this is the place for you!
This beach is located less than a mile away from Sunset Royal Beach Resort and less than four miles away from Sunset Marina Resort & Yacht Club!
---
Noord – Eagle Beach, Aruba
When visiting our Azure Beach and Blue Residences resort in Noord, Aruba there are so many places nearby that make for the perfect Instagram photo!
When you're in the area make sure to check out the Fofoti Tree located at Eagle Beach. This tree is unique in the sense that it is always pointing in the southwestern direction due to trade-winds that blow across the island. This location is just 1/2 a mile from our property!
---
For more information, updates, travel tips and news from Sundance Vacations, be sure to follow us on the following social media outlets:
Summary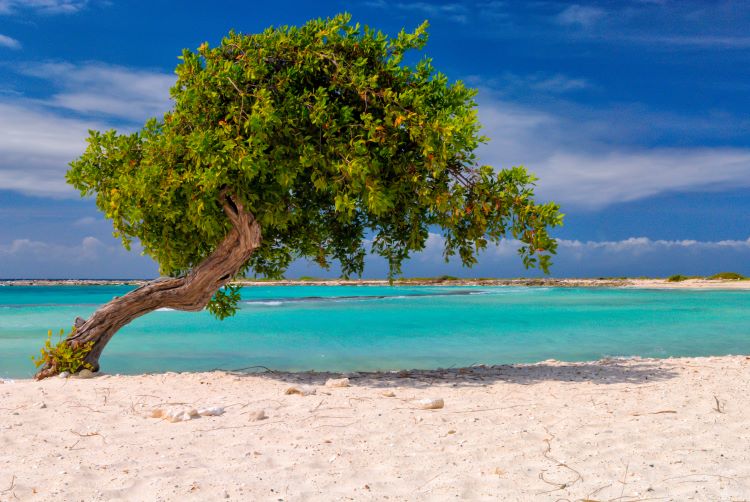 Article Name
Instagrammable Spots at Sundance Vacations Properties
Description
Looking for a way to impress your followers with the photos you post from your vacation? Sundance Vacations has the best places to take that picture perfect snapshot to make your Instagram feed look impressive.
Author
Publisher Name
Publisher Logo