When families want to go on a family vacation, there are many things they have to take into consideration. Will little Jimmy and Becky have something to do, or will Uncle Bob be able to play a quick game of golf when it's time for the kids to nap? When putting all the considerations into options, the simplest answer is, Wildwood New Jersey! With Wildwood, the adults will have as much fun as the kids! If anything, maybe even a little more!
Beach
One of the biggest reasons people go to Wildwood is for the beach! Wildwood is known for its wide beaches, which makes it easier for you to find yourself a spot! Located between the famous Wildwood Boardwalk and the seemingly endless Atlantic Ocean, these white sand beaches are some of Jersey's best!  Throughout the summer you'll be able to find regularly accommodate events from volleyball tournaments to fireworks on the beach! Wildwood's beaches are lifeguard-protected from Memorial Day through Labor Day. Lifeguard hours vary based on the beach, but generally, lifeguards are stationed from 10 AM. to 5 or 5:30 PM.
Boardwalk
After a day at the beach, another vacationer's favorite attraction is the famous Wildwood Boardwalk!
This two-mile boardwalk has more than 100 rides and attractions, and is filled with carnival games, arcades, amusement park rides, junk food and souvenir shops!
If you're a morning person, you can also take a morning bike ride on the boardwalk, or a morning run!
Cape May County Park & Zoo
Looking to get up close to the wild? The Cape May Zoo is featured on 85 acres and has more than 550 animals, representing more than 250 species! The zoo is free of charge, but donations are welcomed! The zoo also has a guided tour option where you can pay to get a 90 minute tour where you will learn about their animals, their habitats, conservation efforts and ask as many questions as you want!
The Cape May County Zoo is open 364 days a year, with summer hours: 10 AM – 4:30 PM and winter hours of: 10 AM to 3:30 PM.
Morey's Piers Attraction
Morey's Piers & Beachfront Waterparks are another famous attraction travelers love to visit! Morey's Piers is made up of three amusement piers and two beachfront waterparks and has over 100 rides and attractions! The parks are perfect for all ages with its rides, including arcades, carousels, carnival games, tea cups, bumper cars, paddle boats, roller coasters, waterslides and plenty more.
Doo Wop
Preserving the history of the 1950s and 1960s, the Doo Wop museum is a celebration of architecture, design, music, pop culture and everything else that made Wildwood famous then.
Families can get lost in nostalgia while peering at cool artifacts, neon lights, funky signs, 50's-era vintage furniture and other crazy mid-century stuff within the museum. During summers, on Tuesday and Thursday nights, the museum hosts a "Back to the 50s" trolley tour that takes guests past the whimsical, space-age motels on the streets of Wildwood.
Something you probably didn't know, is that the Doo Wop museum was actually a reconstruction of an old restaurant they disassemble until a suitable site could be found to rebuild it!
Looking for a family night event? During the summer, every Thursday is "Family Fun Nights" on the boardwalk. Some attractions include clowns, puppeteers and other kid-friendly entertainers will be out and about on the boardwalk between 7:30 and 9:30 p.m.
On Friday nights during summer, families can watch colorful fireworks at 10 p.m. on any beach in Wildwood.
Golf
Tee Time anyone? If you're looking for 10 or 18 holes, Laguna Oaks and Cape May National Golf Club are in driving distance from downtown Wildwood!
If mini golf is more your thing, then you can find them all over Wildwood! Popular courses in Wildwood include Island Miniature Golf (which also has a rock-climbing wall), Dragon's Lair (an indoor black-light course with a medieval theme), and Harbor Light Golf (which also sells ice cream).
Water Fun
The ocean and bay aren't just pretty scenic views, but can also be filled with adventure! Some favorites include: fishing, kayaking, surfing, and wildlife watching!
The Starlight Fleet offers fishing trips and whale/dolphin-watching trips. At Lakeview Docks, you can rent WaveRunners, kayaks, fishing boats, swan pedal boats, and stand up paddle-boards. Ocean Outfitters offers surfing lessons and board rentals.
---
For more information, updates, travel tips and news from Sundance Vacations, be sure to follow us on the following social media outlets:
Summary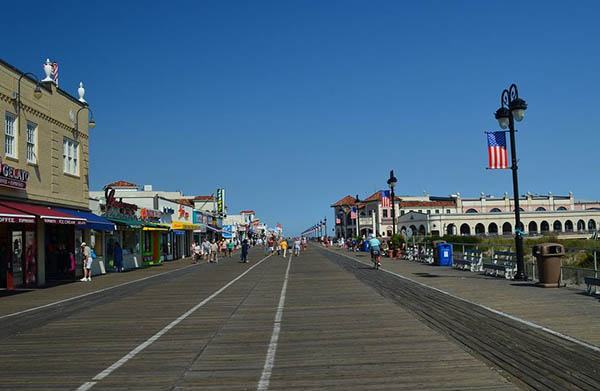 Article Name
Description
When looking for a family beach vacation, Wildwood is easily a top destination! From the beach, board, to playing golf, everyone will have something to do!
Author
Publisher Name
Publisher Logo