Where to Stay and Resort Fun
Grand Pacific Palisades Resort
Thinking of visiting Carlsbad, California with Sundance Vacations? We have the perfect resort for your stay!
The beautiful Grand Pacific Palisades Resort, located in Carlsbad, overlooks the Carlsbad Flower Fields and boasts 180-degrees of magnificent Pacific Ocean views. The resort is located less than a mile from some of Southern California's most stunning beaches. A peaceful ocean-view pool provides quiet moments for adults, while a children's water-play park offers fun for the whole family. The Grand Pacific Palisades is truly a place to relax in grand style.
---
Carlsbad Flower Fields
Spring has sprung in Carlsbad, and there's no better indicator than the luscious rows of Giant Tecolote Ranunculus flowers in bloom at The Flower Fields at Carlsbad Ranch. Delicately crafted rectangular segments of multicolored flowers line the ranch in a rainbow of blossoms. Canary yellow, cherry red, and rosy pink are only a few of the colors will pop out to you on your visit to the Ranunculus fields.
Overlook the ranch when staying at the Grand Pacific Palisades Resort. An airy floral smell will waft up to your balcony when a light breeze blows through the flower petals.
---
Carlsbad State Beach
Hit the San Diego Coast to spend a day at the Carlsbad State Beach, also known as Tamarack Beach. The Carlsbad State Beach is a popular hangout spot for friends and family to kick back and relax. Pack a picnic, wade through the waves, and enjoy some quality time with your loved ones under the steamy California sun. Reserve your ideal oceanside camping site to spend the night by a crackling fire listening to the soothing sloshing of the water under the stars!
Reservations can be made up to six months in advance, so plan your spring, summer, autumn, or winter camping venture to the Carlsbad State Beach today.
---
The Crossings at Carlsbad
Nothing but miles of vibrant blue sky and rich green… What more could you ask for? The Crossings at Carlsbad is a "6,835-yard public golf course nestled among the natural habitat and wildlife on more than 400 acres of Carlsbad's coastal terrain," according to the Crossings at Carlsbad website. If you're new to the world of golf, lessons are offered by quality professionals. Enjoy a delicious lunch on the patio while overlooking the mesmerizing golfing landscape.
---
Ocean Pearl Spa
You're on vacation, you deserve a spa day! While waiting to be called back for your luxury treatment at the Ocean Pearl Spa, relax in the lounge with a glass of champagne. With services like deep tissue massages, an anti-aging body wraps, and a dip into the muscle loosening jacuzzi, you'll have plenty of specialty, therapeutic options to choose from. Treat yourself at one of California's premier, top-rated spas and, in the words of the Ocean Pearl Spa, "enjoy a day of body and mind rejuvenation."
---
Nearby Activities
LEGOLAND California
LEGOLAND California is not just for children, and don't let anyone tell you otherwise. This family-friendly theme park is filled with heaps of fun! Soar and slide through the prehistoric age on the Coastersaurus, or sail through timeless stories on Fairy Tale Brook. There are several themed lands to explore on your adventures. The Miniland cities will leave you in awe—full (but tiny) recreations of cities like New Orleans and Las Vegas made entirely out of LEGO bricks. Take a break and try Granny's Apple Fries—golden delicious apples covered in cinnamon sugar and whipped cream. Make this a trip that everyone will remember for years to come!
---
Museum of Making Music
The Museum of Making Music has recently been renovated, which means more to explore and learn about! Unlike The Rock & Roll Hall of Fame in Cleveland, OH, The Museum of Making Music places a heavier emphasis on the instruments that produce the soulful sounds we hear in our favorite songs. Observe exhibits that delve into the history of how instruments are made, and what makes them well-loved and sought after. You can even pick up a guitar, banjo, or ukulele and have a jam session of your own! General admission is $15 and children under the age of three are free! Learn the history of music and instrumental arrangements. Read more on the MoMM website and plan your visit!
---
Witch Creek Winery
As stated on the Witch Creek Winery website, they're "San Diego's oldest Urban Winery originally founded in 1993 and relocated to Carlsbad in 1996." From the moment you step through the door, you'll feel the classic, vintage vibes this winery gives off. Enjoy a glass or two (or three) of Witch Creek's Wine's natural drink selection. Some wines that you can sip on at this A-list location are: Pinot Noir '2020, Chandelier Chardonnay, '19 RASCAL Rosé of Cabernet Sauvignon, among many others. Browse antiques and listen to live musical performances while taking it easy at this laid-back, social spot. Check out their upcoming events on the Witch Creek Winery official website.
---
For more information, updates, travel tips and news from Sundance Vacations, be sure to follow us on the following social media outlets:
Summary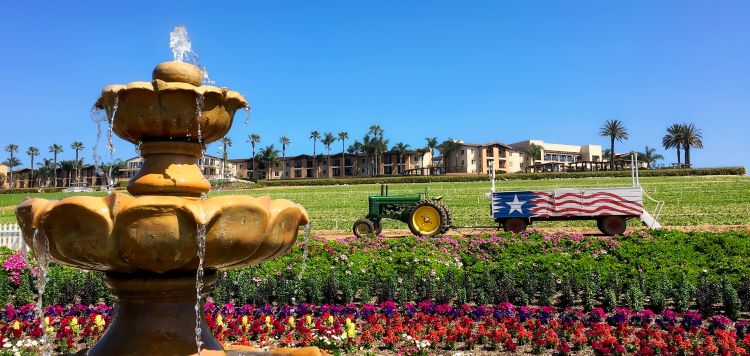 Article Name
Visit Carlsbad, California with Sundance Vacations
Description
Visit the Grand Pacific Palisades Resort in Carlsbad, California with Sundance Vacations! Here are some of our favorite things to do while in the area.
Author
Publisher Name
Publisher Logo