Wildwood is a fantastic family-friendly location, and is known for its 38-block boardwalk, five miles of award-winning clean and FREE white sand beaches. If you're a beach bum, you can sit and relax with your toes in the sand next to the Atlantic Ocean. If you are a thrill seeker, you can try Parasailing or Jet skiing! Wildwood is everything you could ask for in a beach destination vacation because there is literally something for everyone. Travelers love Wildwood because it still has its old-fashioned 50's and 60's Doo Wop charm. Did you know that the term 'Wildwoods' is used to bring the four communities located on Wildwood Island together. During prime season, Wildwood swells with more than 250,000 travelers, and is many family's number one family vacation destination. Did you know that Sundance Vacations has a beautiful resort conveniently located right in Wildwood? 'Esplanade Suites' is only about a five minute walk from the entrance of the boardwalk, near the Wildwoods Convention Center! You won't have to drive and pay for parking to enjoy all that this award-winning boardwalk has to offer.
Boardwalk-
Wildwood is known for its beautiful 38-block boardwalk, and clean beaches. This award-winning boardwalk has: two beachfront water parks, an aquarium, three amusement park piers with world-class roller coasters, monster truck rides and a variety of dining options. You can easily take a day trip here and be entertained the entire day and night.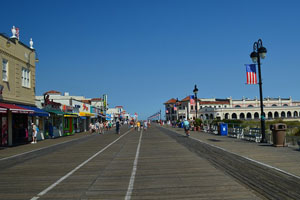 ---
Wildwoods Convention Center-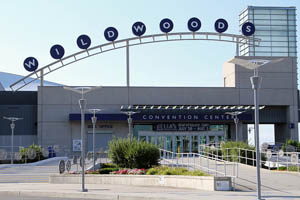 4501 Boardwalk, Wildwood
609-729-9000
The Wildwoods Convention Center opened in 2001, and is a 260,000 square-foot facility which hosts a plethora of different events from concerts, weddings, exhibits, meetings and more! It is conveniently located right on the beach, and you have an ocean view on the 6,600 square foot back deck. Here is a list of the upcoming events being held at the Wildwoods convention center. Directions to the Convention Center can be found here.
---
Mini Golf-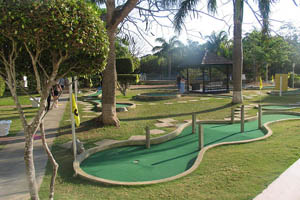 Miniature golf, AKA crazy golf or putt-putt, is a go-to beach vacation activity. Wildwood is home of many fantastic mini golf courses. Here is a sample of a few great courses to enjoy.
Dragon's Lair Mini Golf-
3616 Boardwalk, Wildwood
609-522-0474
Dragon's Lair is home of Wildwood's newest and most exciting black light miniature golf course and is located right on the boardwalk!
Starlux Mini Golf-
4800 Ocean Ave, Wildwood
609-846-1048
Starlux Mini Golf has 27 holes, and three courses to play on! The 'Beach Course' features the LARGEST artificial sand dune and sandcastle in the entire WORLD!
Island Miniature Golf Course-
4501 New Jersey Avenue, Wildwood
609-435-1114
The Island Miniature Golf Course is the LARGEST mini golf course in Wildwood!
---
Silver Bullet Tours-
502 W. Rio Grande Blvd., Wildwood
609-522-6060
The Silver Bullet is the 'World's Largest Speed Boat'! This speedboat has twin V-12 turbo-charged diesel engines, that will give you a one of a kind high speed experience up and down the shoreline. During the 90-minute boat ride, you may even get to see dolphins!
---
Bike Rentals-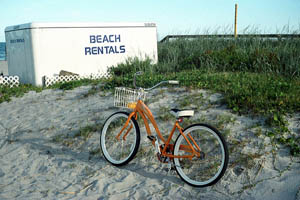 (You can bike on the boardwalk until 11:00 am during the week and 10:30 am on weekends.)
Wildwood has many different bike trails to enjoy. One of the longer ones is a 12-mile round trip path. You can pedal the whole island starting from the Wildwood Crest Dunes Bike Path, up onto the boardwalk and finish along the Mulberry Bike Path in North Wildwood. You can bring your own bike or rent them from the local bike rental shops. The bike paths run along the beaches in Wildwood Crest from Rambler Road to Cresse Ave. where it meets the Wildwoods Boardwalk.
'Wildwood Bike Rentals'-
2912 Boardwalk, Wildwood
1-833-736-8224
'Crest Bike Rental'-
500 East Heather Road, Wildwood
609-522-5763
'Zippy's Bikes'-
3900 Pacific Ave, Wildwood
609-408-8956
---
Parasailing-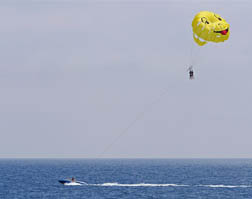 Parasailing is an exhilarating thrill which you glide through the air wearing an open parachute, being towed along by a powerboat. While up there, you will get a bird's eye view of the Wildwoods shoreline!
Atlantic Parasail-
1001 Ocean Drive, Wildwood Crest
609-522-1869
Atlantic Parasail has been around since 1987 and has had more than 200,000 flights. The boat ride lasts about 1 and a half hours. You will get to experience a power boat ride, parachuting, ballooning and gliding all in one shot! They offer "Winch Boat Parasailing", which is the safest form of parasailing. You will take off and land right on the boat. Atlantic Parasail also offers the Thunder Cat Dolphin Watch Speed Boat Adventure, where you can get the opportunity to get up close and personal with the dolphin watch. They were voted the '#1 Dolphin Watching Tour' in all of South Jersey by Trip Advisor. They have a %99 success rate of seeing dolphins and they call the Thunder Cat the "Dolphin Magnet".
Wildwood Hang Loose Parasail-
502 W. Rio Grande Blvd, Wildwood
609-522-9453
Hang Loose Parasail is Wildwood's 'premier parasailing hookup' and lets out 500 feet of tow line. You will typically be out for 1 and a half hours, but you will be in the air for about 10 to 12 minutes.
East Coast Water Sports-
1121 Route 109, Cape May
609-898-8359
East Coast Water Sports is "Cape May's Only Parasail Company". Experience the high-flying thrill, panoramic views, and pure excitement of parasailing with East Coast Water Sports. They offer a variety of different water sports to choose from, including Jet ski and Jet boat rentals and rides.
---
Naval Air Station Wildwood Aviation Museum-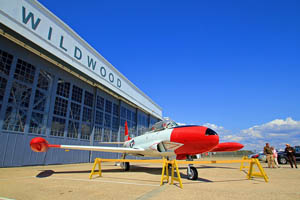 500 Forrestal Road, Cape May
609-886-8787
The Naval Air Station Wildwood Aviation Museum is a non-profit museum can be found at the Cape May airport, located inside Hangar #1. It houses a number of different aircrafts, engines, exhibits and interactive displays. The museum is a 'hands on' educational activity and it invites the entire family to 'travel back in time' to the 1940's. Pets are welcome!
---
The Doo Wop Preservation League Museum-
4500 Ocean Ave, Wildwood
609-523-1958
Wildwood still has the old-fashioned charm, and that is why everyone loves this town so much. You can enjoy a "Blast from the Past" and take a trip to visit the Doo Wop Experience. This small museum has a unique collection of 50's and 60's style memorabilia. You will see colorful neon signs, plastic palm trees, furniture, signs, photos and more from the "Doo Wop era". The Doo Wop Experience is located across from the Wildwood convention center, on Ocean Ave between Burk and Montgomery Ave.
---
Cape May County Park & Zoo-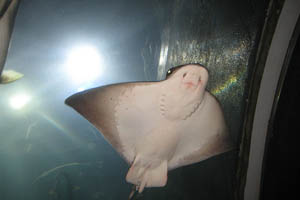 707 North Route 9, Cape May Court House
609-465-5271
The Cape May County Park & Zoo is FREE and open all year round. They do appreciate donations to help take care of the animals. This year they are celebrating being around for 30 years! At the Cape May Zoo, you will get to see a variety of different animals. They have Lions, Black Bears, Bald Eagles, Monkeys, Cheetahs, Giraffes, Zebras and Red Pandas just to name a few. You can take a day trip to explore the park and check out the animals. Here you can also experience animal encounters and guided tours. You can book Giraffe, Otter, Reptile, Primate, Camel and Aviary Encounters! With the encounters, you will get to see the animals in their personal habitats, and learn about their behaviors and see how the staff takes care of the animals. You will have the opportunity to get up close and personal with the animals.
---
Washington Street Mall-
401 Washington street, Cape May
609-884-0555
The Washington Street Mall first opened in 1971 and is known as a 'city-within-a-city'. Here you can support hundreds of small business shops, boutiques, diners and shops. The Mall consists of three blocks and is located just one block from the ocean.
---
Stone Harbor Point-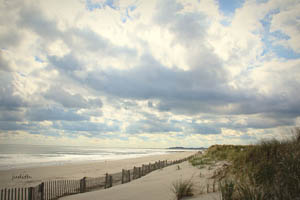 120 3rd street, Stone Harbor
609-368-1210
Stone Harbor Point is known as being "a very special place". Here you can spend your day almost in solitude. You can look miles down the shoreline and it looks like an empty desert. You can enjoy fishing, collecting seashells, bird watching and simply enjoy nature. The point provides sanctuary for local bird species and help keep them alive. One mystery that can be found here is a portion of a wooden shipwreck vessel from the 19th century. To this day, no one knows where it came from.
---
Cape May Lighthouse-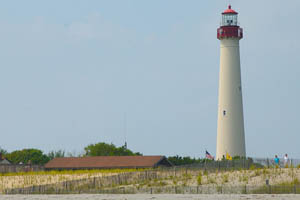 215 Lighthouse Ave, Cape May Point State Park
609-884-5404
The Cape May Lighthouse was built in 1859 but opened to the public in 1988. It is the third documented lighthouse at the Southern tip of New Jersey. This attraction is popular, and more than 2.5 million visitors have climbed the 217 steps to the top of the tower! The tower is more than 157 feet tall. Once you reach the top, you can view as far as your eye can see over the Atlantic Ocean and Delaware Bay.
---
Downtown Wildwood Farmer's Market-
3400 Pacific Ave, Wildwood
609-523-1602
The Downtown Wildwood Farmer's Market is every Saturday from 8:30 am to 1:00 pm starting May 25th through Sept 28th, 2019. Here you can purchase fresh produce, dips, crafts, memorabilia and more!
---
Dark Star Pirate Cruises –
6200 Park Blvd. Wildwood Crest
Dark Side Pirate cruises-609-729-3279
The Starlight Fleet-609-729-7776
The Dark Star Pirate Cruise is the newest addition to The Starlight Fleet Deep Sea Fishing & Dolphin-Whale Watching Center. They have a 50-foot modern day pirate ship, and It is an authentic Pirate themed cruise. You can get your face painted, explore a treasure hunt, have a water cannon battle and hear stories from back in the day. The Dark Star Pirate Cruises are family owned and operated, and the crew has a special way of taking you back to the Ol' Pirate days. You can also enjoy a day of offshore fishing or Dolphin & Whale watching. The Starlight Fleet offers a few different charter packages to choose from.
---
Jet Skis-
If you have never been on a jet ski, you really are missing out! Riding them is a great way to cool off on a hot day. If youre looking to go fast, You can reach speeds up to 50 miles an hour! Renting them is promised to deliver an action-packed adventure.
Mocean Waverunners & Jetski Rentals-
560 Rio Grande Ave, Wildwood
609-522-3159
Mocean Waverunners & Jetski Rentals have been in business for more than 20 years, and have been featured on 'Comcast SportsNet Breakfast on Broad', 'My Fox Philly Jersey Shore Hot List' and they were on the cover of the 'Wildwood Magazine'! They provide top-of-the-line equipment and let you open the throttle on three miles in a freestyle riding area.
Wildwood Waverunners-
1001 Ocean Drive, Wildwood Crest
609-523-1427
Wildwood Waverunners is the # 1 Waverunner/ Jetski rental company in the area. Why? Because they offer a "no boat traffic" riding area and they have the area's newest fleet of EX DELUXE high performance Waverunners. ,
East Coast Water Sports –
1121 Route 109, Cape May
609-898-8754
East Coast Water Sports offers Jetski and Waverunner rentals, Jet boat rides and even parasailing too! "Jet skis are a great way to live life to the fullest this summer without breaking your budget."
---
Seaport Aquarium-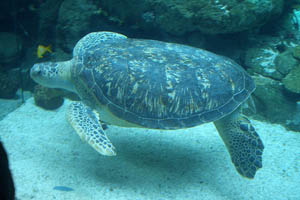 3400 Boardwalk, Wildwood
609-522-0373
This family friendly activity is perfect for a rainy-day! At the Seaport Aquarium, you can pet sharks and stingrays, you can also get the opportunity to feed the turtle and fish! The friendly staff are there to give you facts and information about the different species and their history.
---
Hawk Haven Vineyard & Winery-
600 S. Railroad Ave, Rio Grande
609-846-7347
Hawk Haven Vineyard & Winery is located on a 100+ acre farm. You can enjoy wine tastings and sample the delicious wine they have to offer. They also offer tours of the grounds, where you will get to learn about the steps of the wine making process and discover how each wine is made. Their website states they have an "experimental farmer, who takes chances and pushes the envelope. The estate vines are his most prized asset."
---
Escape May Escape Rooms
1602 NJ-47, 2nd Floor, Rio Grande
609-600-2302
Escape May Escape Room is Cape May's 'original' Escape room. "Escape May is a family owned business built from the ground up, completely designed by the owners, making these escape rooms a one of a kind, original experience." If you're not familiar with escape rooms, you have one hour to solve puzzles, riddles and codes to figure your way out of the selected escape room. They offer two separate themes; the 'Space Escape' and 'Sherlock's Study'. They have a third escape room, 'Medieval Dungeon' which is coming soon.
---
Cape May Day Spa-
607 Jefferson Street, Cape May
609-898-1003
While on vacation, you deserve to be pampered to the fullest. Cape May Day Spa is a full-service spa which offers state-of-the-art-spa services in total comfort. They offer a variety of different Spa Packages & Escapes. If you are looking to start your week on the right foot, you would want to take advantage of their Spa Monday special. They offer couples massages, massages designed specifically for him, mother-to-be massages, and more!
---
Morey's Piers-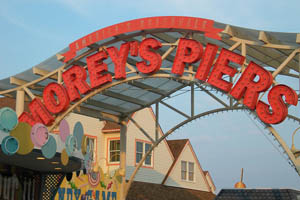 Morey's Piers have been owned and operated since 1969 and is currently run by a 2nd generation of Morey Brothers, Will and Jack. They offer more than 100 different rides and attractions. The piers also have two beachfront water parks. You can relax in spacious cabanas and grab a bite to eat at each pier. There is something for everyone at Morey's Piers.
Mariner's Landing has a Giant 156-foot tall Ferris Wheel which opened in 1985. The pier is located on Schellenger Ave. One amazing thing you can experience here is Breakfast in the Sky. This is a very unique way to start your day. Sundays, Mondays and Tuesdays from July 21st through August 20th you will get to enjoy a breakfast picnic in the sky while riding the Ferris wheel. Just picture a picnic in the sky with fancy linens, china and chef-prepared breakfast!
Adventure Pier has the famous 'Spring Shot Ride' which is catapults you vertically with 3 to 5 g-forces and reaches an altitude of 180 to 260 feet! Adventure Pier is located at Spencer Ave.
Surfside Pier has the famous Great Nor'easter steel-inverted roller coaster, which is 115 feet high, has a 95-foot drop and reaches speeds up to 55 miles per hour. The ride lasts about two minutes. The ride 'AtmosFEAR' is the third tallest ride on Morey's Piers. It creates a freefall effect at speeds of nearly 50 miles per hour, and has a vertical lift force of nearly 3 G's. There are other cool rides here too. The surfside pear is located on 26th street.
Ocean Oasis Water Park & Beach Club has a terrifying 'Cliff Dive' which is a body-slide that will drop you 5 stories in three seconds! You can also relax in a 1,000-foot-long lazy river. They have an interactive play area for the children, and offers many thrill-seeking rides to explore. The water park is located behind the Surfside Pier on 26th street.
Raging Waters Water Park has exciting rides and attractions for everyone. It has two interactive children's play areas, with rope swings, speed slides, tube slides and much more! Raging Waters is located behind Mariner's Landing on Schellenger Ave.
---
Make sure to check out our other articles on Wildwood: Spring in Wildwood, Wildwood Family Vacation, and 5 Great Family Attractions in Wildwood, New Jersey
For more information, updates, travel tips and news from Sundance Vacations, be sure to follow us on the following social media outlets:
Summary
Article Name
Things to do in Wildwood and Cape May, New Jersey
Description
Looking for a vacation that is full of fun and excitement when traveling with Sundance Vacations? The Jersey shore has the family fun you're looking for!
Author
Publisher Name
Publisher Logo