Travel with Sundance Vacations to Ocean City, Maryland!
Whether you're looking for a nice family vacation or a vacations with friends, Ocean City will have all the amenities you could look for!
Hosting around 8 million visitors each year, you can see why Ocean City is a popular destination! Whether it's just the two of you or with family, there is something for everyone! Sundance Vacations has over 30 properties to stay at! Find out which one is best for you! Ocean City Properties 
Of course we'll start the list with the beach! 
With the beach running along the entire 10-mile-long east coast of the island, you're sure to find the perfect spot to spread your towel. If you're looking for a rowdier atmosphere, recent travelers recommend sticking to the southern end of Ocean City, where the neighboring Boardwalk makes for great people watching. For a quieter, family-friendly beach, head north past the Boardwalk; although there are fewer amenities here, you won't have to deal with the hustle and bustle of passersby.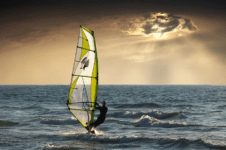 Water Sports
If you like to get out there and play hard, there are tons of water activities to do in Ocean City! If you like paddle boarding, sailing, kayaking, or windsurfing, head on over to 48th Street Watersports. Like being active, but looking for something a little more relaxing on your vacation? They also offer sunset or night paddle sessions as well as yoga!
Another huge attraction is the boardwalk at Ocean City
Whether you're with a group of adults or kids, everyone can find something to do on the boardwalk! Arcade games and amusement park rides are particular highlight for all ages! The Jolly Roger Amusement Park is located at the northern end of the Ocean City Boardwalk. The park welcomes visitors from 2 p.m. to 11 p.m. daily from June to August. The most famous boardwalk amusement can be found inside Trimper's along the inlet parking lot. The Trimper's Carousel has been giving children and adults' rides since 1912, making it the oldest continuously operating carousel in the country! The two-tiered Herschel-Spellman Venetian style merry-go-round was built in 1902 with elaborately painted animals as well as benches for the young or old. For dining or drinking experiences, there are so many to choose from, that we're sure if you ask friends who have been there, they'll give you plenty of suggestions! The Ocean City Boardwalk was also ranked #2 of "31 Best Boardwalks for Food in America" by The Daily Meal. So whether you're looking to nosh on famous Maryland blue crabs, see a shrunken head, ride a roller-coaster or party the night away, this is the place to go.
Nightlife
With Ocean City being so popular you can imagine people don't only go there for the beach, but also to let a little loose! For the late night crowd, nightlife and entertainment such as Nightclubs, Sports Bars, Wine Bars, Comedy Clubs, Dance Clubs, Karaoke and Live Music can be found year round! We're sure you've heard of Seacrets (Jamaica USA), but it's somewhere you should definitely experience! Whether it's to eat, catch the sunset, or for the nightlife, it's definitely a favorite place to go!
Shopping
Looking to do a little shopping? Ocean City Factory Outlets is located north of the Ocean Gateway. The outlet is an outdoor shopping center which boasts many popular. There are also plenty of places to eat here, making it easy to spend hours there.
Outdoor Activities
Mini golf is always in season in Ocean City, from pirates, cowboys, even outer space, there is a course for everyone!

Amusement parks – Whether you have kids or you're just a kid at heart, there's no better place for fun, family-friendly activities. Other than the boardwalk, tow popular ones are Jolly Roger Amusement Park and Splash Mountain Water Park. Both are driving distances away from just about any hotel.
Assateague Island – Covering an area over 41,320 acres between Maryland and Virginia, this island and National Park is a place where travelers can see wild horses!  Vacationers can experience nature, see some wildlife and enjoy the day, a definite must-see when visiting Ocean City.
Pirate Ship Adventure – Kids come aboard an actual pirate ship for the adventure of a lifetime! The Duckaneer allows children to become a pirate and after some briefing, the pirates help the kids look the part with face paint and eye patches. They can shoot cannons (water guns) and battle Cut Throat Jack to secure their treasure! They are taught to dance like pirates and get to take home some of their booty!
Museums
Kids will love the Ripley's Believe It Or Not museum! You can even touch most of the things inside. See a two-headed calf, a five-legged and two-tailed fox, the world's tallest man and more. If you're more of a history buff, there's the Ocean City Coast Guard Museum! It's filled with antiques and ship wrecked treasures.
---
Get ready for your Ocean City trip with Maryland Crab Cakes!
For more information, updates, travel tips and news from Sundance Vacations, be sure to follow us on the following social media outlets:
Thinking on planning a trip to Ocean City, Maryland? Check out what activities ]you could do while there! https://t.co/jlrmm6Qt9z pic.twitter.com/cmFXkh9JuM

— Sundance Vacations (@travelsundance) September 18, 2017
Summary
Article Name
Things to do in Ocean City, Maryland
Description
Whether you're looking for a nice family vacation or a vacations with friends, Ocean City will have all the amenities you could look for!
Author
Publisher Name
Publisher Logo