Sundance Vacations: Disney News — 3 New Attractions Coming to Disney
Walt Disney World and Disneyland always have new Disney parks on their ever growing list of attractions coming to Disney.
Actually, Disney always has new projects lined up, so sometimes it's hard to discover what new attractions are actually coming and what ones are only rumors.
Well, you're in luck because there really is a lot that will be new at Disney soon!
In fact, there are three new Disney parks coming to Disney, some as early as next summer.
Prepare for the lands of Pandora – The World of Avatar at Disney World, Star Wars at Disney World and Disneyland, and Toy Story at Disney World!
Let's take a look at what these new Disney parks have to offer:
Disney World's Pandora – The World of AVATAR
That's right! James Cameron's "most personal film," AVATAR, which he's been visualizing since the 60s, is finally coming to life at Walt Disney World this upcoming 2017.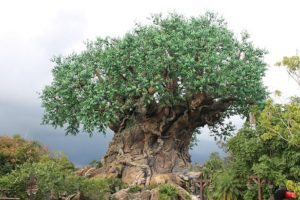 This Avatar land will consist of a brilliant world of bioluminescent, interconnected-forest and floating landmasses. It is home to the Na'Vi, an exquisitely-tall breed of blue creatives, 30 percent bigger than humans! These giant blue people and their unique planet called Pandora will be brought to life in Disney's Animal Kingdom next summer.
According to Disney, this will be the largest expansion of the Animal Kingdom Park in 18 years, featuring rides, themed restaurants and other attractions. This includes floating mountains, interactive plants and creatures just to start!
One confirmed ride will be called AVATAR: Flight of Passage, which will be an aerial simulation through Pandora's floating mountains in which you sit on a mountain banshee — the large, bird-like reptiles the Na'Vi-people fly on in the movie. The other confirmed ride will be called Na'Vi River Journey and will take you on a boat tour through the exotic land of Pandora.
Although the adventure should be fun during the day, the 12-acre land will take on a new life at night with special lighting effects. Imagine the earth lit up beneath your feet, flying creatures flashing dazzlingly colors and an entire bioluminescent forest before you.
Start Planning Your Disney Trip in July, August, or September of next year!
Better yet, start planning now by watching this video from Disney's D23 Expo 2015, where special guests had an inside peak at what the world of Pandora will look like:
Disney World and Disneyland's Star Wars Lands
Hold onto your lightsabers Star Wars fans; there are 14-acre areas being added to both Orlando and Anaheim in honor of the widely popular movie collection.
These Star-Wars-themed lands will be added to Disney's Hollywood Studios in Florida and at the Disneyland Resort in California and are unofficially being referred to as "Star Wars Land." Each will encompass its own area of the parks — much like Pandora in Animal Kingdom — and will feature themed rides, restaurants and characters new and old.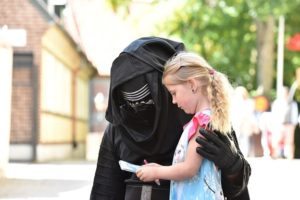 Haven't you always dreamed of being aboard the Millennium Falcon like Han Solo and Chewbacca? Well now you can actually sit behind the controls and steer the freighter through galaxies. This simulation ride allows guests to shoot the ship's laser cannons and battle enemies through space! Be careful though; the Stormtroopers can return fire!
The second featured Star Wars ride will put guests into the battle between the First Order and the Resistance from the new Star Wars movies. Disney released a series of concept renderings for the ride and they can be found on Travel and Leisure!
Disney guests can also go inside a cantina like in the movies and be served interstellar, glow-in-the-dark drinks from Star Wars creatures. The dinner club renderings show musical entertainment by a Twi'lek singer and a full band.
But that's not all! There will be an outdoor marketplace to visit the shops, sample strange space foods and meet aliens and droids.
Much to our dismay, there is no set opening date for this Star Wars Land, nor evidence of its actual name. However, construction workers broke ground in April 2016 at both parks, so Disney is diligently building!
Scott Trowbridge, a member of Walt Disney Imagineering team said, "Unfortunately, ambitious plans take some time," and that although they are developing the park, a release date is too far off to announce.
For now, there are still tons of Star Wars themed experiences at Disney World as well as Disneyland Resort to satisfy your inner Jedi (or Sith).
Disney World's Toy Story Land
In August of 2015 Disney parks announced the building of Toy Story Land at Disney World Resort's Hollywood Studios.
After the great guest feedback about Toy Story Playland at Walt Disney Studios Park in Hong Kong, Disney Imagineers began working on a park in Orlando for the hit Pixar movie Toy Story.
The biggest attraction will be a family-friendly roller coaster call Slinky Dog Dash, featuring Toy Story's Jessie and Rex. Andy built this coaster with his Mega Coaster Play Kit and it features other toy favorites the kids will recognize. The carts of the ride are parts of the slinky and make for an easy ride for kids.
There will also be an Alien Swirling Saucer experience with space-jazz music, sound effects and more as you fly around in your saucer. Guests will have to avoid the "The Claw" as if they were like their favorite green alien toys in the claw machine from the movie.
Disney plans to have an eatery there as well with a space theme like the Pizza Planet restaurant from Toy Story.
Just like some other new Disney park plans, Hollywood Studios' Toy Story Land still does not have an opening date, but we expect it to open shortly after the Star Wars Lands cut their red ribbons.
Currently at Disney World, guests can have "a rootin', tootin' good time" at Pixar Place in Disney's Hollywood Studios by going through a Toy Story section. Guests walk through Andy's room wearing 3D glasses and can play five virtual carnival games. They can also meet a talking Mr. Potato Head! Disney just opened a third track for Toy Story Mania so more guests can enjoy the fun.
Fingers crossed that the new Toy Story Land will open soon!
Can the New Disney Parks Just Open Already?
Our Sundance Vacations travelers are bursting with excitement for these new Disney parks to open their doors over the next year or two. We know you probably are too!
Be sure to share this article with your friends and family to start planning your Walt Disney World adventure today!
Have additional updates about the lands of Pandora – The World of Avatar at Disney World, Star Wars at Disney World and Disneyland and Toy Story at Disney World? Tell us in the comments below.
Want to get in the Disney spirit? Make your own Disney Pin Trading Display or check out our Sundance Vacations Pinterest to craft away the Disney blues until your next trip.
For more information, updates, travel tips and news from Sundance Vacations, be sure to follow us on the following social media outlets:
Summary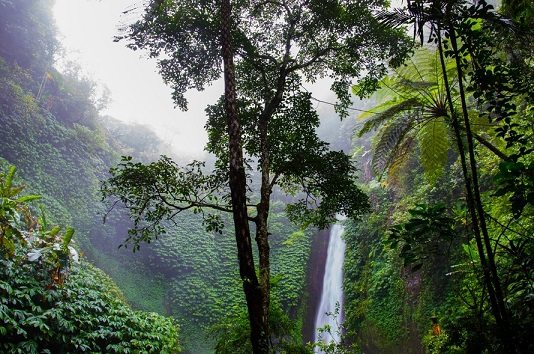 Article Name
New Disney Parks, Rides and Attractions Coming Soon
Description
There are new Disney parks, rides and attractions coming to Disney World. Learn more about Pandora: The World of Avatar, Disney Star Wars Land and Toy Story Land on our Sundance Vacations Blog.
Author
Publisher Name
Publisher Logo