You may be wondering, "what the heck is a Texas Armadillo Egg?"  Well, it's this week's Sundance Vacations Travel Inspired Recipe, but, it is also a delicious appetizer that can add a little heat to any party or get together you are having!
Despite the title, these are not actually eggs from Armadillos.  In fact, Armadillos are actually mammals and do not even lay eggs!  This recipe is a Texas favorite that involves jalapeno peppers with a delicious filling, encased in sausage!  If you are looking for an authentic recipe inspired from Texas, well you've got it.  The origins of this recipe date back to the 1970s and 80s, meaning they have been a favorite of Texans for almost 60 years now, and were first created in the Lone Star State.
Now you may be saying, these are just the same run of the mill jalapeno poppers I can buy frozen at the store.  Wrong.  Because the jalapeno is actually encased in the sausage and coating mix, it is not as exposed to the heat of the oven, meaning it doesn't cook as much.  The inside of the Armadillo Eggs, or the jalapeno, will be slightly less tender and a lot hotter.  This is more like a meatball with a jalapeno popper inside of it.
Spicy food fans will rejoice over this one, but people with less affinity towards heat may also learn to love them.  Because of the cheese, coating mix and cream cheese, these eggs have the perfect balance of heat and flavor that will keep anyone coming back for more.
Sundance Vacations currently has a property in Galveston, Texas that allows our travelers to check out all the awesome things the state has to offer.  Plus it's a great beach town, meaning if these Armadillo Eggs are too hot, you can always go jump in the Gulf of Mexico to cool off.  To learn more about the Sundance Vacations property in Texas, head over tho this page, "Sundance Vacations Texas Property"
If you are looking for something to bring to a party or an appetizer with a little "kick" to it, these Texas Armadillo Eggs will certainly do the trick!  This recipe will make about eight servings — you may want to double or triple the recipe for larger parties — and will take you about 45 minutes from start to finish.
Ingredients
1 8 ounce package

cream cheese, softened

1/4 cup

bacon bits

1 tablespoon

chopped fresh chives

1 teaspoon

hot sauce

1 pound

pork or other variety of sausage 

1 cup

shredded Cheddar or Monterrey Jack cheese

1 5.5 ounce package 

seasoned coating mix (Shake and Bake or other)

1/8 teaspoon

ground cumin

1/8 teaspoon

chili powder

16

fresh jalapeno peppers
Preparation
Start by preheating oven to 350 degrees.  
In a bowl, mix the cream cheese, bacon bits, chives and hot sauce.  In a separate bowl, mix the uncooked sausage and Cheddar/Monterrey Jack cheese.  On a flat surface, mix the seasoned coating mix, cumin and chili powder, then set aside.  Cut a slit lengthwise into each jalapeno pepper and remove the seeds.  Stuff the peppers with the cream cheese, bacon bits, chives and hot sauce mixture.  Then press the sausage mixture around the stuffed jalapenos, roll into balls and then coat with the seasoned coating mix.  Arrange the coated jalapenos on a baking sheet in a single layer. Bake 25 minutes in the oven or until the sausage is evenly brown on all sides.  Enjoy!
Nutritional Facts
Per serving (1 serving, about 1/8 of the recipe): 397 calories, 29.5 g fat, 81 mg Cholestorol, 1227 mg Sodium, 17.2 g Protein, 16.5 g carbohydrates
We are always anxious for feed back!  Should you decided to try our recipe for the Sundance Vacations Texas Armadillo Eggs, please let us know how it comes out!  Feel free to comment below, offer suggestions to others and more!  Be sure to check back each week as we will be adding a new Sundance Vacations Travel Inspired Recipe every Thursday right here on the Sundance Vacations Travel Blog!
For more information, updates, travel tips and news from Sundance Vacations, be sure to follow us on the following social media outlets:
Sundance Vacations Recipes: Texas Armadillo Eggs
Summary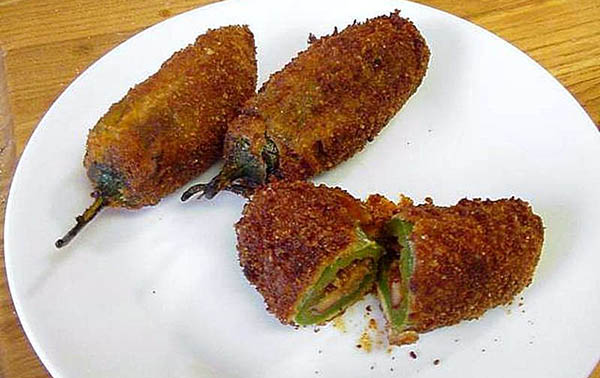 Recipe Name
Sundance Vacations Texas Armadillo Eggs
Author Name
Published On
Preparation Time
Cook Time
Total Time
Average Rating





Based on 1 Review(s)