Sundance Vacations is more than happy to congratulate the 2014 Grand Prize Winner, from the Philadelphia, Pennsylvania area, for winning the Sundance Vacations Giveaway Grand Prize of $50,000!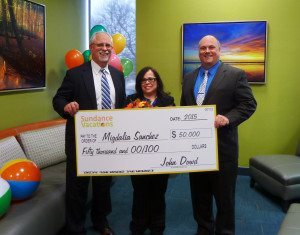 Migdalia entered the sweepstakes at a local mall after seeing one of our displays.
Migdalia received her check for $50,000 at our King of Prussia sales office on Friday, March 13.  She arrived in a limo provided by Sundance Vacations, which picked her up at her home!  She rode in style to our office located at 620 Allendale Road, King of Prussia, PA 19406, she also brought along her two daughters.
Upon arriving at our location, she was greeted by Sundance Vacations staff and was presented with her check.  Needless to say, she was more than a little bit excited to be receiving it!
Migdalia plans on paying down some debts, helping out her family and maybe taking her and her family on a nice little vacation!  To read the full story about the Sundance Vacations Grand Prize Winner head over to our Sundance Vacations News Site: "Sundance Vacations Giveaway $50,000 Winner!"
Other winners during the Sundance Vacations Giveaway included: a fantasy trip valued at $3,000 won by Banful Adams, a $1,000 Visa gift card won by Doug Baker and a Samsung 48" LED Television won by Kurtis Mcrehlenkamp.  Congratulations to all of those winners as well!
Check out other Grand Prize Winners and Sundance Vacations Announcements!
For more information, updates, travel tips and news from Sundance Vacations, be sure to follow us on the following social media outlets: