10 Best Travel Apps for 2015
Let's face it, the world is turning into a technology-driven place.  With nearly everyone having a smartphone, tablet, laptop or some form of mobile computing, the world has become a playground for the tech savvy.  Don't get me wrong, I'm not saying it's a bad thing.  Technology is supposed to make everyone's lives easier, as well as make information more widely available.  There is a huge benefit to the world we live in today.
Travel is no exception when it comes to technology.  Which is why Sundance Vacations decided to take a look at the current technology that is out there, specifically apps, which can help travelers make their experiences even better.  Traveling is an adventure, whether it is for work, pleasure or necessity.  These apps will surely help you get the most out of each and every adventure you embark on.
1.  Google Translate
Google has quickly grown to be a leader in the technological industry.  Their "Google Translate" app provides an amazing quick way to break down the language barrier.  Even better, it allows you to do it for free.  With over 90 languages, the app can help you communicate with nearly anyone.  With microphone and drawing capabilities, the user can speak into the phone or draw and have it translated to or from the desired language.  Another handy feature of this app, which I have used myself and it's amazing, is the Word Lens feature.  Using your smartphone's camera you are able to point at a sign or image in a different language and it will literally translate it right on the screen in front of you.  Amazing.  The Word Lens feature currently only works in seven languages (English, French, German, Italian, Portuguese, Russian and Spanish) but it is still an amazing tool.
You can find the app for iPhones on the iTunes store here: "Google Translate for iPhone"
Or you can get it for Android phones on the Google plays store: "Google Translate for Android"
2.  Wi-Fi Finder
The Wi-Fi Finder app allows you to do exactly what you think it does.  No matter where you are in the world you can easily access maps that will show you locations of FREE or paid Wi-Fi connections close to you.  With over 650,000 locations in 144 countries worldwide, there is hardly a place where this app won't work.  You can also filter the results by providers or type of location (restaurants, hotels, etc.).  For the business traveler this could prove to be an amazing tool.  Don't get stuck using your own data, or be stuck with the slow internet because of low signal.  The company that produced the app works closely with providers to help keep their records up-to-date and easy to access.
Download the app for iPhones here: "Wi-Fi Finder for iPhone"
Or grab it for Android here: "Wi-Fi Finder for Android"
3.  GasBuddy
When you travel do you often take the car with you?  Are road trips your favorite form of vacation?  If you answered yes to these questions, then the GasBuddy app will be an amazing tool for you.  With more than 40 million users it is literally the quickest and best way to find the cheapest gas price near you.  The app will conveniently let you know where the closest, and cheapest, gas is close by, or you can search for gas prices by city or zip code.  The app also allows users to report gas prices to help keep the most accurate prices within the app.  When someone does submit prices, they are award points and entered to win $100 worth of gas each and every day.   The only single drawback to the app is that it currently only works in the United States and Canada.  Granted you may only be saving yourself a few bucks each time you fill up, but on a long road trip you will be able to see real, tangible savings.  Next time you gas up the car, check out this app and start saving some money!
If you have an iPhone you can download the app here: "GasBuddy for iPhones"
Of if you have an Android device you can get the app here: "GasBuddy for Android"
4.  Uber
Uber is relatively new on the scene.  Despite what you may or may not have heard about the app, it can be a great, cheap way to get from point A to point B.  Uber allows the user to request a ride via the app, then a private driver will come and pick you up, usually within minutes.  You can then pay the driver via PayPal on your phone and not have to worry about carrying cash around with you.  Now with drivers in over 50 countries worldwide, Uber is definitely giving the old-school taxis a run for their money.  It's not all peaches and cream for this app however.  A few drawbacks have been cited along with Uber, such as drivers charging a ridiculously-high rate for a ride or that you may get some unsavory characters for chauffeurs.  These reports however, are few and far between.  As long as you use Uber's built-in way to compare prices between drivers and cars and use your better judgement you should be fine.
Check out Uber for iPhones here: "Uber for iPhones"
Or get it for Android devices here: "Uber for Android"
5.  The Weather Channel
Yes it seems simple, but having the weather forecast at your fingertips can be a huge benefit when traveling.  You can plan your activities around the weather, or get an outlook on if you should be traveling or not.  We all know how quickly the weather can change, so using The Weather Channel app allows you to see daily or even hourly forecasts.  You can also see real-time radar pictures, which will let you know if there is a storm creeping up on you.  Seasonal tools like the boat and beach module and pollen alerts can make sure you plan your day to make sure it goes the way you want it to.  You can also program your favorite locations into the app so you have easy access to the weather in those places too.
Download the Weather Channel app for iPhones here: "The Weather Channel for iPhones"
Or download it for Android on the Google Play store: "The Weather Channel for Android"
6.  YouTube Kids
The newly launched YouTube Kids app can be a tremendous tool for traveling families.  Just a few years ago, long trips meant restless kids and singing the same songs over and over until reaching your destination.  In this day and age, parents can allow their children to check out some educational shows or movies to keep them occupied while on long journeys.  Allowing your kid to watch videos online is great, but they can always run across something that their little eyes shouldn't be seeing.  To stem that problem, YouTube released this app specifically geared towards programs and videos for younger viewers.  You can take a breather while your kids watches and not have to worry about them finding inappropriate videos.  Read more about the app and its features on one of our previous blog posts here: "YouTube Unveils New Kids App"
You can download the app for iPhones here: "YouTube Kids for iPhones"
Or get it for your Android device here: "YouTube Kids for Android"
7.  GoPro App
One of the most coveted pieces of travel tech gear for the last few years has been the GoPro camera.  These small recording devices have a number of mounts and are waterproof, which allows the user to capture some really awesome videos in full HD quality.  The companion app for the camera is a handy tool for anyone using one of the cameras.  The app allows you to remotely control the camera wirelessly.  You can also see what the camera is seeing in a live-preview mode, which is great for getting the camera angle just right for the shots you want.  Other perks include: the ability to playback videos, view photos, delete things from the memory card if need be and transfer videos to your smartphone for sharing on social media.  If you spend the money on a GoPro, you'd be silly not to download this app.  If you are a Sundance Vacations Traveler you could also win a GoPro, simply by uploading a photo of your vacations.  Read more about our photo contest here: "Sundance Vacations Photo Contest for a GoPro Camera"
Find the GoPro app for iPhones here: "GoPro for iPhones"
And find it here for Android devices: "GoPro for Android"
8.  Instagram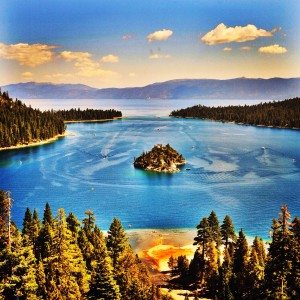 More than just a way to share cool pictures, Instragram has literally changed the way the photography industry works.  With over 300 million users worldwide, you can follow friends, brands and companies to see what they are posting on their pages.  Instragram allows the common photographer to use some pretty cool editing tools and filters to help make your pictures look awesome.  Then you can seamlessly share them to the Instagram network as well as other social media platforms like Facebook, Twitter and more.  You can also connect with people all over the world that may have the same hobbies as you and express it through photographs.  Combine this with some of the cool, detachable smartphone camera lenses and you can come up with some really great photos of your adventures to share with your friends and family.  Check out what kind of photos we post on our Sundance Vacations Instagram Page.
To download the Instragram app for iPhones click here: "Instagram for iPhones"
Or for the download for Android devices click here: "Instagram for Android"
9.  AllTrails
The AllTrails app bills itself as the number one Outdoors app.  If you are into hiking, biking, running, nature walks or just the outdoors in general, this app provides a way to find places to experience nature.  With over 50,000 trails across North America, AllTrails can help you find an outdoor experience near you.  You can also see community photos and reviews on the trails so you will know if it is right for you.  The app also features topographical maps and the ability to record your treks and add trails into its database.  This app is free, but offers a number of upgrades you can purchase to create a more in-depth experience.  If nature is your thing, this is the app that you need to try at least once.
Grab AllTrails for your iPhone here: "AllTrails for iPhone"
Get it for your Android device here: "All Trails for Android"
10.  Apple Pay and Google Wallet
Both Apple and Google have come to one conclusion, it is way easier to not have to carry around a huge bulky wallet, especially when you are on vacation.  The two have both released similar apps that allow you to pay using your smartphones rather than having to swipe a card or flash some cash.  Both programs store your credit card information and allow you to use it to make purchases at a store, online or in an app.  The Apple Pay feature is only usable on the latest Apple products, for example the iPhone 6 or newer, which may mean a lot of upgrades for people who have older phones.  Google Wallet however, can be used on either platform and can even be used on older iPhones like the 5 and above.  Both companies bill their product as a safer way to pay, but it's up to you to decide if it is right for you.  Think about this however, how great would it be to not have to carry around a wallet and cash while on vacation?
The Apple Pay feature is only available on iOS devices like the iPhone 6, iPad Air 2 and iPad mini 3.  To learn more about it head over to their website: "Apple Pay"
To get Google Wallet for your iPhone, click this link: "Google Wallet for iPhone"
Or if you have an Android device, click here: "Google Wallet for Android"
These 10 apps are sure you have you maximizing your traveling abilities.  Hopefully they help you make the most of your vacation, allowing you to do the things that you love to do.  After all, technology is supposed to make our lives easier.  Right?
For more information, updates, travel tips and news from Sundance Vacations, be sure to follow us on the following social media outlets:
10 Best Travel Apps for 2015
Summary
Article Name
10 Best Travel Apps for 2015
Description
Taking a look at some of the new and undiscovered best travel apps for 2015.
Author