Memorial Day has long been considered the unofficial start of summer and with temperatures on the rise the summer-vacation season is finally upon us!
Originally known as Decoration Day, the holiday is designed as a day to remember all those who have fallen in the service of the United States Armed Forces.  Here at Sundance Vacations we would like to take a moment to say thank you to all those who served, are serving and especially those who gave their lives while representing the United States.
It's customary for most people to have the Monday of Memorial Day off, creating a three-day weekend for most people, save the ones will be working.  This long weekend allows for the first real chance at getting out and experiencing the warmer weather that has finally arrived.
Sundance Vacations knows that most people are aching to get out and bask in the sunlight, especially after that long, drawn-out winter that we experienced this year.  We have come up with a few great ideas for travelers that want to use this long weekend as a means to get away from it all.
Hit the Beach
Probably one of the most popular types of vacations for Memorial Day is that of the classic beach getaway.  Most people are eager to stretch their legs after a long time of being cooped up inside the house and want to experience the warmer weather up-close and personal.  The beach makes it easy for travelers to check all those things and more off their list.
A perfect trip for families, the beach can allow kids to expend all their energy during the day with activities like swimming, playing in the sand, tossing a football and, of course, running around.  This can be helpful to parents, because when you get back to the rooms at night, you can be sure that when the child's head hits the pillow, they will be out like a light.
Popular destinations for hitting the shore include places like Bethany Beach in Delaware, Ocean City in Maryland and of course the New Jersey Shore.  All of which are available through Sundance Vacations, by the way.
Wildwood, New Jersey for example, has a number of events planned for this upcoming Memorial Day weekend.  Aside from the beach, travelers can check out the Boardwalk Craft Show, which features tons of handmade crafts from hundreds of vendors.  The event is on both May 23 (Saturday) and 24 (Sunday) from 9am to 5pm.
Away from the famous boardwalk, the Wildwoods International Kite Festival provides a one-of-a-kind experience that you really need to see.  It is a great event for kids and families, with a number of games and activities.  Spectators can see some of the best around fly some really crazy kites, check out some presentations, take part in games and even shop for your own kite.  This even goes on all weekend, from the 22-25 of May and it may be the first time that, "go fly a kite," is meant in the most fun and enjoyable way possible.
Learn more about history
What better time to learn about our nation's history than during the Memorial Day weekend?  Historical and educational trips can be a great way to spend a long weekend for the history buff or to help your children learn a little bit more about the country we live in!
Many people choose to visit our nation's capital, Washington, DC for the festivities that go on there each and every Memorial Day.  Aside from all the majestic monuments and mesmerizing museums, the National Memorial Day Concert and the National Memorial Day Parade are both huge and amazing events for you to honor the reason we celebrate Memorial Day.  The best part about each of these events is that they are FREE!  To find out more about the parade and to see all those taking part in it, check out their website here: "National Memorial Day Parade"
Another popular destination for a historic-travel adventure is that of Williamsburg, Virginia.  Year-round this area, commonly known as "Colonial Williamsburg", plays host to number of historical and educational presentations, shows and re-enactments.  During the Memorial Day weekend, they honor our military's veterans who died while serving their country in a more modern ceremony.
Other events that can keep travelers occupied include the Virginia Arts Festival, which takes place between May 22 and 24, and of course Busch Gardens.  For more information about events in Williamsburg, check out their site here: "Memorial Day in Williamsburg"
While the Art Festival may be great for adults, a trip to Busch Gardens can be ideal for children and thrill-seekers alike.  With six crazy roller coasters and over 30 rides in all, this amusement park can be the perfect way to break up the days during an educational vacation.
Also going on at this time is the Busch Gardens Food and Wine Festival that will begin on May 22.  Park goers can tickle their taste buds with flavors from all around the world.  A sampling of the menu includes cuisines from; Asia, the Caribbean, France, Germany, Ireland, Italy and Spain.  For more info about the Food and Wine Festival, check out their link here: "Busch Gardens Food and Wine Festival".  No matter what your flavor of travel, a trip to Williamsburg will be sure to deliver.
Get out of more than just town
Perhaps getting out of town just isn't far enough for you this coming weekend.  One thing that many people do not consider is the fact that some international destinations experience a lot less visitors during this time.  Studies show that Americans are more likely to stay close to home during the Memorial Day weekend, mostly because of family gatherings.
With Spring Break over and many other people staying close to home, Cancun, Mexico can be a perfect getaway for the people who need to get out of more than just town.  Travelers will experience discounted prices on nearly everything and still get the full Cancun experience.  Plus you won't have to compete for the beautiful white sand beaches as there will be far less people there than during a peak time.
Sundance Vacations has a destination located in Playa del Carmen, which is near the tip of the Yucatan Peninsula.  This area offers more amazing beaches than you can shake a stick at and allows travelers to enjoy all that Mexico has to offer.  For a full list of other destinations Sundance Vacations operates in Mexico and the Caribbean, check out this page on our website: "Sundance Vacations Mexican and Caribbean Destinations"
Connect with nature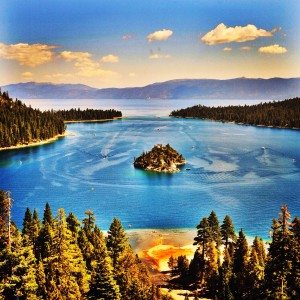 For the people who love to be at one with nature, there is always plenty of options, especially over this long weekend.  Taking a hike, paddling down a river or even just floating on a lake can be an ideal way to unwind and relieve the day-to-day stresses that build up from work, family and more.
Areas to consider for these types of vacations are aplenty, but the Lake Tahoe area of California is a perfect place to enjoy nature.  With a wide variety of hiking trails that range from beginner to expert, travelers will no-doubt find the right one for them that will have them seeing the amazing sights of nature in no time.  Plus with the lake so close, boating, kayaking and swimming are also great options while visiting Lake Tahoe.  If you are interested in checking out a number of trails in the area, check out EveryTrail.com, a link to the best trails can be found here: "Lake Tahoe Best Hiking Trails"
Immerse yourself in culture
For the travelers who enjoy learning about new things and exposing themselves to different cultures around the United States, perhaps one of the many festivals that goes on around the country is right for you.
Denver, Colorado hosts both the ArtStir Denver Festival and the Denver Comic Con this coming weekend.  The art festival will showcase artists and pieces exclusively from Colorado as well as music too.  Sort of following the art trend, the Comic Con is billed as "Colorado's premier pop-culture fan experience".  This event features television and movie actors, toys, gaming, CosPlay and even Panel Presentations.  If you are looking for a fun, must-see activity, Comic Con can surely provide that for you.
On the other side of the nation, in Atlanta, Georgia, they will be holding their annual Jazz Festival on Memorial Day weekend as they have been since 1977.  As one of the world's largest FREE Jazz Festivals, travelers can check out all three days of the event and not have to spend anything on tickets.  For more than 35 years, the festival has been bringing in some of the biggest Jazz acts around and will continue to do so this year.  The event takes place in beautiful Peidmont Park and starts the night of Friday, May 22 and continues until Sunday night.  Click here to visit their website: "Atlanta Jazz Festival"
Meet up with your favorite mouse
Anytime of the year can be a perfect time for a Disney Vacation.  Whether you are a couple, family or having a larger get together, Disney can provide a perfect back drop for any age or group of people that you want to bring along on vacation.
This summer, Disney World in the Orlando, Florida area is going to be starting their, "Coolest Summer Ever."  This summer-long event will feature characters from the popular Frozen movie and include character encounters, new thrills in all of their theme parks and shopping and dining experiences as well.
To kick it all off they will be having a 24-hour celebration from 6am on Friday, May 22 until 6am on May 23 inside the Magic Kingdom theme park.  Keep in mind if you purchase a ticket for one day, you can literally stay inside the park for a full 24 hours, making this the cheapest day ever at Disney World.  For more information about this and other events taking place there over the summer check out this site: "Coolest Summer Ever at Disney World"
Memorial Day is the unofficial start of summer, but it certainly is the official start of awesome vacations for most.  Check out all the amazing destinations that Sundance Vacations offers on our newly, redesigned website!  "Sundance Vacations Destinations"
For more information, updates, travel tips and news from Sundance Vacations, be sure to follow us on the following social media outlets:
Sundance Vacations: Six Great Memorial Day Vacations