Most people check the weather over and over, for weeks before their vacations, so the weather isn't usually a surprise for once they get to their destination. But occasionally the weather can be unpredictable and a storm can switch directions. Due to that, it's important for you to know what to do if a storm will hit where you're going.
If you know you're planning your trip during storm season the best thing to do is get travel insurance.
Travelers will often know before they leave for vacation if a storm or hurricane is developing, and with trip insurance they can avoid a bad situation altogether.
For Sundance travelers, they have the opportunity to purchase SPF14.
SPF14:
SPF14 is Sundance Vacations vacation protection. SPF14 must be purchased at time of booking,
Find out more information, and the cost of SPF14 here: https://www.sundancevacations.com/p/spf14
If you plan on going on vacation no matter what the weather says, it's smart to be prepared!
Hurricanes are natural disasters like tornadoes, earthquakes, blizzards, and volcanic eruptions. The best thing you can do is try to avoid them, but if you can't, try to have an emergency plan to deal with the consequences should you get stuck in one.
If you're going during storm season, it's smart to do research on the local area you are traveling to and see what their evacuation strategy is for storms so you don't get caught off guard. Turning on your weather app notifications can give you alerts on the storm as well.
Emergency planning can go a long way if you have to handle a particularly uncomfortable situation. If you can't get out of the way of the storm or didn't cancel your trip ahead of time, then you may have to be prepared to ride the storm out where you are. That may mean being stuck in a hotel with the windows boarded up, no air-conditioning, and very little services. If you hear there's a storm coming, it's good to have extra food and a medical kit if someone gets injured during the storm.
Due to the weather changing, the air pressure can become really low. When atmospheric pressure drops, your joints swell. This is why people with arthritis can predict the weather. If you have joint issues, make sure you have some anti-inflammatory pain medication on hand.
Prepare for your trip to be extended due to a storm.
The storm itself may only last for a day or so, but the aftermath and damage can be the most problematic for travelers. Roads and airports can be closed for days after a storm depending on the damage. Fierce winds are definitely something to worry about but the actual flooding from all the rain can be even worse!
Have extra cash.
If the power goes out, then credit and debit cards are useless. That's why it's important to have cash if you need supplies until the power is back on.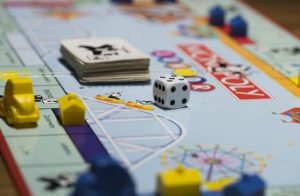 Keep busy.
Often times, after a storm passes it can still take a couple days before you can leave where you're staying. You could be stuck in a small room with friends, families, or strangers, so the best thing to do is keep yourself busy. One thing you can do is bring card and board games for everyone to utilize, or if you need to be secluded for a bit dive into a new book that can keep you entertained for hours.
---
Just because it's storm season, it doesn't mean you should cancel your trip or not plan one at all. With all the technology we have today, you should have a better idea if a storm looks like it will hit when you planned your trip, making it easier for you to avoid the storm.
Travel Safe!
For more information, updates, travel tips and news from Sundance Vacations, be sure to follow us on the following social media outlets:
The summer storm season maybe be a while away, but it's smart to know when the storm season is for your destination! If a storm does hit, will you be prepared! https://t.co/ZTvF22cOVA pic.twitter.com/Y7CHXbnz0E

— Sundance Vacations (@travelsundance) February 27, 2018
Summary
Article Name
How to prepare for a storm while on vacation!
Description
Even with all the weather technology we have, storms can still be unpredictable. When going on vacation, the last thing we want is to be unprepared for a storm.
Author
Publisher Name
Publisher Logo