Wanting to travel this fall with Sundance Vacations? Getting an early start on your fall vacation plans is a great way to ensure that where you want to stay will be ready and waiting for you. Traveling during the fall months is extremely popular because of the cool, breezy weather and the gorgeous fall foliage that paints each landscape. Whether you're staying near the east coast, or you want to venture down south, here's what you can expect during your travels this fall!
---
The Poconos, Pennsylvania
Pocono Foliage Express and Jim Thorpe Fall Foliage Festival
Through the months of September and October you can hop aboard the Pocono Foliage Express and experience the natural beauty of the Northern Pocono Mountains during peak leaf-changing season. Peer out your railcar window and count the number of native trees and shrubbery you spot—there's over127 different varieties! Keep your eyes peeled for foxes, raccoons, and possibly elusive bald eagles. These aren't your average railcars, however; these cars are heated and meant to keep you toasty even on the chilliest days!
After a relaxing ride, stop by the Jim Thorpe Fall Foliage Festival. Beginning in October, the festival offers delicious local food, arts and crafts vendors, children's activities, ghost tours, and so much more! There's no better place in PA to experience the fall in full swing than Jim Thorpe. Known for its cozy, unique charm, Jim Thorpe is a hot tourist destination. With local cafes and bakeries, oddities shops, and boutiques, there's something for everyone. If you're a Harry Potter  fan, we highly suggest you visit Muggles Mug, a Hogwarts inspired coffee and sweets shop! Toss your house scarf over your shoulder, cuddle up on one of the couches with a butterbeer, and watch your favorite fantastical film series!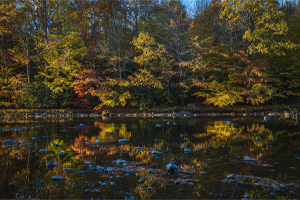 ---
Pumpkin Farms and Patches
No fall excursion is completely without a visit to a pumpkin patch! Thankfully, there's plenty of great farms to choose from in and around the Poconos. Roba Family Farms is one of the most popular farms in the area, and for good reason. Roba offers a fun fall outing for the whole family. Shoot targets at the apple canon range, relax on a hayride around the park, and get lost in the massive corn maze. Whether you're a new or returning visitor, no visit is complete without a box of apple cider donuts and an apple cider slushie—the ultimate combo! Another great farm is Maylath Farm and Orchard. Maylath's offers an abundance of activities for children, including a giant bounce pillow, cow train rides, and pony rides!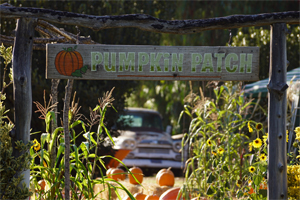 ---
Ghost Tours
Remember when we mentioned ghost tours? Well, time to talk specifics. Whether you're looking for the real deal or a haunted attraction, Pennsylvania has plenty to offer. If you want a costumed scare, one of the most impressive haunted attractions in the area is Reaper's Revenge, Personally, I find myself returning every year to experience the updated spooks, scares, ghouls, and goblins! Travel via hayride through the haunted forest, explore the lost carnival, feel your way through a pitch-black maze, and more. If this sounds too creepy for you, you can always lounge around the firepit with a cup of hot cocoa. Watch movies and listen to live music while your group gets the living daylights scared out of them!
Now, for those looking to see a ghost in the flesh (or in the spirit), PennHurst Asylum, Eastern State Penitentiary, and Farnsworth House Inn are well-known locations that specters have been spotted at. A professional history guide will lead you through a daytime tour of the PennHurst State School while guests get to observe artefacts and listen to stories from experienced PennHurst employees.
Eastern State Penitentiary is located in Philadelphia, PA, and is one of the most haunted prisons in the United States. In addition to historical tours, you can also visit during Halloween Nights. Halloween Nights is an interactive experience that takes you through haunted houses and themed bars. Attractions include Gargoyle Gardens, The Speakeasy at Al Capone's Cell, and S'mores and Lore.
The Farnsworth House Bed and Breakfast has been featured in many reputable ghost hunting magazines and television shows because of its spooky notoriety. The house has been standing strong since 1810 and is known to have housed the sharpshooter that is believed to have shot Virginia "Jennie" Wade. Visitors are welcome to stay in one of the bed & breakfast rooms and to enjoy period dining in the restored dining room. Ghost tours and adventures include Confederate Hospital Ghost Walk, Yankee Spirits Ghost Walk. Creekside Tales, and a Haunted Cellar Presentation.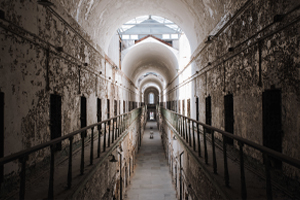 ---
Myrtle Beach, South Carolina
Annual OktoberFest at Barefoot Landing and Myrtle Beach Jeep Jam
Though you may not believe it, fall is the prime time to visit Myrtle Beach. Crowds have thinned, the ocean water is at a comfortable temperature, and the weather is still great for a relaxing day at the beach. Let's not forget the outstanding seasonal festivals and events! The Annual OktoberFest at Barefoot Landing will feature a fusion of German and fall themed foods from favorite local restaurants, live music, and fun contests and prizes. Last year's wristband sales benefited the Humane Society of North Myrtle Beach. Join in, grab a drink, and support a good cause!
Are you a car enthusiast? Then you're not going to want to miss this year's Myrtle Beach Jeep Jam. Watching different models of Jeep vehicles tear across the sandy shore is such a cathartic feeling. This three-day festival includes an obstacle course, car show, beach crawls, raffles, nightly parties, and over 90 vendors! Skimming through previous Jeep Jam photos shows just how exciting this event is. Myrtle Beach Jeep Jam 2023 will be held on October 20th-22nd.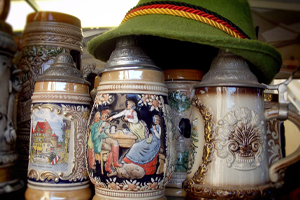 ---
Breweries and Wineries
When temperatures lower and that cool breeze blows in, you know it's the perfect time to enjoy a tall glass of cider. That's where the Grand Strand Brewing Company and Duplin winery come in. Whether you're enjoying a day out with the girls, or partying with the boys, Grand Strand Brewing is sure to provide you with a tasty variety of craft beer (and a side of deep-fried pretzels!) Stop by for some trivia and other activities! Duplin Winery is known for its deliciously fragrant wine tastings and wine flights. Tastings are $15 and come with a side of gourmet cheese, homemade gourmet crackers, and a glass of wine after the tasting! Enjoy a pre-chosen selection of ten Duplin wines. No reservations needed, just stop by and get sipping!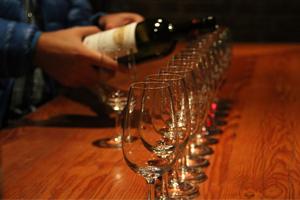 ---
Ghost Tours
This time around, we'll start with the truly ghastly right off the bat. The legend of Alice Flagg's grave spread throughout Myrtle Beach with melancholy rumors surrounding it. The grave can be found in Pawley's Island, a quaint town with a laidback nature. It is said that Alice was ripped away from her true love by her disapproving parents and brother. Eventually, unable to bear the separation, Alice died of a broken heart. According to Atlas Obscura, "Superstition says if you start at the right bottom of her gravestone and walk around it six times counterclockwise and then six times clockwise stopping at the letter 'A' on her marker, you can place a token of recognition upon the resting place, make a wish, and it will be granted."
Another paranormal hotspot is The Brentwood Restaurant & Wine Bistro. Want to possibly see a shadowy figure cross your path while you're cutting your steak? Well, at Brentwood, you just might! For $65 you can enjoy a three-course dinner and ghost tour! Don't forget to snap some pictures, as orbs and other apparitions like to appear in unexpected ways.
Not only is Myrtle Beach's Ripley's Believe It or Not! Believed to be haunted because of its many artefacts from around the globe, but it also has an attraction, Ripley's Haunted Adventure, that's open year-round! Ripley's Haunted Adventures takes you through a haunted haven filled with creepy creatures packed with tons of cheesy goodness!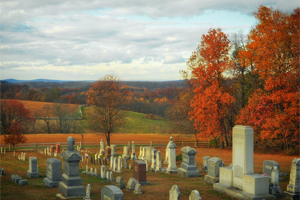 We offer plenty of locations that are perfect to visit in the fall. If you want to check out other destinations, be sure to read Fall Foliage: Best Places to See Autumn Colors in Colorado, Tennessee and Missouri!
---
For more information, updates, travel tips and news from Sundance Vacations, be sure to follow us on the following social media outlets:
Summary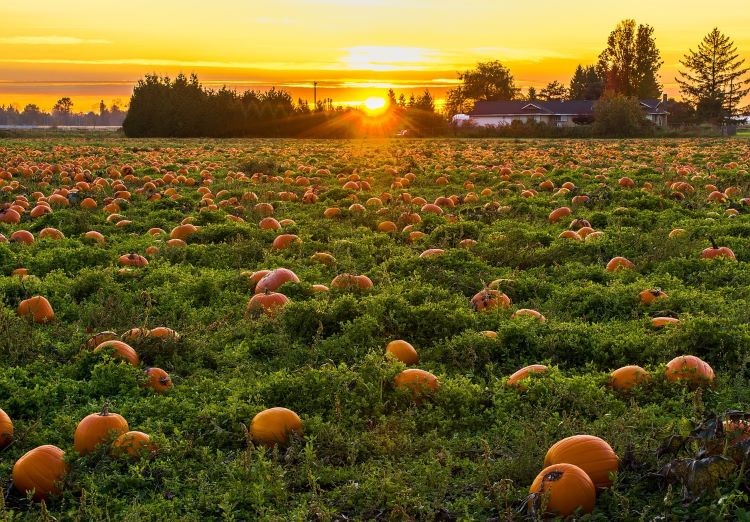 Article Name
North or South: Travel this Fall with Sundance Vacations
Description
Whether you're staying near the east coast, or you want to venture down south, here's what you can expect during your travels with Sundance Vacations this fall!
Author
Publisher Name
Publisher Logo