Taking a vacation with Sundance Vacations to West Virginia might not be on the top of your bucket list, but let me tell you, you really need to explore this state! Known as the mountain state, West Virginia is considered one of the most scenic states in the nation. It's surrounded by rolling mountains with many different outdoor activities to enjoy.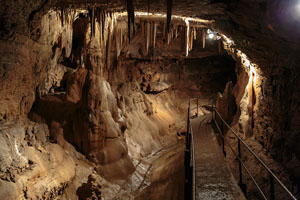 Cave exploration at Seneca Caverns
Exploring the caverns was an experience I will never forget. It was about 80 degrees outside, but the inside of the cave was a chilling 54 degrees and stays that temperature all year round. The family friendly guided tour was exciting. We were underground for about an hour and discovered unique geological formations and got some unique photos. If you are in the area, I would absolutely recommend stopping by to check out the Seneca Caverns.
White water rafting at New & Gauley
This was my very first time going white water rafting so needless to say, I was nervous. The guide and staff were very patient with me and the teamwork was fantastic at New & Gauley! They made my experience a memorable one for sure. Nothing could prepare me for the thrill I would experience that day, it was unlike anything I have ever experienced before. They also have horseback riding, mountain biking and fishing. You can easily spend the day visiting them. Check it out next time you're passing through.
The State Fair of West Virginia in Lewisburg 
We just happened to be in town for the state fair and I am so happy we got the chance to walk around and explore. The fair had a few country concerts going on, free grandstand entertainment, livestock shows, carnival rides and of course fair food! They had the usual: corn dogs, roasted ears of corn, funnel cake, deep fried Oreos etc. The best thing I tried was the bacon Mac 'n' cheese Calzone offered by Gillette's Pizza. The Calzone was everything I could have hoped for. Yummy and gooey Mac n cheese in a warm and flaky Calzone! I would recommend giving it a try if you get the chance to stop by the fair in Lewisburg.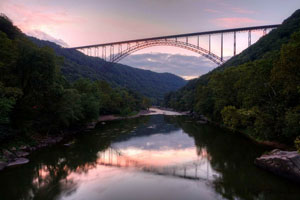 New River Gorge National River
This place is absolutely stunning! We didn't have much time to visit here but we were told to hike the Boardwalk trail to the lookout point for the bridge. This bridge has the longest steel span in the Western hemisphere and is the third highest in the United States! It is worth visiting for sure. Pictures really do not do it justice. I was told they have a "bridge day" on the third Saturday in October where, base jumpers can parachute down to the river. They have venders and welcomes thousands of people. I would have liked to see that! The pictures we got at the New Gorge River were breathtaking!
Winery tours at Hawk Knob Appalachian Hard Cider   
This winery was so lovely. The staff were super friendly and accommodating at Hawk Knob. Jason even showed us the backroom where the cider ferments and where the barrels are stored. He really made our visit personal.  I absolutely love trying new wine and wineries. If you like apple cider, this is a place for you. They had six ciders and they were delicious! The ciders are prepared with local apples too! How cool!?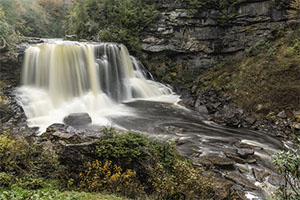 This park was the perfect pit stop on our way home from a previous trip to D.C.! Make sure you grab a trail map before heading out to explore because there are a lot of different trails to check out. I was amazed at how close you can actually get to the Blackwater falls! The trail to the main fall is super easy and leads to an amazing photo opportunity. There are many lookout points to enjoy throughout the park.  There were people riding their bikes with their kids, men fishing and lots of people out hiking the trails. They have cabins you can rent if needed too!
Here is a list of attractions that are on my bucket list for my future visits. Yes, I will be going back and I will be staying at one of our Sundance Vacations properties!
Shepherdstown– Shepherdstown was voted one of the coolest small towns and is known for its history and modern wonders.
Palace of Gold at Vrindaban- This is nicknamed "America's Taj Mahal". The palace was also named one of the eight religious wonders to see in the United States.
Trans-Allegheny Lunatic Asylum- This is a National Historic landmark and is over 160 years old! I would love to stop by and take a tour of the haunted Lunatic Asylum during the Halloween season!
West Virginia State Penitentiary- "Where history meets mystery". This is top on my bucket list during Halloween. I read that they have a room called "Escape the Pen." It is an escape room but the West Virginia Penitentiary is actually haunted! The list of activities during Halloween is impressive.
If you are looking for somewhere to stay during your visit to West Virginia, look no further. Sundance Vacations has two locations located in West Virginia.
We have the Lakeview Golf Resort and Spa located in Morgantown. This resort is home of two of the top 100 golf courses in the United States! The Lakeview course received a four-star rating from Golf Digest.  Also, be sure to relax and enjoy the on-site spa.
Sundance Vacations also has the Land of Canaan Vacation Resort Inc. This area is known as "Almost Heaven. West Virginia." Some of West Virginia's most remarkable mountain scenery is found around the Canaan Valley skiing areas. This resort is just minutes away from the well-known activities in the area and you can even enjoy day and night skiing.
---
For more information, updates, travel tips and news from Sundance Vacations, be sure to follow us on the following social media outlets:
Summary
Article Name
Fun things to do in West Virginia
Description
West Virginia is considered one of the most scenic states in the nation. Check out some exciting outdoor activities to enjoy while visiting here!
Author
Publisher Name
Publisher Logo