So, you're packing your bags and heading down to Ft. Lauderdale Beach Resort with Sundance Vacations. Whether it's your first time visiting or you're a seasoned beach veteran, there's always something new to enjoy, and we've compiled a list of a few of our favorite Ft. Lauderdale attractions!. The best part about these destinations is, they are super close, the farthest being less than 22 miles away from Ft. Lauderdale Beach Resort! Time to plan your trip to Fort Lauderdale!
---
Butterfly World
Butterfly World is the world's largest butterfly sanctuary! This park is home to more than 20,000 species of butterflies from all around the world. That's not all you can find here, though. The park has waterfalls, gardens, and even hundreds of exotic birds flying around in the six free-flight aviaries. You can get the chance to hand feed birds and even walk around the bug zoo. Yes, a bug zoo! You can visit Butterfly World Monday through Saturday from 9:00 AM to 5:00 PM and Sundays from 11:00 AM to 5:00 PM (Admission closes at 4:00 PM). Adult tickets are $29.95 and children ages 3-11 are $21.95. Kids under 3 are free.
---
Flamingo Gardens
Flamingo Gardens has been around since 1927 and is one of the oldest botanical gardens in South Florida. It has over 60-acres of beautiful gardens and the Everglades Wildlife Sanctuary is on-site. The gardens are home to over 3,000 rare exotic, tropical, subtropical and native plants and trees! They are also house the largest collection of native Florida wildlife, including eagles, otters, alligators, peacocks, panthers and you guessed it… flamingos! The animals who call this attraction home have been permanently injured and cannot be released into the wild. Tickets can be bought online or at the ticket booth on site. The gardens are open 7 days a week from 9:30 AM to 5:00 PM Adults ages 12 and above are $19.95, children ages 3 to 11 are $12.95 and kids 2 and under are free! If you're looking for a unique wedding venue, this is actually a perfect option! They have different garden areas to choose from including the Victorian Gazebo, a Banyan Tree and the Wray Home Lawn!
---
Sawgrass Mills
Sawgrass Mills is the eleventh largest mall in the United States and is the largest single-story outlet mall in the US, so get ready to shop 'til you drop! This outlet shopping mall has nearly 350 stores. Here, you can shop at Nike, Tommy Hilfiger, Ralph Lauren, Saks Fifth Avenue, Target and much more! Sawgrass Mills will be your go-to for any shopping spree because they have everything from high-end purses and clothing to electronics! They have everything you will need in one convenient location.
---
Anne Kolb Nature Center
After years of planning and development, the Anne Kolb Nature Center finally opened in 1996. This became the state's largest regional park with over 1,500 acres. This wetland has an abundance of plant and animal life and is home of some endangered and threatened species! It's a nature lovers paradise! On-site, there is an amphitheater, biking/walking paths, boat docks, horseback riding, boat tours, fishing, nature trails, an observation tower, wedding rentals and more! The park is open daily from 8:00 AM to 7:30 PM. Admission is only $1.50 per person ages 6 and up, or a maximum charge of $8.00 for a standard vehicle.
---
Fort Lauderdale Beach
Fort Lauderdale Beach has been transformed into a stunning, chic destination. Luxurious properties are located up and down the coastline. Some locals have even said this beach is the best for "people-watching" in South Florida. Close by, there's is a low-key gem. The Lauderdale-By-The-Sea, is a 1/2 mile wide hamlet with an old-fashioned feel that many people search for. This town is one of the only spots in all of Florida where the three-tier natural coral reef system is close enough that you can actually take a dip and swim to see the fish. Just don't forget to bring your snorkeling gear! This little beach village wakes up on Fridays and the streets are blocked off for some live music! Did you know that this beach is located just a block from Sundance Vacations' Ft. Lauderdale Beach Resort?
---
Secret Woods Nature Center
The Secret Woods Nature Center was designated the first "Urban Wilderness Area" in Florida in 1978. Secret Woods protects a 56-acre floodplain cypress strand and mangroves with uplands of tropical hammock. You can find this hidden area in the Everglades where I-95 and I-595 meet, but not many people know it exists. Here, you can watch giant crabs hang out in their natural habitat on the Laurel Oak Trail. If you like to birdwatch, you'll want to add this destination to your bucket list for the numerous number of birds that swoop about. There are several trails to hike starting at the trailhead trail in the parking area. Make sure to grab a map because it's easy to get yourself turned around and lost in the beauty of the area.
---
Hillsboro Inlet Lighthouse
The Hillsboro Inlet Lighthouse is located on the north side of the Hillsboro Inlet in between Fort Lauderdale and Boca Raton. The bright light marks the northern limit of the beautiful Florida Reef. You can catch an occasional tour of the lighthouse and climb the 175 steps to the top, but be sure to check out their website for tour dates and times, because they do change periodically and the tours are not always open to the public. Tickets are $35.00 per person and you need to get to the lighthouse by boat!  This lighthouse has been around since the early 1900's, and the first lighthouse keeper made just $500.00 per year to operate it!
---
East Las Olas Boulevard
East Las Olas Boulevard is located in the heart of Fort Lauderdale and is a must-visit destination. It's pretty popular to all who visit because they have more than 120 specialty shops, high fashion boutiques, quality restaurants, cafes, bars, world class art galleries and much more! You can take a nice walk along the boardwalk and enjoy breezeways to keep you cool during the hot summer months while window shopping. The streets are lined with beautiful palm trees towering over the Intercoastal Waterway with million-dollar waterfront homes and extravagant yachts! This is known as being the "heart and soul of Fort Lauderdale" since the 1900's when the boulevard was just a simple dirt road.
---
Museum of Discovery and Science
The Museum of Discovery and Science is one of the largest museums in Florida, and has the most visitors than any other museum in the entire state! This 85,000 square foot museum offers hundreds of different fun and informative interactive exhibits, simulator rides, and native animals on display. You will get to see snakes, alligators, tortoises, scorpions, stingrays, and snapping turtles. You also get to walk through exhibits showcasing prehistoric fish, dinosaur eggs, and fossils. They also have a special Discovery Center for the kiddos under 7 years old. You can grab a bite to eat and buy gifts from their gift shop! If you're looking for more, they also have the biggest IMAX screen in South Florida too! There are many different prices for each exciting activity! The museum is open Monday through Saturday from 10:00 AM to 5:00 PM and from 12:00 PM to 6:00 PM on Sunday.
There you have it, nine fun and exciting things to do while visiting Sundance Vacations Ft. Lauderdale Beach Resort. Don't get me wrong, it's always nice to relax on the beach, but the weather doesn't always cooperate. Sometimes you need to have a backup plan, and this is just that!
---
For more information, updates, travel tips and news from Sundance Vacations, be sure to follow us on the following social media outlets:
Summary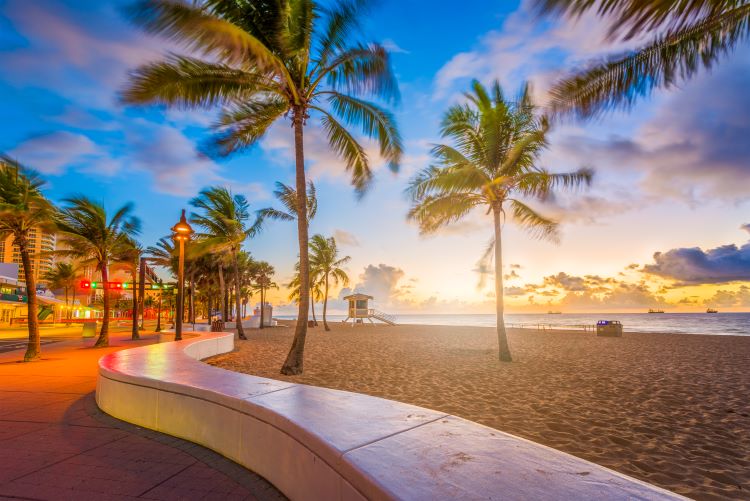 Article Name
Plan Your Fort Lauderdale Trip with Sundance Vacations
Description
So, you're packing your bags and heading down to Ft. Lauderdale Beach Resort with Sundance Vacations. Whether its your first time visiting or you're a seasoned beach veteran, there's always something new to enjoy, and we've complied a list of a few of our favorite Ft. Lauderdale attractions!
Author
Publisher Name
Publisher Logo